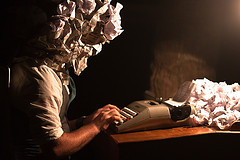 Good morning, everyone!  How is the week treating you?  I feel like I have lost a day, thanks to a killer migraine yesterday.
For this week's Hump Day quote, I have something practical from Pearl S. Buck:
I don't wait for moods. You accomplish nothing if you do that. Your mind must know it has got to get down to work.
In my mind, I see it as grabbing myself by the back of my neck and shaking myself till I get work done – physically impossible, but it works mentally.  Here's to a productive day!

Freelance Writing Jobs
Content Writing
Blogging Jobs
Copywriting Jobs
Proofreading/Editing Jobs
Journalism Jobs
Technical Writing Jobs
Freelance Technical Writer (Springfielf, NJ/Offsite)
Technical Writer for Electronic Products Documentation (Torrance, CA)
Plan/Proposal/Grant Writing Jobs
Sports Writing Jobs
Sports Copywriters (Dallas)
Resume Writing Jobs
Resume Writer (Seattle)
General/Misc. Freelance Writing Jobs
Magazine Writing Gigs
Editor for In-house Magazine (LA/Remote)
Outdoors Writer (New York)