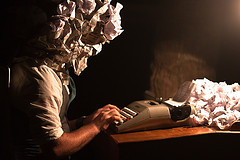 Good morning!  Here's our quote for the week.
A word is not the same with one writer as with another. One tears it from his guts. The other pulls it out of his overcoat pocket. ~ Charles Peguy
I don't know about you, but those words brought forth very graphic scenes in my head.  However, I totally get how sometimes, writing feels very much like having your teeth pulled out.  When was the last time you encountered a similar experience?
I hope that today, words will simply flow out of your overcoat pocket!
Freelance Writing Jobs
Content Writing
Blogging Jobs
Copywriting Jobs
Proofreading/Editing Jobs
Editor for Manuscript (Austin, TX)
Editor for Children's Book (South Florida)
Journalism Jobs
Technical Writing Jobs
SAP Training and Content Writers (Bridgewater/Telecommute)
Part-time Technical Writer (RSM, CA)
Plan/Proposal/Grant Writing Jobs
Part-time Grant Writer (Colorado)
Resume Writing Jobs
Resume Writer (Boston)
General/Misc. Freelance Writing Jobs
Magazine Writing Gigs
Children's Writer for Digital Magazine (LA Area)