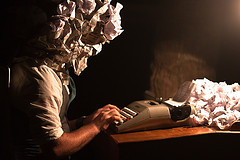 How is August treating you so far? Today's mid-week quote is from Agatha Christie.
The best time for planning a book is while you're doing the dishes.
I hope you get some work done while doing the dishes today – or the laundry, for that matter. Have a good Wednesday!
Freelance Writing Jobs
Content Writing
Blogging Jobs
Copywriting Jobs
Proofreading/Editing Jobs
Journalism Jobs
Technical Writing Jobs
Tech Writer – Content Management (Toronto)
Part-time Technical Writer (Acton, MA)
Plan/Proposal/Grant Writing Jobs
Part-time Grant Writer (NYC)
Marketing Plan Writer (Toronto)
Experienced Proposal Writer (San Francisco)
Resume Writing Jobs
Resume Writer (Remote)
General/Misc. Freelance Writing Jobs
Magazine Writing Gigs
Freelance Magazine Writers (Surrey, BC/Telecommute)