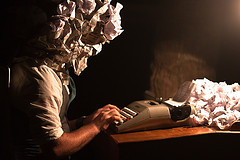 Good morning! Have you been procrastinating this week? Trust me, I know how easily it is to get distracted by the little things. Even though I like having the TV or music player running in the background, they can be sources of distraction. Even the Internet – especially the Internet, rather – offers so much distraction! One thing that I do when I really need to focus is to shut down all instant messaging clients and close all social networking windows.
Here's a little reminder that might help. At the very least, it will make you smile today.
Have a productive day!
Freelance Writing Jobs
Content Writing
Blogging Jobs
Copywriting Jobs
Proofreading/Editing Jobs
Technical Writing Jobs
Freelance Medical Writer (Central New Jersey)
Technical Writers for Cisco CCNA Exam (San Francisco)
Part-time Technical Writer (San Francisco)
Plan/Proposal/Grant Writing Jobs
RFP Writer – Advertising Agency (Remote)
Marketing Plan for Book (Remote)
Business Plan – Museum (Brookline)
Travel Writing Jobs
Freelance Travel Reporter – Groupon (Phoenix)
Sports Writing Jobs
Manning Passing Academy Football Blogger (Thibodaux, Louisiana)
Sports Writer (Boston)
Resume Writing Jobs
Freelance Resume Writer (Chicago)
Resume Writer (Atlanta)
General/Misc. Freelance Writing Jobs
Magazine Writing Gigs
Freelance Writer for Local Magazine (Rhode Island)
Design, Art, and Music Writers (Anywhere)