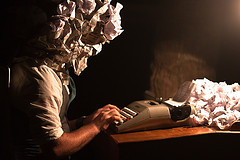 It's a sad thing to wake up to news like the passing away of such a person as Steve Jobs. You probably have read so much about his passing away, but let me share something Steve Jobs said that keeps repeating in my head.
"Being the richest man in the cemetery doesn't matter to me … Going to bed at night saying we've done something wonderful … that's what matters to me."
I don't know about you, but while I doubt I'll ever be the richest man in the cemetery, I fervently desire to be able to go to bed every night and say without equivocation that I have done (or am doing) something wonderful.
Freelance Writing Jobs
Content Writing
Blogging Jobs
Copywriting Jobs
Freelance Real Estate (Telecommute)
Proofreading/Editing Jobs
Journalism Jobs
Part-time News Writer (San Diego)
Op-Ed Writers (Detroit)
Technical Writing Jobs
Technical Writer (NYC)
Plan/Proposal/Grant Writing Jobs
Part-time Proposal Writer (Largo, MD)
Business Plan Writer (LA)
Travel Writing Jobs
Tour Guide Writer (Las Vegas)
Sports Writing Jobs
Writers for Sports Gossip Site (Somerville)
Writer to Cover Muay Thai Fights (Las Vegas)
General/Misc. Freelance Writing Jobs