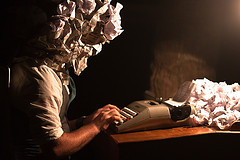 How is everyone doing on this hump day? I woke up with a not-too-good feeling, but I made a conscious decision not to let that define my day. Sometimes, things just don't go the way we like it, but there are always positive things in our lives if we just pay attention. I like this quote I found on Facebook, maybe it will help you get through hump day as well.
"Take pride in how far you have come, and have faith in how far you can still go!"
Have a good day everyone, and get lots of work done!
Freelance Writing Jobs
Content Writing
Blogging Jobs
Copywriting Jobs
Marketing Copywriter (Philadelphia Suburbs)
Professional Copywriter – Press Releases/Short Features (Boulder, CO)
Copywriter (Online)
Proofreading/Editing Jobs
Journalism Jobs
Freelance Photojournalist (Anywhere)
Journalist (USA)
Courthouse Reporter (Chicago)
Technical Writing Jobs
Technical Writer (Chicago)
Plan/Proposal/Grant Writing Jobs
Grant Writer (Atlanta)
Business Plan Writer (Las Vegas)
Travel Writing Jobs
General/Misc. Freelance Writing Jobs
Magazine Writing Gigs
Music Writers (Dallas-Fort Worth)