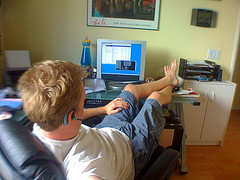 How's this week going for you? I know I am starting the year late, so I am flooded with backlog already. All the same, I am eager to be back on my regular schedule soon.
I hope you're all looking at a nice pile of work – but not too much.
Good luck with the jobs today, and do find time to put your feet up!
Freelance Writing Jobs
Content Writing Jobs
Blogging Jobs
Classic Car Blogger (Telecommute)
Real Estate Blogger (Philadelphia)
Copywriting Jobs
Proofreading/Editing Jobs
Fiction Editor (Telecommute)
Journalism Jobs
Technical Writing Jobs
 Medical Coding Writer (Telecommute)
Technical Writer (Oakland, CA/Remote)
Plan/Proposal/Grant Writing Jobs
Proposal Writer (Van Nuys/Telecommute)
Travel Writing Jobs
Freelance Writer/City Expert for Airbnb (Austin/Telecommute)
General/Misc. Freelance Writing Jobs
Magazine Writing Gigs
Freelance Writers (Telecommute)
Freelance Writer for Magazine (Chicago)
Photo Credit: slworking