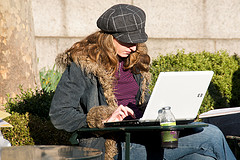 Happy Monday to all of you!
I feel like I have been wrestling with an angel all night, but other than that, I am very much driven to get tons of work done today. How do you feel this morning?
Hopefully, these jobs will bring a ray of sunshine to your day. Good luck!
Freelance Writing Jobs
Content Writing Jobs
Freelance Lifestyle Writers (NYC/Telecommute)
Article Writers – Medical (Remote)
Legal Niche Writers (Telecommute)
Legal Content Writer (Remote)
Ergonomic Writer (Telecommute)
Blogging Jobs
Photography and Art Blogger (Canada)
Blogger for Resume Design Site (San Francisco)
Hair and Beauty Bloggers (Remote)
Part-time Blogger (Remote)
Blogger (NYC)
Copywriting Jobs
Freelance Integrated Copywriter (Boston – Metro West)
Part-time Freelance SEO Copywriter (Chicago)
Freelance Copywriter (Remote)
Healthcare Copywriter (Telecommute)
SEO Copywriter (NYC)
Landing Page Writer (West LA)
Proofreading/Editing Jobs
Proofreader for TOS (Vancouver)
Part-time Editor (Vancouver)
Freelance Editors/Proofreaders (San Francisco/Remote)
Proofreader for Book (West Tacoma)
Book Editor (NY)
Comic Book/Story Editor (NYC)
Journalism Jobs
Freelance Writer/Reporter (Remote)
Freelance Journalists/Writers (Maine/Telecommute)
Science Writer for Cancer Monthly (Raleigh/Remote)
Technical Writing Jobs
Technical Writer (Remote)
Plan/Proposal/Grant Writing Jobs
Freelance Proposal Writer (Remote)
Business Plan Writer (DC/MD/VA)
Grant Writer (Western Maryland)
Resume Writing Jobs
Resume Writer (Anywhere)
General/Misc. Freelance Writing Jobs
Internet Researcher and Writer (Telecommute)
Translator for Essays (Seattle)
Book Writer (NYC)
Ghost Writer (NYC)
Creative Writer (NYC/Remote)
Ghostwriter for Reel (LA)
Magazine Writing Gigs
Writers for a Caribbean Magazine (DC/MD/VA)
Photo Credit: Ed Yourdon