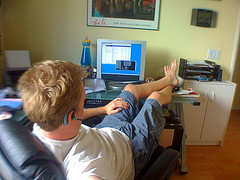 For some reason, it feels like a Friday today. Of course, just because it feels that way does not mean it's the last day of work for the week.
Anyhow, here are your freelance writing jobs. I hope you get a good lead or two!
Freelance Writing Jobs
Content Writing Jobs
Real Estate Content Writer (Manhattan)
Content Writers (DC)
Web Content Writers (Vancouver)
Online SEO Writer (LA/Telecommute)
Blogging Jobs
If you're new to freelancing, here are 5 STEPS TO FREELANCE WRITING.
Copywriting Jobs
Freelance Marketing Writer (Telecommute)
Copywriter (Remote)
Contract Copywriter for eHarmony (Santa Monica)
Consulting Copywriter (Boston)
Proofreading/Editing Jobs
Proofreader (Studio City)
Style Copy Editor (Anywhere)
Editor for Writer (DC/MD/NOVA)
Journalism Jobs
Technical Writing Jobs
Resume Writing Jobs
Sometimes, we need to TAKE A BREAK FROM WRITING.
General/Misc. Freelance Writing Jobs
Part-time Writing Center Coordinator (Online/McLean)
Video Script Writers (Anywhere)
English to German Translator (Anywhere)
Screenwriter (LA)
Magazine Writing Gigs
Nonfiction Freelance Writers (Metro Atlanta)
Freelance Writers for Women's Magazine (Telecommute)
Photo Credit: slworking