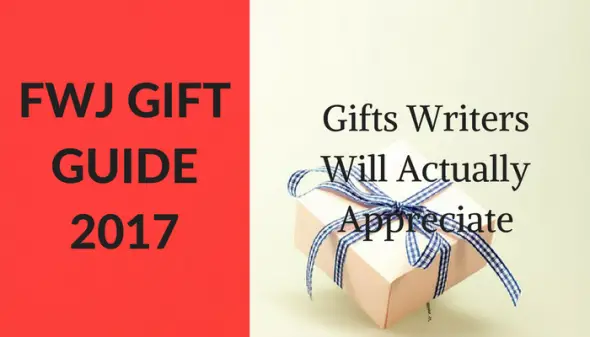 How's your Christmas gift list coming along?
If you're still on the hunt for a something for your writer friends, we've got you covered.
This gift guide for Christmas offers practical yet fun gifts that the recipient will appreciate. Forget the knick-knacks that will gather dust. Or stocking stuffers that scream "I forgot to get you a gift early on, so I had to grab whatever I could!"
We've picked these gifts for writers simply because we know you'll want them – we know we do! Oh, and they're so good you can give them all year round.
Gifts for writers
1. Ninja Writing: The Four Levels Of Writing Mastery
This course from Udemy will be your best friend if you want to improve your writing – and what writer wouldn't want to do that?
A best-selling course, Ninja Writing has had 30,000+ students so far, and has the following goals:
Discover how to create spellbinding writing
Learn the secrets of editors on top newspapers and websites
Tap into the power of the four levels: narrative, paragraphs, sentences, and words
Transform yourself into a masterful writer in days
Make your writing stand out from peers and competitors
Discover how to make blogs, marketing copy, and general business writing sparkle
Usually priced at $200, it's on sale at $15 for the next SIX days. Don't wait – get it now!
2. Flexjobs Membership
We can't have a gift guide for writers without including a job search platform, and you know that when it comes to that, Flexjobs is our number one choice. Not only are you assured of safe and high-quality jobs, but you also get other perks like:
Special partner offers (discounts from other service providers)
Skills testing (so you can improve your profile and increase your chances of landing gigs)
Job tips
New jobs added daily
They also have flexible pricing options – monthly, quarterly, and yearly.
Here's what makes it an even better Christmas gift: you can get up to 30% off on a membership if you use code FWJPROMO. Let's break that down.
ONE-MONTH membership: pay $10.45 instead of $14.95 (30% off)
THREE-MONTH membership: pay $23.95 instead of $29.95 (20% 0ff)
YEARLY membership: pay $44.95 instead of $49.95 (10% off)
Get your friend (or yourself!) a Flexjobs membership and make job hunting an easier task.
3. Retreats for Writers
Combing two of the greatest pleasures in life: writing and traveling.
There are a lot of retreats geared towards writers, and you'll definitely find one that meets your needs and preferences. There's the Northern California Writers' Retreat, which will run on March 14-18 and 21-25, 2018. It costs $2,347-$2,597 per person.
For something lighter on the pocket, check out the Rocky Mountain Fiction Writers Retreat. It will be held on March 15-18, 2018. Cost: $299-$399 per person.
Outside the United States:
4. Audible Subscription
We love reading books – especially the paper kind – but audiobooks are just as fun and more convenient. When pressed for time, audiobooks are perfect. Why not give an Audible subscription for Christmas? At $45/3 months, it's an awesome deal.
5. AP Stylebook
The ultimate gift for a writer?
If you want to go the old school way, get a print copy for $22.95. If you want the online version, which is updated more often, pricing starts at $26.
6. I'm Not Sleeping I'm Plotting Wooden Door Sign
I don't know about you, but any writer would want this on their door. Made of: wood, paint, paper, biodegradable jute twine, and recycled book pages. Get it for $13.77.
7. Typewriter Keychain
Keychains may not be the most creative of gifts, but this one is gift-worthy, don't you think? Not only does it hold your keys, it may actually inspire you to come, see, and write.
8. The Parentheses Mug
Repeat after me: You can never have too many mugs. Never.
All right, now give your snarky words a hug.
9. Chocolate Owl Writer
Who! Who! Whom!
In my house, chocolate is always welcome. If it's the same for your writer friends, then you know what to get them.
So what's it going to be – dark or milk chocolate?
10. Branded Leather Journal
Just like mugs, you can never have too many notebooks, and these fire-branded leather journals from Portland, Oregon make beautiful gifts.
They're refillable, and you can choose the brand, name, and button to go with it.
Even better, they're on sale until December 9, so you pay only $24 instead of $48!
11. Pop Chart Lab "Typewriter-Gift for Writers-A Visual Compendium of Typewriters" Poster Print
Over 60 illustrations drawn by hand – from antique typewriters to more modern ones. This will make a good addition to a writer's home office.
12. Writer Emergency Pack
Braindead? Got a deadline – or two – looming? The Writer Emergency Pack to the rescue!
This pack may very well save a writer's life. Worth the $19, for sure. Get it here.
13. Typewriter Coaster Set
We do have a thing for typewriters, don't we?
But how can you resist this coaster set? Each coaster has a distressed (no, it's not in trouble) metallic finish and a non-slip rubber base. The set costs $11.25.
14. Novel Teas with Literary Quotes
Coffee or tea? Why not both?
When you're in the mood for tea, however, then it can't get much better than Novel Teas. Their products are made with the finest English Breakfast tea, and you get literary quotes to boot.
$25 per pack (25 individually tagged teabags.
15. The Mind of a Writer Messenger/Courier Bag
A sturdy bag is crucial for those of us who like going out to work. And what better bag to use than this?
Your writer friend will definitely love you for it.
Product specs:
This canvas messenger bag is 100% heavyweight cotton, and is enzyme-washed for a cool retro look.

The shoulder straps on this courier bag are adjustable, featuring an antique brass slider and D-ring.

Side and zippered exterior and interior pockets enable you to use this as a book bag or backpack.

A large flap with magnetic snap provides convenient access to contents. 16″ W x 11 1/2″ H x 4 3/4″ D
NOTE: If you want these to arrive in time for Christmas, make sure you order now to avoid delays.