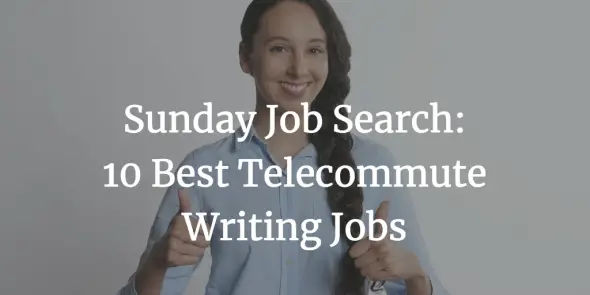 Here's this week's roundup of telecommute jobs.
For full details and to apply, sign up for a Flexjobs membership. Use code FWJPROMO when checking out so that you can get a discount. Depending on the membership tier, you can get up to 30% off. Here's how much you save exactly:
10% off a 1-year subscription ($44.95 instead of $49.95)
20% off a 3-month subscription ($23.95 instead of $29.95)
30% off a 1-month subscription ($10.45 instead of $14.95)
To apply for the jobs below, visit Flexjobs now and sign up.
10 Best Telecommute Writing Jobs
1. Digital Content Editor, Writer
Job description: Part-time, temporary role with the option for telecommuting. Candidate will proofread client supplied video metadata, determine natural breaks in video content, and document speakers & associated biological information. Editing skills required.
2. Copywriter
Job description: Freelance copywriter will be responsible for copywriting, design collaboration and development collaboration. $30.00 to $31.00 per hour. Must have some advertising experience or writing background required.
3. Digital Copywriter
Job description: Digital copywriter needed. Maintain brand voice and brainstorm creative concepts. Contribute to pitches. 4-year degree or related work exp. required. Must have 2 to 5 years of work experience. Pays $35 to $45 hourly rate. Freelance job.
4. Dramatic Art and Theatre Lesson Writer
Job description: Provide interesting and quality career training for online students and support their academic success. Requires an advanced degree in theatre or dramatic art and undergraduate college-level teaching experience. Contract with flexible schedule.
5. Travel Writer
Job description: Travel writer sought for a freelance, telecommute position requiring a Journalism or similar BA/BS, experience with digital writing, and strong grammar skills. Applicant will generate content highlighting travel destinations, conduct research.
6. Hotel Review Writer
Job description: Review writer sought for a freelance position with partially remote hours. Will evaluate and monitor hotel facilities, generate reviews. Must have previous travel writing experience and a professional portfolio, hour flexibility.
7. Researcher
Job description: Seeking remote freelance researcher to help people save time by providing detailed answers to their inboxes. Candidate will be sharpening analytical skills while networking with peers in a global community of independent researchers.
8. Marketing Writer
Job description: Contract position. Will work on a project writing marketing copy, creating thought leadership white papers, blogs, and eBooks, and communicating fresh ideas. At least 3 yrs of technical marketing copywriting exp. required. Work at home with travel.
9. Medical Writer III
Job description: Option to work remotely some of the time writing medical items for a pharmaceutical company. Freelance position. Must have clinical and medical writing experience creating regulatory submission content and briefing development skills.
10. Interviewer
Job description: Interviewer needed. This is a part-time job. Help to capture exceptional stories about someone's life. Facilitate life journey. Must desire to build relationship with author. Active listening skills req. 3-month, short-term assignment.
Get a Flexjobs membership to get more jobs like these regularly. Don't forget to enter the code FWJPROMO on the billing page to get up to 30% OFF!