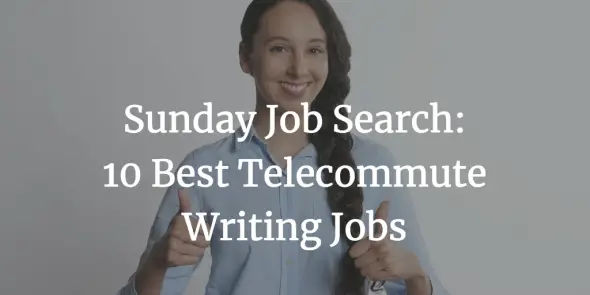 Good evening, folks. Here's this week's roundup of telecommute jobs.
For full details and to apply, sign up for a Flexjobs membership. Use code FWJPROMO when checking out so that you can get a discount. Depending on the membership tier, you can get up to 30% off. Here's how much you save exactly:
10% off a 1-year subscription ($44.95 instead of $49.95)
20% off a 3-month subscription ($23.95 instead of $29.95)
30% off a 1-month subscription ($10.45 instead of $14.95)
To apply for the jobs below, visit Flexjobs now and sign up.
10 Best Telecommute Writing Jobs
1. Content Writer
Job description: Create and edit online training content, sub-edit test by various authors, and provide updates on client deliverables. A bachelor's degree, strong communication and writing skills, and 2 years of relevant experience are required. Six-month contract.
2. Technical Writer – Documentation Specialist
Job description: Seeking applicant with ERP knowledge and experience with healthcare or pharma documentation to fill a mostly telecommuting short-term temporary contract as a technical writer/documentation specialist. Must have ability to drive to customer site (Dubuque, IA).
3. Social Media Writer – Cars
Job description: Contract, remote job. Must be "fluent" with social media and has excellent writing abilities. Needs to be a car enthusiast, likes to stay current on the latest automotive trends and will increase the reach and engagement on our Facebook page.
4. Osteopathic Medicine Content Creator
Job description: Seeking osteopathic specialists to collaborate and contribute with writing and content teams to develop, edit and produce quality content for course materials. 2 years of writing or teaching experience is needed. Part-time contract remote job.
5. Computer Science and IT Lesson Writer
Job description: Develop engaging online career training content in this freelance, all telecommuting position. Must have expert-level knowledge of IT, computer science, or computer programming languages and a background training/teaching in a related field.

6. Marketing Content and Tech Writer
Job description: Work at home opportunity. Will work on developing content for email blasts, the company website, blogs, brochures, and other collateral. Prior exp. in optimizing web content and blogs required. Software industry exp. preferred. Part-time contract.
7. English Content Writer
Job description: Develop market segments, produce ebooks, write articles, and refine social media posts in this freelance, all telecommuting position. Must have at least 2 years' content writing experience and be sensitive about the Oxford comma.
8. Statistical Editor-Writer, Criminal Justice
Job description: Seeking an editor/writer for a part-time, remote option position responsible for generating materials, writing copy, performing edits, making revisions. BA/BS, five+ years' similar professional experience, Public Trust clearance required.
9. Proofreader
Job description: Seeking proofreader for an ongoing freelance opportunity. Review spreadsheets, create descriptions, and proof client presentations. Must have strong copy skills and the ability to work varying hours. $25.00 per hour.
10. Web Content Manager
Job description:  Content manager sought for a freelance position with temp-to-hire potential. Will conduct research, develop content, coordinate schedules, troubleshoot and resolve issues, perform edits, make recommendations.
Become a Flexjobs member to gain access to more jobs like these regularly. Don't forget to enter the code FWJPROMO on the billing page to get up to 30% OFF!