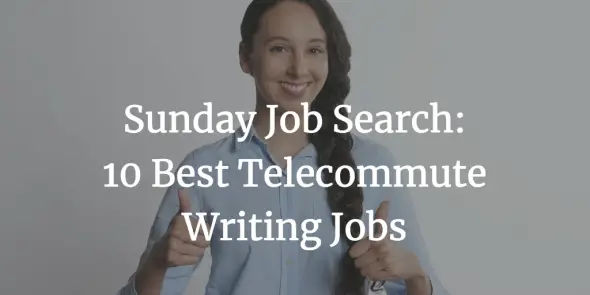 Good evening, folks. Here's this week's roundup of telecommute jobs.
For full details and to apply, sign up for a Flexjobs membership. Use code FWJPROMO when checking out so that you can get a discount. Depending on the membership tier, you can get up to 30% off. 
Check out just how much you can save:
10% off a 1-year subscription ($44.95 instead of $49.95)
20% off a 3-month subscription ($23.95 instead of $29.95)
30% off a 1-month subscription ($10.45 instead of $14.95)
To apply for the jobs below, visit Flexjobs now and sign up.
10 Best Telecommute Writing Jobs
1. Lifestyle Writer
Remote opportunity with a part-time schedule. Will be responsible for writing Evergreen content on lifestyle topics. Requires a minimum of 2 years of experience writing for an online publication and strong brainstorming skills.
2. Video Games Writer
Freelance Video Games Writer will work on writing and pitching attention-grabbing discussions regarding the state of the video games industry, useful tips and tricks guides, and relatable hot guides and walkthroughs. Prior exp. required. Remote.
3. Video Script Writer
Video script writer needed. Temporary role. Remote work option. 20+ hours a week. Help to create content for two minute videos that are used for external and internal purposes. Script samples and portfolio required. 5+ years' exp. req.
4. Blog Writer
Seeking writer for a temporary opportunity. Will be responsible for writing blog articles. Requires experience completing research and writing for blogs professionally. 5-10 hours per week. Remote role.
5. Social Journalist
Full-time, freelance journalist sought for a short-term, three month, temporary, telecommute job. Must have exceptional communication, multi-tasking skills, and the ability meet deadlines. Bilingual skills a big plus. Will write / research stories.

6. Freelance US Proofreader
Support small businesses by developing and/or proofreading high-quality, creative content. Ensure SEO compliance. Requires a writing-related bachelor's degree and 1-3 yrs' editing experience. Fully remote/home-based contract role. Flexible schedule.
7. Blog Editor – Education Technology
Blog editor will meet deadlines, develop content, monitor industry trends, conduct research, and perform edits. Multi-tasking skills, strong writing ability, and exceptional communication required. Part-time, telecommute option position.
8. Medical Editor
Remote short-term contract opportunity aiding in the development of medical education concepts for projects. 3+ years' related experience, familiarity with the pharmaceutical industry, and background using citation management software required.
9. Copy Editor – Proofreader
Seeking detail oriented candidate for position reviewing and editing manuscripts, verifying terms and sources, ensuring content accessibility, and processing edits and rounds of proof with authors and project managers. Remote contract position.
10. Senior Legal Editor
Part-time, remote,short-term job. Needs six years' experience as a labor and employment lawyer and has good writing and editing skills. Write, edit and update state-specific labor and employment resources, answer questions and perform research.
Become a Flexjobs member to gain access to more jobs like these regularly. Don't forget to enter the code FWJPROMO on the billing page to get up to 30% OFF!