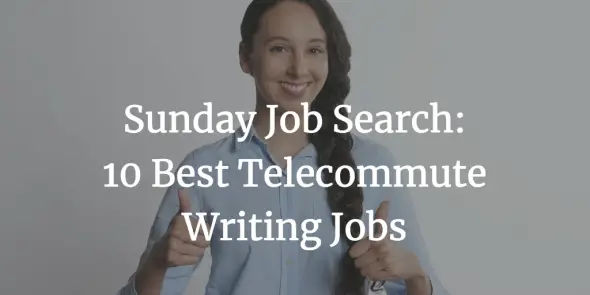 Good evening, folks. Here's this week's roundup of telecommute jobs.
For full details and to apply, sign up for a Flexjobs membership. Use code FWJPROMO when checking out so that you can get a discount. Depending on the membership tier, you can get up to 30% off. 
Check out just how much you can save:
10% off a 1-year subscription ($44.95 instead of $49.95)
20% off a 3-month subscription ($23.95 instead of $29.95)
30% off a 1-month subscription ($10.45 instead of $14.95)
To apply for the jobs below, visit Flexjobs now and sign up.
10 Best Telecommute Writing Jobs
1. News Writer
Seeking writer for a temporary opportunity. Will be responsible for writing editing, researching and previewing news material before airing. Must have a bachelor's degree in communications or a similar area in a minimum of 1 year of experience.
2. Content Contributor
Provide literacy and word-smithing assistance for those with reading difficulties by developing effective curriculum. Experience with educational writing/teaching is preferred. Remote, contract role paid per project. Must commit to 3+ months.
3. Tutorial Writer
Pitch and research and develop intelligent, engaging guides. Superb formatting, fact-checking, and grammar skills required. Must be detailed and accurate. Development-based AR and MR knowledge required. Part-time contract. Work from home.
4. News Reporter
News reporter needed. 2-5 years' journalism experience would be ideal. Diverse voices encouraged to apply. Perform investigations for news briefs and longform pieces. Master SEO. Incorporate videos and photos. Part-time and work from home.
5. Proposal Writer
15-month work at home contract position. Responsible for support unsolicited proposals, leading the maintenance of a database and database content, providing project management, and analyzing proposal requests. 2+ yrs of exp. is required. $40-$45/Hr.
6. Technical Writer
Technical writer needed. Freelance. Remote work option. Short-term, 4-week project. Must be able to review as well as analyze 40-page hazard identification and general liability report. Technical writing exp. a bonus.
7. Editor, Features and Garden
Oversee magazine content related to outdoor living. Coordinate with others on special packages or projects. Provide rewriting/editing assistance. Coordinate with freelancers. Requires a bachelor's degree and 5+ yrs' exp. Mostly remote; travel req.
8. Proofreader
Freelance, part-time position. Be responsible for ensuring text is error-free and ensuring engaging content is made accessible to all readers. 3+ years of relevant, recent experience is needed.
9. Editors – Design and Fine Arts
Language services company is seeking freelance editors with a PhD/Master's/Bachelor's degree or expertise in Design studies, Art History or Fine Arts for a home-based opportunity editing manuscripts. Excellent editing skills required. Part-time.
10. Editors – Reproductive Medicine, Sexual Health
Part-time role to edit manuscripts and ensure they are in compliance with job-specific instructions and subject-specific conventions. Requires a PhD/Master's/Bachelor's or expertise in the areas of medicine, surgery, or healthcare. Remote. Freelance.
Become a Flexjobs member to gain access to more jobs like these regularly. Don't forget to enter the code FWJPROMO on the billing page to get up to 30% OFF!