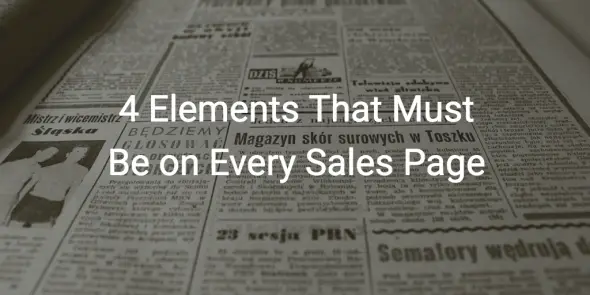 From an outsider's perspective, developing a sales page may look easy. Sometimes it only has a few sentences of text, a visual, and a couple of buttons.
However, as any copywriter knows, creating a high converting sales page is anything but easy. It's actually one of the most challenging things you'll ever do.
The Four Elements to Include in a Sales Page
The goal of a sales page is to convince people to purchase something. How do you convince people to spend their hard earned money? "Build a rock-solid argument that gets your prospect to 'realize' he has a big, burning problem and that your product is a life-changing, miracle cure that will solve his problem," marketing expert Clemence Lepers says.
While the goal is rather straightforward when synthesized into a single sentence like that, the act of creating a sales page that delivers a "rock-solid argument" isn't nearly as simple. With that being said, you can increase your chances of being successful by including the following elements:
Powerful Headline
"The first few hundred words of your copy are known as 'the lead,'" entrepreneur Amy Porterfield says, pointing to a statistic that says 80 percent of the emotional impact of a sales page is determined by the first 20 percent of the copy. "And if those first hundred words are the entry way to a sale, your headline is the front door that every client has to walk through, in order to get to your product."
In other words, the sales page headline is unbelievably important. Without the right headline, you risk running visitors away or confusing them in regards to what the page is offering.
Elements of Social Proof
As humans, we are heavily influenced by what others think, say, and do. Thus, if we see that people are speaking highly of a certain product, then the status of that product is automatically elevated in our eyes. It doesn't really matter if we have no experience with it on a personal level. The mere fact that others approve makes us more likely to approve ourselves.
Social proof comes in all shapes and forms – and much depends on the information you have access to. This sales page from The Grooves, a San Antonio-based wedding band, shows how client testimonials can increase the value of a page. This landing page from Muck Rack, a tool for connecting marketers with journalists, shows the value of including familiar logos of companies using the product. There's ample room for flexibility, but don't ignore the power of social proof.
Singular Call-to-Action
The worst thing you can do is confuse a sales page visitor. You only have a few seconds and a couple lines of text to win the visitor over. If you confuse them by presenting multiple calls-to-action, then you'll risk running them off.
As a rule of thumb, you should always include exactly one call-to-action on a sales page. It's okay to include the same call-to-action in a couple different places (even with different wording), but the action step must be consistent.
A Reason to Believe
Having a call-to-action is one thing, but why should visitors follow through? You must provide visitors with a reason to believe.
"Paint a clear picture of everything they're getting," says Dave Navarro, content marketing expert. "Stack value upon value until your readers are filled with the sense that your offer is exactly what they need — and furthermore, that the price is a no-brainer bargain."
Putting it All Together
Does the mere fact that you're including all of these elements in a sales page mean you're going to have a high conversion rate? Not necessarily. However, it does increase the likelihood that you'll persuade your target visitors – and that's the goal!