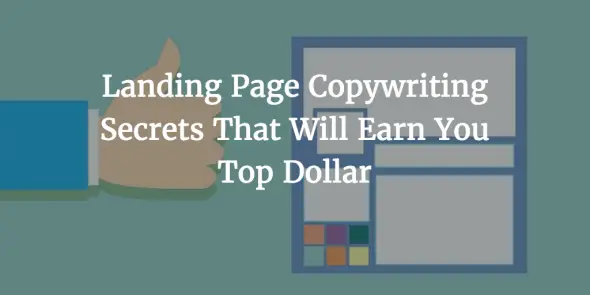 As a freelance writer, the more variety you're able to offer in your services, the more profitable your business will be. If you want to increase your earnings significantly, one skill that you absolutely must master is landing page copywriting. If you can write high-converting copy, you'll be in high demand all year round.
Landing page copywriting is simple and complicated at the same time. The good news is that you can learn to write landing pages that make readers into customers; landing pages that will make clients come to you.
Landing Page Copywriting Secrets
Give anyone enough words and they can write a compelling argument. However, very few people are able to consistently deliver value within close confines. This is why high-converting landing page copy is in such high demand. Find a way to master this skill and you'll be successful.   
Here are five helpful tips:
Focus on a Single CTA
A good landing page only has one clear call to action (CTA). This CTA can be used in a variety of ways, but there should still only be one CTA. Use too many calls and you'll overwhelm your visitors and confuse them as to what action they're supposed to take. If your client feels they need multiple calls, then inform them it's best to produce two unique landing pages.
Remove Fluff
When it comes to writing copy for landing pages, throw out every rule you learned in any English class or journalism course you ever took. Whereas traditional writing tells you to open with an introduction to set the table, slowly transition into the main point, and then provide a convenient recap for readers, landing page copywriting cuts straight to the point.
You really don't need very much text at all on a landing page. Just check out this example from Wistia. Notice how there's a simple conversion form at the top, with just three paragraphs of text below the fold. The text is meant to assist the page, not define it. Many visitors won't even venture below the fold to read it.
Separate Text with Visual Cues
What you write is important, but so is where you place the words (as noted in the previous example). On text-heavy landing pages, you'll need to break up copy in an effort to prevent overwhelming readers. You can do this in a variety of ways and a lot will depend on the overall purpose of the page.
This page from PrintingCenterUSA is a prime example. Since this page requires a lot of copywriting, breaking up the various pieces of information becomes critically important. Notice how they use text boxes, bolded and colored phrases, conversion buttons, and subheadings to create some division. This produces a cohesive end product that's also information-rich.
Visualize a Reader's Persona
Many clients will have multiple buyer/reader personas for their products. If this is the case, you may suggest creating different versions of the same page to more accurately target each group. This allows you to visualize one specific reader's persona for each page and then produce content that's more tailored to their individual needs.
According to marketer Andy Zenkevich, another advantage of creating multiple pages is that it allows you to A/B test different versions to discover which one(s) perform best. Ultimately, if one page has a conversion rate that's exponentially higher than another, your client may choose to focus on that one.
Just Loosen Up
The final tip is short and simple – you just need to loosen up. Remember that landing page copywriting is a creative art. Try new things and relax. Marketing is fun and you can't overthink things or you'll end up with a stale page that's ineffective and low-converting.
Making Landing Page Copy a Strong Point
If you want to be a successful and profitable copywriter, landing page development is a specialty you should give a try. It takes lots of time and practice to perfect, but the more time you invest honing this skill, the brighter your future will be.