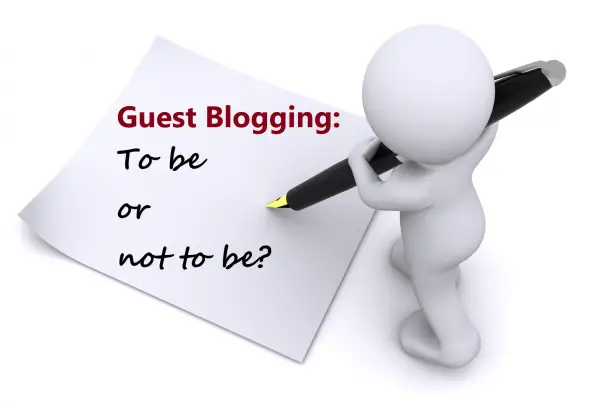 I'm a writer, not a marketer.
I've heard/read that phrase often enough. I've even said it myself many times. Writers, they say, have a unique personality in that they want to focus more on getting that jumble of words and ideas in their heads and putting them together in a coherent piece of writing. Whether people read the piece and like it or not is a different matter altogether.
Then guest blogging/guest writing comes into the picture.
The practice has become so popular for many reasons, not the least of which is to market your own content and bolster your brand online. In themselves, there is nothing wrong with content marketing and brand building. That happens in the brick and mortar world as well. But I totally understand why many online writers shy away from the idea of guest blogging.
Some common (negative) reactions are:
Why should I give my content away for free?

Why should I spend time and effort in writing for someone else without getting anything back?
I don't have time for that.
I write. I don't do marketing.
As I said earlier, these reactions are rather understandable. That is not to say, however, that writers should not consider guest blogging.
There's no such thing as a free lunch!
Here's my reply to concerns such as giving away your work for free. Guest blogging is not really for free! Sure, you may not get paid your usual $100 per article (I wish!), but compensation comes in other forms. Don't worry, I am not talking about Craigslist-type nonsense like "the good feeling that you've helped someone out". (Though there is nothing wrong with that in some cases!)
Creating connections
You may be the world's biggest introvert (I can give you a run for your money, by the way), but if you want to get more writing gigs online, you have to create connections. There really is no way around it, unless you've hit the jackpot and you land the dream client, the kind that will give you tons of work regularly for good pay. If you're like many freelance writers, you have to actively seek out work. And you need connections for that, connections that can be made by engaging in guest blogging.
"Building your brand" is a term that may put you off, but it is also an inherent part of freelance writing online. You want your name to be associated with quality writing, often in a certain niche. Having a web site or blog to showcase your work is one way to do it, but that may not be enough. You have to get the word out there. You have to expose your name – and back it up with proof. That's what guest blogging can do for you.
Sometimes, you have to get out of your writer's shell.
Sure, writing is lonely work. I don't know about you, but I write best when I am alone at home. I can also work at a busy coffee shop, but I do surround myself in a self-imposed, even imaginary shell where I am alone.
However, in order to keep work flowing in, we do have to get out of that shell.
Have I mentioned connections?
Yes, connections are needed. We need to interact with others – potential clients, existing clients, and fellow writers. This is essential for many reasons. We need to keep in touch with the world out there in order to be able to produce relevant and timely pieces. We need to get out there to connect with people who may throw some work our way or people who may serve as inspiration.
Marketing yourself may be part of guest blogging, but it doesn't have to be a bad thing. Look at the situation from a different perspective, and you won't fail to see the benefits that guest blogging can give you as an online writer. Give it a go?
About the Author
Jackie is the epitome of the introvert writer, but she pushes her limits as she improves on her craft. She has recently gotten involved in guest blogging services, and recommends fellow online writers to keep an open mind.
Images via seojournalist, inc, and petco