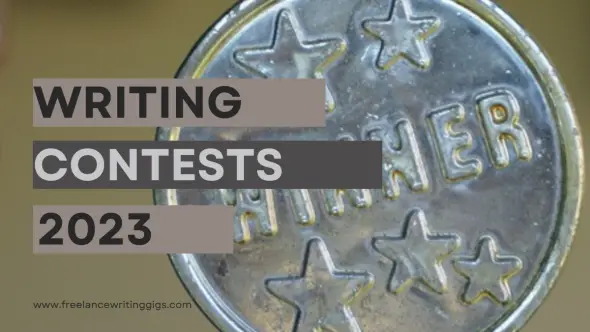 For a change of pace from client work, why don't you consider entering writing contests in 2023? It will give you a chance to flex your creative writing muscle in a way you don't normally get to when you are doing work for other people.
Along with the chance to win some money, you get to have your work seen and evaluated by judges who often bring some impressive credentials to the table.
If you ever get the opportunity to see their scorecards or get some feedback, do take it. You may find something valuable in what they have to say about your writing.
Enter these writing contests in 2023 to flex your writing muscles and make some money while you're at it.
Click To Tweet
As always, when entering writing contests, follow the instructions precisely. If there is something that isn't clear, reach out to the organizers by email before the submission deadline to make sure you are submitting your entry correctly. You don't want to have your submission rejected because of one small detail.
Writing Contests 2023
Inkitt Novel Competition: Monthly
Inkitt's Writing Contests regularly give authors the opportunity to share their books with readers around the world and showcase their talents.
Monthly cash prizes:
Each month one grand prize winner, and two runners up will be selected.
1st prize: $300, an exclusive badge for your book cover and Inkitt social media feature!
2nd prize: Exclusive 2nd place book badge and Inkitt social media feature!
3rd prize: Exclusive 3rd place book badge!
Shooter Flash spotlights bitesize brilliance with one winning story each month, which we publish online (plus in an annual anthology) and trumpet on social media.
Shooter Flash offers an opportunity to writers who work on a smaller canvas. We welcome stories up to 1,000 words long on a rolling basis, any theme/genre, and the winning story each month will win £50 as well as publication on the second Monday of each month. Winning stories will also be anthologized and sent to all of Shooter's subscribers.
JULY
International Amy MacRae Award for Memoir, Memoir Writing Ink.
Original, unpublished works of memoir writing to a maximum of 2000 words are accepted. Submission guidelines are available on their website: www.amyaward.com.
Winner receives $1000 USD.
Submission fee: $25.00 USD.
Shortlisted stories will be published in the annual Amy Award Anthology and featured in the Memoir Writing Ink program. This award has been created in celebration of the life of Amy Macrae and in support of her living legacy to improve the outcomes of women with ovarian cancer.
Submissions for the 2023 contest will be accepted between May 14th and July 9th, 2023.
Write a horror or thriller story for this writing contest. Put your readers on edge or terrorize them.
The winner takes away a $100 cash prize. All writers will receive feedback for their submission.
Deadline: Saturday, July 15, 2023 at 11:59pm EST.

Open to writers, worldwide; poems must be written primarily in English (no translations except by the original author)
One $15,000 Winner and ten $500 Finalists will be selected in an anonymized review by the editors of Rattle and printed in the Winter 2023 issue; one $5,000 Readers' Choice Award will then be chosen from among the Finalists by subscriber and entrant vote.
DEADLINE: July 15th, 2023 at 11:59 p.m. PST
The Petrichor Prize for Finely Crafted Fiction
Submission fee: $25
Prize: $1000 and book publication by Regal House Publishing
Deadline: Saturday, July 15, 2023
Write a free verse poem. This is a method of writing poetry, which does not essentially follow any structure or style. There is no fixed meter and no structure regarding rhyme and lines in each stanza.
The winner takes away a $100 cash prize. All writers will receive feedback for their submission.
Cash prizes delivered by PayPal. Winners also have the option to choose a Visa Gift Card (US residents only) or Amazon Gift Card (where available). Reserve Your Spot.
Deadline: Wednesday, July 19, 2023 at 11:59pm EST.
AUGUST
The Coniston Prize is an annual award that recognizes an exceptional group of poems by a woman writing in English. Any poet who identifies as a woman is eligible.
The winner of the Coniston Prize will receive $1,000, and up to 10 finalists will also be awarded $175. The winner and all finalists' poems will be featured in the October Coniston Prize Issue.
Submissions are open June 1 – August 1. We notify all entrants before October 1. The entry fee is $20.
Deadline: August 1, 2023.
The 20th Annual Gival Press Short Story Award-2023
Submissions of a previously unpublished original (not a translation) stand-alone short story in English must be approximately 5,000 to 15,000 words of high literary quality, typed, double-spaced on one side of the paper only, with word count in the upper left hand side of the first page, along with the title.
Author will receive $1,000.00 and the winning story will be published on the Gival Press website.
Deadline: August 8, 2023.
Short Story Award for New Writers
Shake off the snow and break out your beach reads: it's time for the Summer Short Story Award for New Writers! The Masters Review's Short Story Award for New Writers is a biannual contest that recognizes the best short prose from today's emerging writers. They welcome submissions of previously unpublished fiction or creative nonfiction up to 6,000 words.
The entry fee is $20.
The second- and third-place finalists receive cash prizes ($300/$200), online publication, and agency review.
The contest's deadline is 11:59pm PDT on August 27, 2023.

An international poetry contest open to English language writers of all ages living in any country.
Prizes include $1000 first place award and five $250 finalist awards.
All styles and subject matter are welcome although one could acquaint oneself with past winners to get some idea of what entries have been selected previously
Base entry fee is $10 per poem
Deadline: August 30, 2023.
Gemini Magazine Flash Fiction Contest
Entries Must Be Unpublished
Any Subject or Style
Stories on Personal Blogs Are Eligible
All Entries Are Read Blind
FIRST PRIZE: $1,000