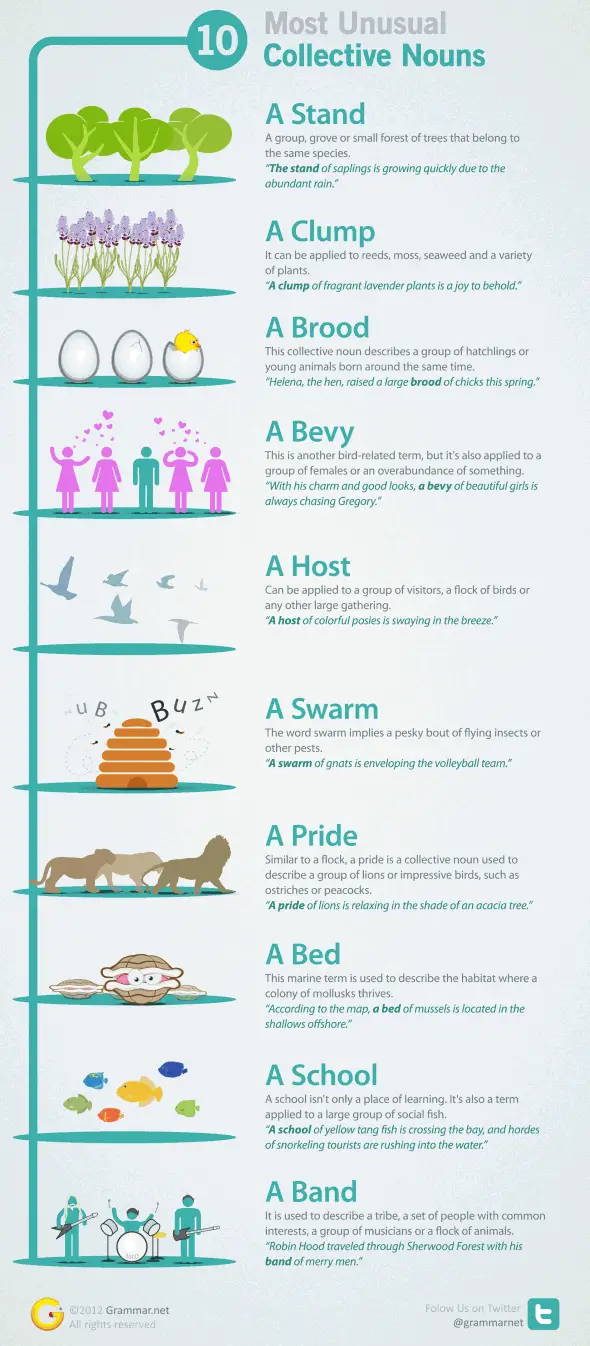 Do you find yourself checking the thesaurus often lately? I don't know about you, but I do love checking for new words to use regularly. This is especially true for when I find myself using the same words too much. Sometimes, I am not even aware of that fact, but the thesaurus does help! Of course, I still believe that nothing beats reading voraciously when it comes to vocabulary expansion.
I found this infographic that presents 10 supposedly unusual collective nouns, which some of you might find interesting. To be honest, I don't really think that the collective nouns in the infographic are all that unusual. However, information of this kind is always welcome – if not for its novel nature, it can always serve as a refresher.
So what are these 10 collection nouns?
Stand
Clump
Brood
Bevy
Host
Swarm
Pride
Bed
School
Band
The definitions and examples are seen in the infographic.

So tell me, do you find these collective nouns unusual at all? Do you use them in your work regularly?
On another note, I have a more fun and alternative way for you to discover new words. If you have an iPhone (or iPod Touch or iPad), and you like playing games in your free time, I suggest that you check out W.E.L.D.E.R. – if you are not playing it already. This word game is reminiscent of other puzzle/word games out there, but it can be rather difficult. More than the enjoyably challenging experience, what I like about this game is that you get to discover a whole lot of new words. Why don't you give it a try?