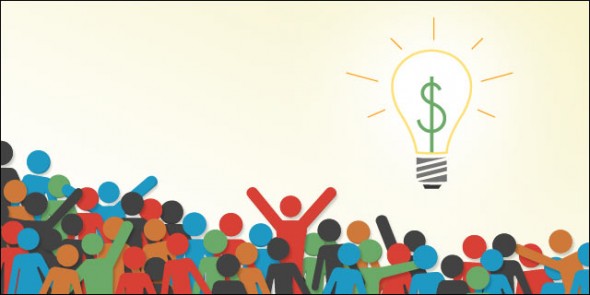 Image credit
Crowdfunding is a popular activity these days, thanks to the success of platforms such as Kickstarter and Indiegogo. The premise is simple and taps into one of the essential characteristics of human beings: helping out others in small ways and also receiving some sort of benefit, emotional or tangible.
On the practical side, freelance writers have a stake in the crowdfunding niche as well. I don't know if you've noticed, but we've regularly included ads for crowdfunding copywriters in the daily job leads. As far as I'm concerned, this is one evidence of just how critical crowdfunding pages are, and crowdfunding copywriters have to be cutting edge when it comes to their writing.
If you are looking to take advantage of the crowdfunding hype by seeking out copywriting gigs in the nice, here are three effective tips that you will want to bear in mind.
One word to remember: scannable
This is one of the most important mantras of writing for the web. Online readers have shorter attention spans. There is too much information available. Readers need to decide quickly whether or not a page/article is worth their time.
The solution: make your copy scannable.
Use headlines and subheadings to mark out the essential information.
Keep your paragraphs short and straight to the point.
Take advantage of formatting. Don't hesitate to use boldface or italics.
Be accessible. Don't preach.
Different audiences require different writing styles and tones. When it comes to writing copy for a Kickstarter or Indiegogo page, you want to come across as human, as someone people would not mind striking up a conversation with. You don't want to be preachy or oratory. You want to create an atmosphere of face to face interaction.
Don't hesitate to use words that elicit empathy for the project and the people behind it. Go one step further and identify with the potential backers of the project. Speak directly to them. Don't scrimp on using "you"!
Focus on the project/product and not the money.
This should be a no brainer, but just in case you need a reminder…
Kickstarter projects aim to raise money, sure, but more importantly, it is a venue for ordinary people with extraordinary ideas to get a chance to turn their ideas into reality – with the help of others. The bottom line is a community of likeminded people who are passionate about the same things and want to be part of something bigger.
Sure, the money is necessary, but you don't have to keep harping on that. Everyone already knows that's an integral part of the crowdfunding culture. Instead, when writing crowdfunding copy, make sure that you highlight the project and the people behind it. You can't go wrong with that.
Wrap up

Kickstarter and other crowdfunding platforms are not going anywhere. In fact, spinoff ideas are already sprouting online. Take, for example, the ForeverGeek Kickstarter Store, which our network has created to make it easy for Kickstarter enthusiasts to find and buy successfully funded projects/products.
If you're looking at expanding your copywriting gigs, I suggest turning your attention to crowdfunding copywriting. If you've got experience in this niche, why not share your tips with us in the comments?