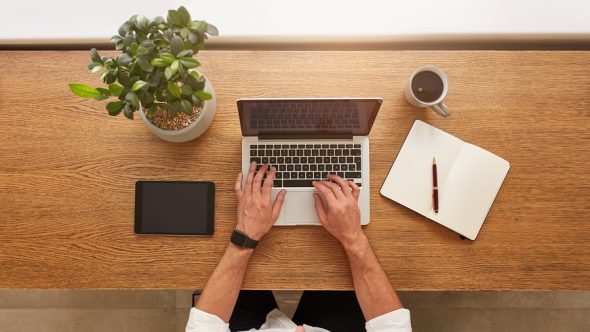 Freelance writing is one of the most talked about ways to make money online. Why? Simply because everyone is in need of content, and there are no pre-requisites for getting started. The world of freelance writing does have it's ups and downs. While it can be quite frustrating and time-consuming, it can also be quite rewarding once you have everything in place.
In fact, if you are a decent writer, there is no reason why you shouldn't be able to start making an extra $500-$1,000 per month on the side as you grow your writing business. Some freelance writers are currently earning upwards of $500+ just to write one article. However, this isn't something new writers should expect to see anytime soon.
In this article, we are going to cover seven working tips to help you find success as a freelance writer, while also bringing in high-paying clients and building a name for yourself in the process.
7 Quick Tips for Making It as a Freelance Writer
No matter what phase you are in as a freelance writer, each of these steps are crucial for longterm success. Run through the list below and be sure to implement any methods you might not be using yet.
1 – Just Get Started
One of the biggest reasons why people fail to find success online (with anything), is that there is a huge case of information overload. What ends up happening is people spending way too much time on the research process and actually never get started with whatever it is they are trying to accomplish.
Yes, it's very important to know what's going on in the world of freelance writing and content creation, but you must be taking action and growing at the same time.
2 – Go Live with a Blog of Your Own
Once you are ready to get started, the first thing you will need to do is start a website or blog of your own. This is extremely important for many reasons — such as building out your own platform and establishing your expertise as a quality writing.
The good news is, starting a blog is extremely easy, low-cost and takes just a few minutes to setup. I've actually helped thousands of people get started with a blog of their own. I highly recommend you read through my how to start a blog guide and you can have a live site up and running in just minutes.
After your blog is live, you can then start building content to establish yourself and your new business. Pages that you should include on you blog are an about me, contact, portfolio and hire me page.
3 – Start Writing for Content Marketplaces
When first getting started as a freelance writer, it will be tough for you to find any work in the beginning. This is mainly due to you having to start fresh and build a name for yourself.
A great way to get started and building a resume for yourself, is to join established content marketplaces like iWriter or TextBroker. Another option is to check out writing job boards across the internet. A perfect example of this can be seen over at bloggerjobs.biz. At any given time you will find a wide selection of jobs looking for freelance, full-time, part-time and remote writers.
The benefit to starting with these types of sites is that there is plenty of work to go around. Many of these sites pay out millions of dollars in commissions to their writers monthly, and handling payments is also something you won't have to deal with.
The higher the quality of your writing, the higher you can earn per word. Best of all, you just need to create an account, log in and see what writing jobs are currently available.
4 – Establish Your Rates and Build a Portfolio
Once you've established yourself and found that your clients are happy with your quality and style of writing, it's time to start branching out on your own. This means you will need to have a portfolio of previous work and a media guide or service page to display your rates — both of which can be posted on your blog.
Since most freelance writers will start with content writing sites, you can take screenshots of your iWriter/TextBroker account ratings and feedback to then post on your site. This will also allow you to give the option for clients to hire you directly through these platforms.
The more information you can provide through your blog (sales page), the more likely you are to bring in new clients. When possible, try to get testimonials from your clients to display on your site.
5 – Have an Amazing "Hire Me" Page
The world of freelance writing is extremely competitive. If you want to stand out from the crowd, not only are you going to need to provide amazing content, you will also need to know how to sell yourself in the process.
Take a look at other freelance writers and writing services online and see how they create their sales / hiring page. Stay away from boring and generic information, and instead focus on why you are the best at what you do.
If you really want to grab the attention of your audience, create a custom explainer video of your services and why you are the right person for the job. Real testimonials can work wonders for bringing in new and higher paying clients.
The most important thing to remember is that there are thousands of other freelance writers clients can choose from. Make it a point to stress why they should choose you!
6 – Learn How to Negotiate Longterm Deals
The best way to make money as a freelance writer, is to bring in longterm deals. While writing job sites are great, their pay is much lower than direct clients, and you never know how consistent your writing workload might actually be.
To increase your chances for bringing in longterm clients, be sure to offer multiple service packages through your site, and also offering discounts on bulk deals.
A great way for freelance writers to bring in new business, is to contact as many brands, blogs and businesses as they can. Everyone needs content, and when it comes to getting new clients, it's simply a numbers and outreach game.
To learn more about writing contracts and agreements for longterm clients, be sure to check out this article.
7 – Use Social Media and Connections to Your Advantage
The last step in the process, is to take advantage of social media and any new or existing online relationships you might have.
As a freelancer writer, you need to get as much exposure as possible. Social media is a great way to accomplish this. Set up a profile on each of the major networks, then retweet and share content from other great sources online. The more you share other people's content, the more likely they will be to come across your site and services.
While you may only know a few people online who are in need of content, you never know who your existing clients or social followers might know. Your next big client could be right around the corner.
How to Make the Most Money as a Freelance Writer
After following each of the actionable tips above, there is no reason why you can't find success with freelance writing. The most important thing to remember is that your quality of content must be great. Once this is in place, it's just a matter of building a site and then getting your name out there.