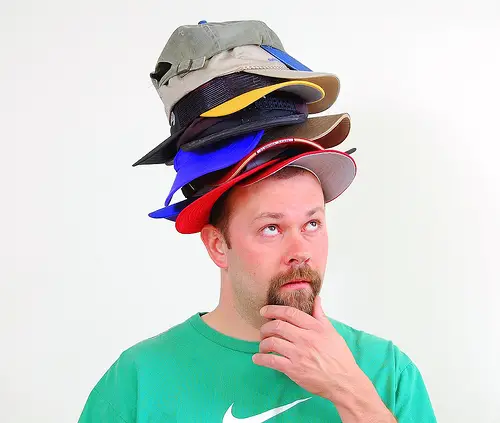 If there's one thing lacking in the publishing and journalism industries these days, it's certainty. The world of writing and publishing is changing day-by-day, and no longer can you be a successful writer — whether your craft is journalism or novel writing, whether you're writing for print or digital — merely by virtue of being talented. There are entirely new skill sets required for the modern successful writer, and whatever kind of writer you are, you're going to find that these skills are a must.
You want to be a 21st Century writer? Here are three hats you must wear in addition to being a strong writer.
Researcher
Readers in the 21st Century are more savvy than any in history. Whether or not we're the smartest people to ever roam the Earth is an argument for another day, but every single reader today can smell a fake a mile away. If you're not willing to put some time and effort into knowing the facts in order to make your words as legitimate and trustworthy as possible, your reader will know.
And they'll check out.
Okay, sure, there are some instances where research might not be required. Like say, if you're already an expert on a particular subject, or if you're writing something less rooted in facts, like an opinion piece or poetry (although even poets should bookmark Thesaurus.com and use it religious). But sooner or later, you'll have to do some good old fashioned research. Only thankfully, today's writers aren't limited to old fashioned methods. The Internet is a treasure trove; this is the Information Age, after all. The trick is knowing the right places to look.
Some of the best places online for fast, easy researching include:
Editor
Every good writer in this day and age has to be a strong self-editor. I can't overstate the importance of good editing. And this goes well beyond proof-reading and running spell-check. You have to be able to look at your work with a critical eye and know when something's working and when it's not — long before you put it out there for the world to see.
If you have a publisher, then you've got a strong advantage, because you have a whole team of people who's job it is to help you ensure that your work is not only readable, but that it makes logical sense. Typos and disconnects still occur in professional publications, but they're very rare compared to what happens when people self-publish. The self-publishing industry and especially the Internet bring entirely new complications to the writing process, because they offer something that writers of the past never had to deal with: immediacy.
It's ridiculously easy to write something and make it instantly available to anyone in the world. That instant gratification can be oh-so-seductive, but it has never been more important to resist that urge, because the quality (or lack thereof) of writing on the Internet has greatly lowered readers' expectations. Want to stand out from the impossibly huge crowd? Want to be known as a true professional? A writer of integrity and intelligence that readers can put their trust in? Then you must become a good self-editor.
Excellent self-editing can require a number of various aptitudes — divorcing oneself entirely from ego, chief among them — but allow me to handicap the whole shebang by boiling it down to one key component. Jot this down on a sticky note and put it in front of your face wherever you go to write. You will never have an instance as a writer when what I'm about to tell you isn't true.
Robin's Cardinal Rule of Self-Editing: less is always more. I don't care what you're writing or who you're writing it for… less is always, always, always more.
Put simply: Don't use forty words when you can say the same thing with twenty. Don't become so enamored of your brilliant, superfluous prose that you lose touch with the wants and needs of your reader. I promise you, writers who have no self-control over their own rambling and no sense of the virtues of simple clarity will find themselves with no loyal readers.
Marketer
Everybody knows that writers have to always be on the lookout for ways of promoting their work. This is nothing new to the 21st Century. Authors have been doing book signings and advertisements and contests and whatnot for as long as books, magazines, and newspapers have been written. What's new in the 21st Century is the level at which you have to put your own creativity to work as a marketer. It's one thing to go down the tried-and-true path of scheduling book signings, running contests, keeping a mailing list, yadda yadda yadda. Anybody can do that stuff, and everybody does.
It's another thing entirely to be a sharp marketer in a landscape that's overcrowded and fatigued with advertising messages. Breaking through the noise requires ingenuity and persistence, and you're going to need plenty of both. I'm a strong believer in guerilla marketing — marketing on a tiny (or non-existent) budget. There are lots of tried-and-true guerilla marketing tactics out there, but everyone's always looking for the next great idea to get the word out, and that idea could be yours!
A good 21st Century book marketer should also be a social media maven, but that's a topic for another article.