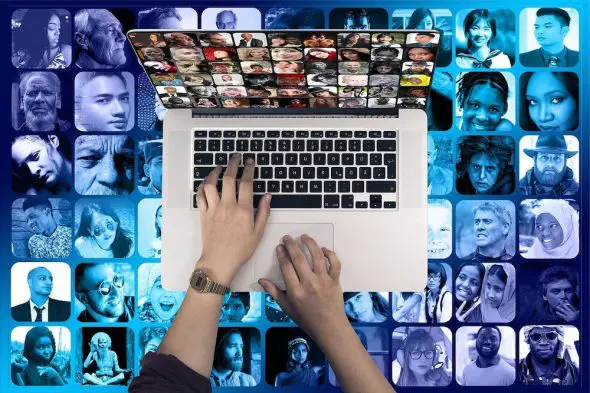 The post-pandemic gig economy is ready to grow, with remote work and freelancing leading the way. Freelance writers as well as other freelancers have had their lifestyles and work choices validated by the remote work and work-from-home trends prompted by Covid-19.
As we see the whole world manage to work in teams and collaborate just as they did in physical office spaces, freelance writers have also jumped on the bandwagon and prefer not to identify as lone wolves anymore.
A smart freelancer will understand the power of collaboration with another writer. 'Teamlancing' is a term used for freelancers collaborating with a networked term. Associating with another writer can be liberating and highly rewarding. You can increase your portfolio and learn from another person whose skill set is different from your own.
Humans are social animals, and psychologists agree that teamwork is the preferred way for us to get things done. Freelancers are not immune to the collaborative urges of the human species. 
53% of working gen Zs are currently freelancing – more than any other generation – while 40% of millennials freelance full-time. Here are a few ways you can collaborate with other writers and build your career.
Work for content marketing teams instead of content-needing businesses
Instead of always being on the lookout for work on freelance platforms like Fiverr or Upwork, seek to work with an established contractor. Collaborating with content-needing businesses makes it difficult to find a writing partner. However, with content marketing teams, you increase your chance of finding your equal. 
Working with such a team is also great for your professional future because it's likely to keep your calendar full.
As a solo freelancer, chances are you don't have a structure or a method to your madness that is comparable to a content marketing firm. Yet these firms thrive off improvisational collaboration among contract workers and fully understand the creative power of teamwork. 
Collaboration software is all the rage and necessary to work properly with other writers. These are some advantages of Bitrix24 vs a few of the newer options on the market.

Offer more skills to your clients
There is next to no chance that you're an expert in every writing domain. To have a team member means to have a broader set of skills that you can offer to your clients. Whether SEO, audience analysis, social media knowledge, or sharp grammar skills, you can each be an expert in one or two areas while your team member makes up for your lack in the rest. 
For example, you could be an expert in writing about certain niche products but get a once-in-lifetime chance to work on a type of web copy you're not familiar with. Rather than striking out in the dark or refusing the project, you could team up with another writer to help you do the product descriptions.
Teamwork is also necessary to get those creative juices flowing. Like-minded camaraderie can boost your productivity, and bouncing ideas off each other is integral to the content creation process. Having someone to be answerable to other than the client means you'll be on top of your game too, and with two or three people on a project, you're less likely to miss a deadline.
The brilliance of teams cannot be matched by the genius of the solo worker. You could have great SEO skills while your team member might have excellent grammar that allows you to collaborate and create content that shines.
This Talkdesk and RingCentral review examines which solutions are best when it comes to team collaboration and workforce optimization. 
Outsource work to others
The more work you have, the more you have to show in your portfolio and the more work you are likely to get. With the overabundance of work out there, think about reaching out to fellow freelancers to help you. Whenever your workload appears daunting, look to collaborate with another writer. 
This is the first step to converting your self-employment into a fully-fledged business, and there are many business solutions available as you dive into entrepreneurship. These include free business software for small business that can help you with everything from customer management to video conferencing. 
Once you have proved your mettle in the content writing and copywriting world, don't shy away from bigger and better projects. Delegating your work will help free up time for yourself without requiring you to turn away potentially lucrative opportunities.  
Be part of the network of freelance writers
Social networking is all online these days. Facebook groups are the best of these. 40% of freelancers hoped to improve their networking skills, which shows how necessary they are. There are many groups exclusive to writers and active participation in these can make you an integral member of a thriving online community.  
Not only do these groups help you find work, they help you find people to collaborate with too. When you collaborate with another freelance writer and do it successfully, you have a good chance of them passing on positive feedback about you to others in the community. This could lead to even more work and help you to expand your network.
You can connect and communicate with members of these groups on other social media channels as well. These groups also organize and will inform you about conferences for content creators which are the ultimate spot for networking. 
Co-working spaces are also great for networking and collaboration. Networking as a freelance writer should be a balance between in-person networking events and online relationship building.  
Source: Website Planet
The takeaway: make your freelance life work for you 
The maverick lifestyle of a freelancer might suit you, but developing a symbiotic relationship with other writers is in your best interests. It can be productive for you and lucrative as well. Working with fellow freelancers will broaden your creative and entrepreneurial horizons while giving an insight into your shortcomings. Your results will be more versatile as there will be a broader set of skills contributing to them.
As we make it more acceptable to work with other freelancers, we help the community to become more open. Working together is the way forward and is essential in creating a sustainable ecosystem. 
Healthy partnerships foster growth, with team members encouraging and bringing out the best in each other. Your confidence and knowledge will grow and your clients will give you rave reviews for your collaborative efforts. 
About the author
Elea Andrea Almazora- RingCentral US
Elea is the SEO Content Optimization manager for RingCentral, the leader in global enterprise communication and collaboration solutions on the cloud. She has more than a decade's worth of experience in on-page optimization, editorial production, and digital publishing. She spends her free time learning new things.