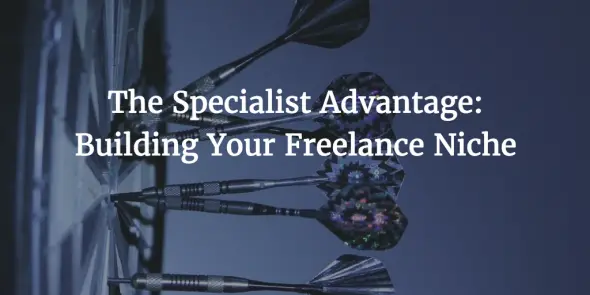 As a freelance writer, you may think you'll increase your odds of picking up work by billing yourself as a generalist.
"I can write anything," you tell clients, "just give me a topic."
While this can seem like a good strategy at first glance, calling yourself a generalist is likely holding you back in your freelancing career. You'll fare better – get higher quality work with better pay and attract more valuable clients – if you develop a niche. From technical writing to a specialization in media or finance writing, your niche is what sets you apart from the crowds of writers fighting for low-quality jobs at the bottom of the pay scale.
Identify Yourself
If you don't immediately understand the benefits of developing a niche as a writer, it may help you to re-conceptualize your work. Instead of thinking about yourself as someone who writes blogs or marketing copy, try thinking of yourself as a consultant.
When someone wants advice on developing a tech company, they don't call up a baker and ask for their input – they call up someone with experience in their particular field, someone like Sam Ovens, who developed his consulting business from the lessons he learned from his failed companies. The same applies to writing work; you could call up the New York Times' drink writer, Rosie Schaap, and ask her to write your next industrial tech manual, but it would be a poor match. You want to hire someone with technical writing experience.
As a writer, you want to develop a niche in which people consider you knowledgeable and reliable, and preferably one that interests you. It will make your work more enjoyable and create demand for your writing. What's more, your background in the field will, in fact, make you a kind of consultant – you don't just bring writing skills to the table, but a deeper knowledge of the topic.
Produce a Portfolio
All freelance writers need a portfolio – work they can give to editors and clients to assure them that they're a reputable professional. But when you're working as a generalist, it can be hard to build a compelling portfolio; things tend to look scattered and while potential employers may be able to gauge your writing skills, they can have a hard time getting a real sense of your style. By developing a niche, however, you can craft a portfolio with a cohesive voice that will draw in more clients.
Furthermore, a portfolio that represents your work as a generalist can actually trap you in areas that you're no longer interested in pursuing. Make sure to narrow your writing samples down and update your portfolio so that it represents your niche. If you're still displaying your science writing work when you're trying to get into the digital media field, clients may continue to pursue you based on the content of past assignments.
Make More Money
At the end of the day, you make your living as a freelance writer, and that means how much you're paid per word or per assignment matters – and your ability to negotiate that pay is contingent on factors like experience and expertise. When you develop a niche, you can better demonstrate your topic-based expertise and you'll make more money for the same amount of work. Editors are willing to pay more when they know they can expect the best.
When you're a freelance writer, you can hustle to pay the bills as a generalist or you can position yourself as a high-demand writer for top pay work. Writing for a niche is easier and more lucrative, and it's a powerful tool that can help you stand out from the broader pool of writers. So take some time to consider what you want to write about and then go for it; it will take some time to build your portfolio, but the effort will be worth the ultimate payout.