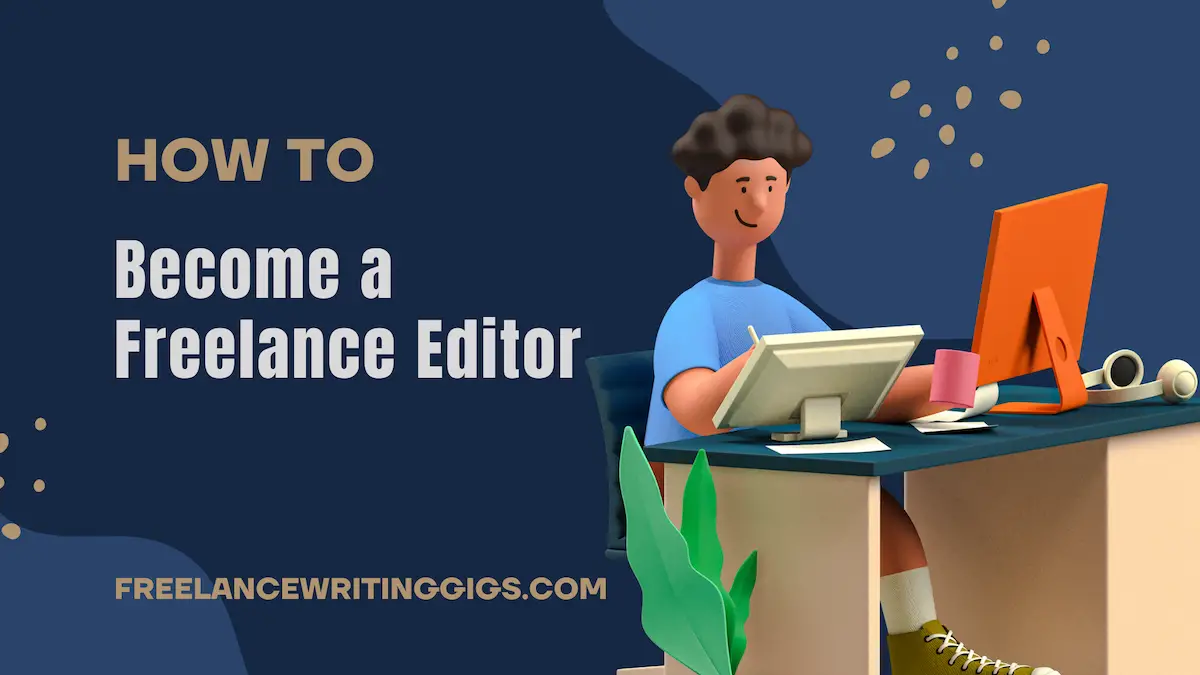 Being a  freelance editor can mean different things. This can make it difficult to know where to begin if you're just starting out or looking to get into freelance editing. 
If this is you, don't worry, we're here to help. We'll show you how to become a freelance editor — and we'll cover the different types of freelance editors, where to source work, and how to grow. 
Where do I Start? 
First of all, you need to define where your skills lie. This will help you determine your specialty as an editor. As you develop your ability, you can branch out into other areas. 
Types of Editing
To know where to start, you need to know what kinds of editing work you can get as a freelancer. 
1. Copy & Line Editing
You'll likely start with proofreading or copy and line editing as a new editor. The first focuses on spelling and grammar alone. Copy and line editing start to move a bit deeper, considering the structure, language, and flow of content.  
2. Developmental Editing
This is where an editor works directly with an author on every aspect of their writing. You'll be giving guidance on flow, structure, and even discussion of ideas and plot elements.
This kind of editing is usually in demand for teen and adult fiction. Unless you have a background in fiction editing, you probably won't start out doing freelance developmental editing. It's a highly skilled niche worth developing in, though.
3. SEO Editing
This is a newer form of editing that is in high demand in the current online market. You'll be optimizing pieces for SEO ranking. This means that the content will be highly ranked in search engine results like Google.
Combining SEO knowledge with copy & line editing skills can be a great way for freelancers to earn extra revenue. Online publications need to balance readability and SEO scores to achieve the best results for their audience and a good SEO editor will help with that. 
Identify Your Niche
The categories above will guide you on where to start based on your current knowledge and ability. Focus on any specialties you have within these areas. Perhaps you've dealt with a lot of online blog publications, for example, so you know topic clusters by heart.
You can narrow this down further with industry or market knowledge. If you're moving from writing to editing, leverage your area of expertise. Let's say you've written a lot of articles about the IT and tech industry, it's safe to say that you know how that content should be structured. 
Knowing the content and knowing the audience is half the battle for effective editing. The rest is down to your linguistic and writing skills. Starting out in the areas where you've already developed yourself will always lead to the best results.  
Build a Portfolio
Getting a portfolio of work to demonstrate your skills is very important for a freelancer. This can seem daunting to someone who's just getting started. How do you build a portfolio with no experience? 
If you have nothing at all to begin with, then there are limited ways to build up work. First, don't be afraid to take on small-scale jobs. The simpler the edit, the more likely an inexperienced editor will be considered. No matter how small, some work in your portfolio is better than none. 
As you learn, make sure you look at well-edited content in your specialty area. Take this article on the chatbot use cases of Dialpad customers. Pay attention to how the article meets editing criteria. How have they formatted links and keyword distribution? What's the structure?
Create Your Online Presence
Once you have something to show off, go ahead and show it off. Creating your own website can be a great way to build a profile as a freelancer. You can show your portfolio work in an easily accessible way and promote the website to drive clients to you. 
Another is setting up your own social media account, where you can showcase your expertise. A social media publishing tool can make scheduling and publishing posts less stressful. 
Also consider setting up social media accounts to promote your services and network with others in your field. 
Know Your Value: How to Source Clients & Set Rates
Finding clients on your own can be difficult, especially for new editors. Consider setting up a profile on one or more freelancer platforms. These online sites connect clients with freelancers. 
Many of them come with competency tests or trial orders, so they tend to be accessible for editors with limited experience. 
What Should I Charge?
This is a common question for any freelancer. There are some relatively standard rates for editing that you should keep in mind. Here are the current average rates quoted by the UK's CIEP
| | |
| --- | --- |
| Editing Task | Suggested Hourly Rate (£/hr) |
| Proofreading | £26.90 |
| Copy/Line Editing | £31.30 |
| Developmental Editing | £36.00 |
The image below shows US rates for comparison. A quick Google search will help you find your local equivalent. 
How do I Grow as a Freelance Editor? Tips & Tricks
Never stop learning. The only way to grow as an editor is to develop your experience, skills, and your network. 
Grow Your Skills
Start with the basics. Add skills like posting on WordPress or other CMS. This might require you to know where to find rights-free images, what sites can provide free stock videos, etc. 
You will also need to become familiar with tools that help you with editing — Grammarly is our go-to "first line of defense" proofreading tool. You can download and use it for free here.
Now that you're equipped, focus on the core task: editing.
If you want to move up to developmental editing, try approaching independent authors and offering your editing services. 
You might have to invest in yourself to grow your skill set. Having on-paper qualifications can be a good way to get your foot in the door with new clients. The long-term payoff will be worth it, if you can diversify your revenue streams as a freelancer, you give yourself more security. 
Networking
Never underestimate the power of networking. New authors can have difficulty finding editors and many editors like to share tips and advice. Attending industry events can be a great way to meet people who can help you source work and promote yourself. 
Having all of the above advice from this guide in place when you talk to others in the industry is a great foundation for promoting yourself. The best way to source opportunities is to go and find them. 
Final Thoughts: Find Your Speciality, Develop Your Skills, Build Your Network
It doesn't take an expert in any given field to edit copy about that topic. Specialist areas of knowledge can help you define your niche, though. When the author and editor are on the same page about their objectives, the editing process becomes simpler.  
Whether you're editing a recipe book or a business's escalation management process documents, the client's objectives for the content should always be your primary concern. Develop your communication and networking skills and work closely with clients.  
About the author
Jessica Day is the Senior Director for Marketing Strategy at Dialpad, a modern business communication phone system that takes every kind of conversation to the next level—turning conversations into opportunities. Jessica is an expert in collaborating with multifunctional teams to execute and optimize marketing efforts, for both company and client campaigns. Jessica Day also published articles for domains such as Kanbanize and AirDroid. Connect with her on LinkedIn.