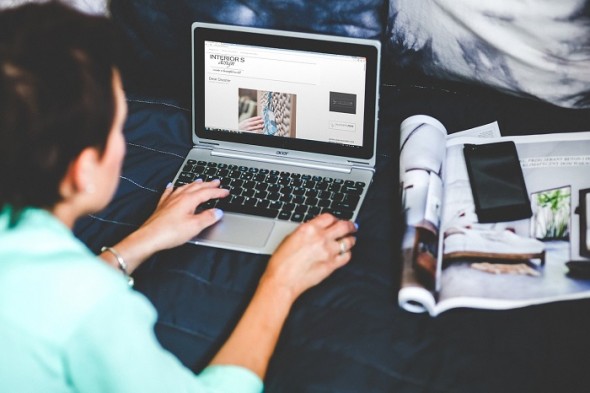 If you're a freelance writer, you likely feel the pressure to always have your next gig lined up, especially if you're just getting started in your writing career. However, that drive to always have work can make you a potential target for scammers.
Here are eight common work-at-home scams you should be aware of.
The flatterer
A smooth talking individual reaches out to you full of praise for your blog, your resume, or your social media posts. They insinuate they work with a publisher of some kind and want you to write a book, host a YouTube channel, or something else that promises exposure, pay, and prestige. You've never heard of this person before, but you're flattered. Only hours or days of work into the process are you told that you'll need to invest your own money to make the project happen.
Don't fall for this one. It's a scam, and it's not worth your time. If someone wants you to write a book, they should pay you – not the other way around.
The startup
An excited and energetic individual reaches out to you. They are part of a new business and they would love for you to do some of the writing for this startup. It's sure to be a huge success! Unfortunately, they don't have the money to pay for your services right now, so they promise you a portion of their sales and profits instead.
Unless you personally know the entrepreneur, you shouldn't trust this scheme. You'll likely never hear from them again once you've done your portion of the "launch" and the names and contact info they gave you (and probably even the business name) will turn out to be fake.
Samples or free work?
This is a common scam. You'll be asked for a few original samples. They don't necessarily need to be very long, but the job you're writing for will be a high-paying one, so you provide high-quality samples. Then you never hear back from the individual again. Chances are that they were never after the work you applied to do but just needed a few short blog posts.
You should have a portfolio and some samples you can provide for every job you apply to. This should be enough to showcase the quality of your work without having to write a completely original piece of content.
Writing for exposure
If you have the opportunity to write for the Huffington Post or Mashable, writing for exposure instead of pay is definitely worth your best efforts. However, some scams suggest their platforms have millions of visitors a day and the exposure and backlinks you'll receive are well worth your time. Do your research, as these claims are easy to check. You might just find the website you're posting to receives only a dozen views a month, and these are probably from the scammer collecting new "original" posts for his own content.
Writing contests
When you start your writing career, you won't be landing high-paying gigs right away, and that's what makes contest scams so appealing. Here's an opportunity to validate your writing while earning a huge cash prize at the same time.
Before you spend your time crafting that story for a contest, do some research and make sure it's legitimate. You should also be wary of any contest that claims ownership of your work once submitted.
Stealing personal information scam
You've landed an awesome gig and already submitted your first piece and invoice. Your client requests your personal banking information in order to process a payment or sends you a link requesting the same thing. These are red flags! Anybody who runs a company accepting work online should be familiar with PayPal, which is a safe way to receive payment without compromising your personal information.
Paid job databases
There are quite a few job databases out there to help you find freelance work. You don't have to pay to access these. If you come across a job board that requires a paid subscription to access the job listings, stop and think about what you're doing. You don't have to pay to look for work.
The overpayment scam
The last scam is a big one, because it won't just mean substantial financial losses for you, but could also spell potential legal trouble. A client sends you an old-fashioned paper check for thousands more than you agreed to. Then they request you cash the check and wire the overpayment back to them. Freelance writers aren't the only targets for this particular scam. Either the check bounces and you end up owing your bank for those funds, or you're taking part in a money laundering scam of some kind. This process is always fishy. Tell your client that you shredded the check and request payment in the correct amount, via PayPal.
These are some of the most common work-at-home scams. It is important to note, though, that not everything similar to the situations above are scams. This article is meant to make you aware of the potential dangers.
This post was written by Kelly Smith, who works at CourseFinder, an Australian online education resource. She also provides career advice for students and job seekers and is passionate about the Australian startup scene.