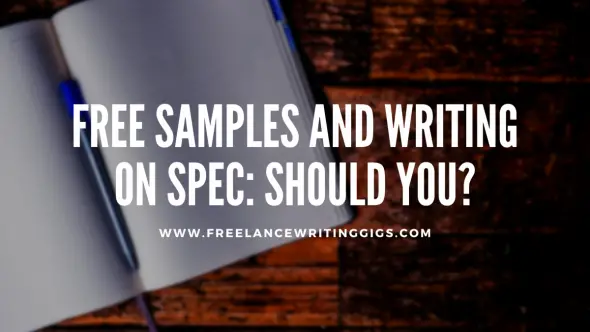 Many freelance writers aren't a fan of writing on spec. That is, to create an assigned article for a potential freelance writing client or publication without the promise of acceptance. This usually happens when a publication doesn't want to commit to a new writer without giving him or her an audition first.
When you encounter a freelance writing job ad looking for a specially prepared (and possibly unpaid) sample, that's almost the same thing as writing on spec.  I call these requests "special samples." Special samples are writing requests beyond the clips that are submitted with the initial query or application.
Questions to Ask a Potential Client Who Wants Free Writing Samples
Most potential clients request clips and writing samples to get a feel for your writing. They want to be sure your voice and tone fit their own, and, also, they want to be sure you know the subject matter. In most cases, published clips will do just fine. For some clients, this isn't enough; they want writers to complete an assignment before they agree to hire them. This is when we run into problems, especially if the client wants to keep all special samples without paying for them.
Ask your clients questions before you write samples. Here is a quick guide.
Click To Tweet
Before creating new samples at a potential client's request ask him the following:
Why do you need new samples when I already showed you several examples of my writing?
How much will you pay for me to write this sample?
Who owns my writing sample?
What will you do with my sample if I'm not hired?
Many potential clients are actually very well-intentioned—they only want to be sure you can handle the material. However, there are other clients who are looking for free content.  Asking questions will prevent you from helping to stock someone else's website without seeing anything in return.
There have been occasions where I've written on spec:
About.com's Prep program is a two-week audition where potential Guides create content for their Guide Site.  Several writers apply and build sites at the same time, but only one writer is chosen for the job. Those who don't make the cut are left with nothing to show for their hard work. Fortunately for me, it paid off and I landed the gig. If I didn't I probably would have used all of the content for my blog.
One regular client asked me if I would try tackling a particular topic. The gig was lucrative but I never wrote about that particular subject before. Rather than lose this client to someone else, I wrote the piece on spec. I also got the gig.
Providing free samples or articles on spec is never a sure thing. While most freelance writers shy away from clients requesting free samples, there have been occasions where it's turned out well for the writer. If you're going to write a free sample, make sure you're compensated, especially if the potential client will use the sample.
If you're not compensated and it's only to be used as an "audition," make sure your client knows he doesn't own any rights to the content, he may not publish it without your consent, and it is yours to do with what you wish. If the client wants all rights to a sample even if you don't get the gig, run. This is only someone looking for free goods.

Every day writers ask if they should submit free samples. My answer is always to consider the source and ask the right questions. I'm not a fan of writing on spec, but I did have success with it a couple of times, and I know other writers with similar stories.
Just keep in mind you may not receive any form of payment for your work, and the potential client may very well end up keeping your samples to use as he wishes. While there are differences between writing on spec and turning in free samples, the outcome can be the same. Lots of work for nothing.
What are your thoughts? Have you ever submitted a free sample? Would you write on spec?
[First published in 2010; updated October 2022]