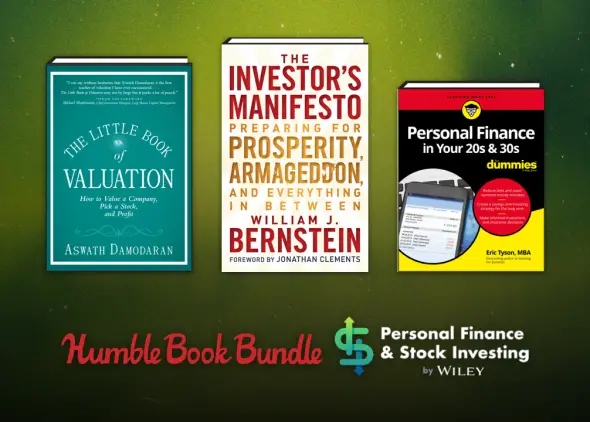 Don't we all? There is always room for improvement in personal finance, after all. And, even if you have it all together personally, you might meet clients in the personal finance and stock investing space.
As such, we thought you'd find these personal finance and stock investing books of interest.
This collection of personal finance and stock investing books is from Wiley, and are sure to add to your knowledge of the niche. Worth $616 in total, you can get all the titles for only $15 until December 14, 2020.
You don't even have to spend all of $15 to get some titles. For $1, you already have access to the following:
Common Stocks and Common Sense: The Strategies, Analyses, Decisions, and Emotions of a Particularly Successful Value Investor
How a Second Grader Beats Wall Street: Golden Rules Any Investor Can Learn
Making Money Simple: The Complete Guide to Getting Your Financial House in Order and Keeping It That Way Forever
Morningstar's 30-Minute Money Solutions: A Step-by-Step Guide to Managing Your Finances
Work Your Money, Not Your Life: How to Balance Your Career and Personal Finances to Get What You Want
Family Inc.: Using Business Principles to Maximize Your Family's Wealth
If you want to expand your knowledge to cryptocurrency and financial tech, as well as dig deeper into investing, pay $8 to get these additional titles:
Personal Finance in Your 20s & 30s For Dummies
Cryptocurrency Investing For Dummies
Spenditude: A Life-changing Attitude to Money
From Here to Financial Happiness: Enrich Your Life in Just 77 Days
Improve your finances or add to your niche-writing knowledge by getting these personal finance & investing books.
All purchases contribute to MakerEd, an organization that provides training, support, and resources to individuals, institutions, and communities who are integrating maker education into their learning environments.
–
Some of the links in this post are affiliate links. That means we may earn a small amount when you make a purchase – at no extra cost to you. Thank you for your support!