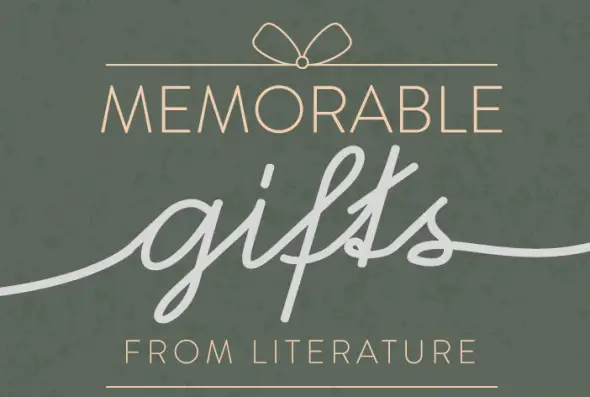 In about a week, many of us will be celebrating Christmas. If you're like me, you might still have a long list of gifts to be bought, wrapped, or sent out. (I'll get to it this weekend…crossing my fingers.)
The chances are that you have friends who are writers or friends who love to read. Birds of a feather and all that…
Do you already have gifts for them? If not, then let me help you out. Here are some gift ideas for writers (or literature lovers), courtesy of a graphic created by Pack & Send.
Here are some of my favorites:
Harry Potter's Invisibility Cloak from Dumbledore
Scrooge's turkey gift to Bob Cratchit
The Pevensies' weapons from Father Christmas
Magic items/supplies from Galadriel to the Fellowship of the Ring
Obviously, we can't find (most of) these fictional gifts to give our friends this Christmas, but they do give some inspiration, don't they?
Give a literary scarf instead of an Invisibility Cloak.
Give a really nice pen instead of weapons.
Here's an even better idea: give something like Scrooge's turkey and a note that gives a hint of where (the book, story, etc.) the idea came from. I am sure that will be a hit.
If all of these items existed in real life, which one would you give your friend/s?