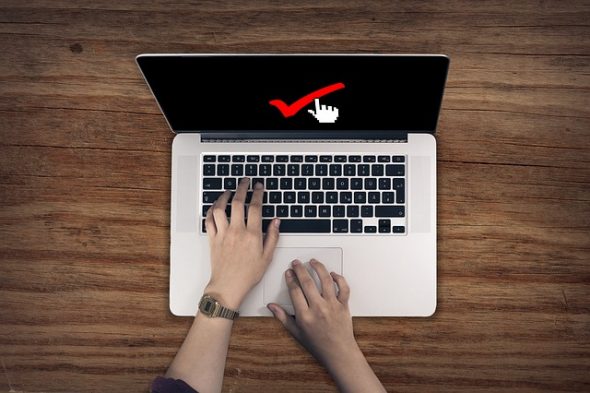 Finding legitimate gigs is challenging, not because work is scarce, but because you have to sift through endless phony and low-paying jobs to get to the real deal. It's fairly easy to spot scams, but some low-paying gigs look like high-quality opportunities, and it's easy to be fooled.
Related: 8 Work-at-Home Scams Every Freelance Writer Should Be Aware Of
If you're done accepting low-paying gigs just to scrape by, it's time to find legitimate, good paying gigs. Instead of applying for every job you can find, hoping for a response, look for these indicators and skip the rest.
Looking For Legitimate Gigs? 5 Positive Indicators To Look For
1. The job posting includes a phone number to call
A writing gig that includes a phone number is more likely to be legitimate than one without. Scammers and low-paying content writing farms don't want to be bothered with phone calls. However, the absence of a phone number doesn't necessarily indicate a bad listing. Some legitimate businesses might not want to deal with an influx of phone calls from Craigslist strangers.
As a rule of thumb, whenever you see a phone number in a promising job listing, call the number and apply for the position. They might tell you to apply online, but the point is to establish a live connection with the business to get a feel for their legitimacy.
2. The company has a verifiable online presence
Run a Google search for a company before you submit your application. Don't waste your time interviewing for a gig with a company that has no verifiable trace of existence online. Search for the business on these popular job boards to see if they've posted ads, and what kind of feedback their ads receive. That will tell you much about the company.
Some businesses intentionally withhold the name of their business from online job postings to avoid spam. If you can't find the name of the business to verify its legitimacy, send a brief inquiry to ask who they are.
Any legitimate business should be willing to provide you with more information to help you decide whether you want to apply. If a business won't reveal their company name prior to your application, it's probably a scam.
3. A contact name is listed with the company's phone number
A company that wants to be contacted by candidates will provide a contact name with a phone number. 
4. The business is established to some degree
Unless you're okay with selling yourself for two cents per word, it's best to work for established businesses. However, if the business is a startup and the owners are looking for talent to help build the company, that can work, too. You don't want to start working for a company that has no legal entity and doesn't seem to be growing into a fully established business.
An established business will have visible growth and plenty of employees. The company will also have a reputation in the marketplace. For example, in the gig economy, remote writers are drawn to Trafilea because they've got significant growth, and produce well-known brands that make a difference.
Look for job postings from companies who are established, or at least organized when they're in the pre-launch state.
5. The company has a good reputation among its employees
You can't trust anyone's online reputation completely, but when complaints are spread out among multiple social media channels, you can be sure a company has some issues. However, their reputation among workers will tell you everything you need to know.
It's safe to say most people aren't completely satisfied with their job, but that's not always the employer's fault. Who wouldn't want to get paid for not working at all? Even when a job is fun, the idea of not having to work at all sounds better.
If you can find out what employees think about working for the company you're considering applying for, it might shed some light on what you'll experience. No job is perfect, but you'll get a better understanding of what the company's downfall is and you can decide whether you're willing to settle for those particular inconveniences. For example, the pay might be great, but can you deal with a boss that expects you to meet hourly deadlines for 8 hours a day? If that's not how you work best, don't bother applying.
Be diligent but don't waste your time
It might take several contacts with a company to land a good gig, so it's better to filter the gigs you apply for in the first place. In addition to looking for the indicators in this article, refer to this writing job scam checklist to make sure you're not falling into an obvious trap. Eventually, filtering quality job possibilities will become automatic.