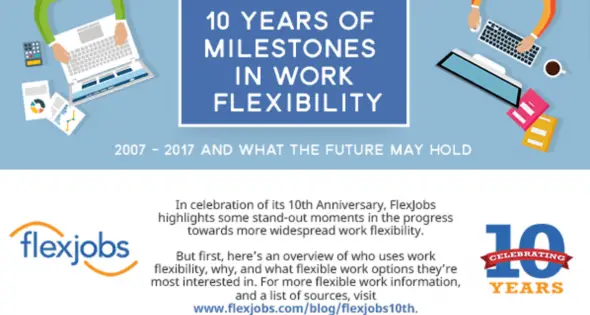 Work flexibility has gone a long way in the past decade, with companies like FlexJobs leading the way. As many of you may know, we've been partners with them for a while now, and we believe in their mission to help workers find alternative, more convenient ways of making a living.
This year, they are celebrating their 10th anniversary, and we join them in looking back at the milestones in work flexibility – not only for freelancers in new media, design, and other niches, but also for company-employed individuals.
Some highlights include the rise of online job search and opportunities, legislation favoring remote work (the Telework Enhancement Act), and companies actively promoting telework.
More than looking back, we also take a look forward to see what the future holds for remote work, freelancing, and part-time work.
This infographic from FlexJobs shows all that and more.