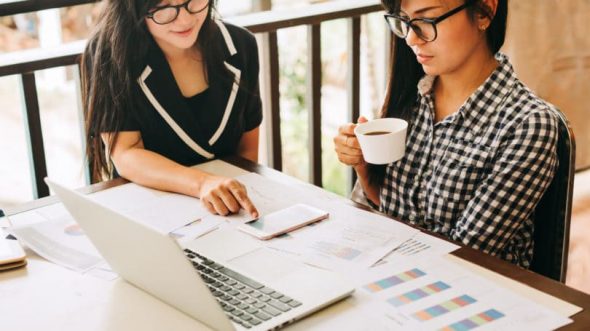 Perhaps the biggest buzzwords when it comes to the latest trends in employment are "working in a gig economy." Today, more than ever, people around the world are choosing to leave traditional employment behind and instead choosing freelance projects, contract work, and short-term assignments.
Workers are shifting from working a classic 9 to 5 job to freelance work, making the transition from being employed by a company to working for themselves. This shift in employment puts workers more in control of their work environment, all the way from when they work to what types of jobs they choose to do.
Here's everything you need to know about the gig economy and where you fit in as make your move from employee to independent worker.
Gig Economy: The Facts
The gig economy is taking hold around the world as workers redefine what it means to be employed. Across the U.S. alone, 57 million people — or 36 percent of workers — call themselves gig workers. A further 24 percent of workers have an alternate work arrangement that they consider their primary job.
In the traditional sense, gig workers are made up of freelancers, temp employees, and independent contractors. But the traditional marketplace for these gig jobs has expanded and now gig workers can be found in any employment capacity that allows people to work independently with themselves as the "boss."
One of the driving forces behind this rise in gig workers is technology. Smart devices now give people the ability to connect to wifi and work from anywhere…any time.
What Defines A Gig Worker? 
If you're considering moving into a gig economy, you'll fall into one of two categories – the independent worker or the contingent worker. Independent freelancers are their own manager, submitting invoices and billing for the services and skills they provide to individuals and businesses.
The contingent worker is employed by a company but has fewer benefits than regular employees and has little if any job security.
To break down the definition even more, gig workers can be fit into one of these four areas:
Freelancers – When working as a freelancer, gig workers provide a service or skill, such as design, photography, or writing.

Freelance marketplace – Gig platforms such as Uber, Airbnb, and Upwork let gig workers provide a service on-demand for hire.

Self-employed gig workers – Small business owners and tradespeople fall into this category.

"Other" – Still a big part of the gig economy, this "other" area encompasses freelance positions such as affiliate marketing, Etsy, and eBay as platforms for people to be self-employed.
Deciding Factors To Leave Traditional Employment
Making the decision to leave your traditional job as an employee for a business or organization is becoming more appealing to many. In fact, 30 percent of 1000 people surveyed who work in traditional employment say they would quit and join the gig economy if they were able to make as much as they currently do.
Here are still other reasons why individuals would quit their job to become a freelancer:
Job flexibility – 33%

Higher pay – 19%

Transitioning to another job – 14%

Toxic work environment – 14%

9 to 5 burnout – 12%

Dislike employer/boss – 9%
Ready To Join The Gig Economy?
Americans are making the move to join the gig economy based on both personal and professional reasons. As well as a supplementary income, here are the biggest benefits of considering a gig job:
1. Establish your portfolio
One of the best ways to build up your portfolio and highlight your skills is by working for multiple clients rather than one employer.
2. Benefit from a flexible work schedule
Being an independent freelancer lets you decide when you want to work. Take vacations and time off when you need it, not when it's convenient for your boss.
3. Enjoy working a variety of different projects
One of the biggest reasons people are unhappy in their traditional job is boredom from doing the same repetitive job day after day. Gig work lets you choose what projects interest you the most.
4. Become a new type of entrepreneur
With the gig economy, gone are the days when you had to spend time and money building a website to reach potential clients. Your portfolio and client-base speak for you on gig platforms, drawing clients to your skills and reputation.
5. Personal fulfillment
Working in the gig economy lets you take on projects that you're passionate about and pursue new opportunities.
Best Practices For Thriving As A Gig Worker
Once you've decided to join the gig economy, there are some effective strategies you can use to thrive as an independent freelancer:
Establish a good working routine.

Focus on your purpose.

Build relationships and network with other professionals.

Create a positive working space either at home or by sharing a coworking space with other gig workers.
Navigating your way through the gig economy is easier when you know what it takes to work independently for yourself. Once you know you're ready, start making the transition from employee to freelance step by step – you'll soon find that making a full-time commitment to being a gig worker pays off with some incredible personal and professional benefits.