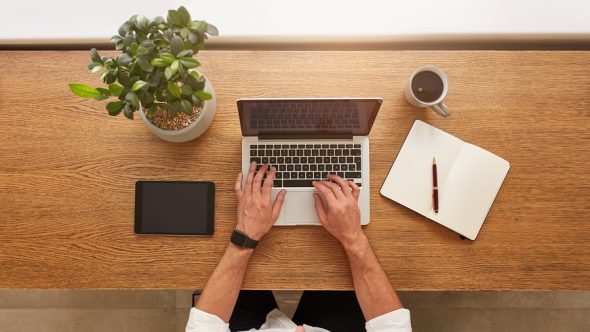 Freelance writers are quickly changing the way content is created and read on the internet today. With several hundreds of millions of WordPress sites now live and over a billion active sites collectively online, content is now in demand more than ever before.
However, content is only as great and the time, work and effort put into it.
With this in mind, businesses and brands of all sizes are now focusing on freelance writers for their content creation efforts. This means more content demand and more money flowing into the freelance market.
In order to meet the demands and needs of such clients, freelancers need to take advantage of the many tools and resources available to get stand out from the crowd in an already crowded market.
Here are some of the best tools and resources for freelancers to create the best content possible.
Ubersuggest Keyword Research and Content Ideas
As freelance writers, you will likely be working with a lot of different brands and companies on the content for their sites. While these clients might understand what type of content they want to create, they might not fully understand how to properly build a content marketing funnel that both resonates with their audience and also follows search engine optimization best practices.
Search engine optimization is the process of performing the necessary keyword research and writing content around such topics, while also making it of great quality in the eyes of Google.
Ubersuggest is an all-in-one SEO tool and platform that makes the process of research and analysis easy. Simply enter your preferred keyword or phrase into the search box and you will see the search volume, ranking difficulty and sites ranking for that term.
It's also a great tool for freelancers, as it has 'Keyword Ideas' (shown above) and 'Content Ideas' (shown below) tools that can definitely help freelance writers come up with better article titles, keywords to go after and understanding what audiences are looking for when they use search.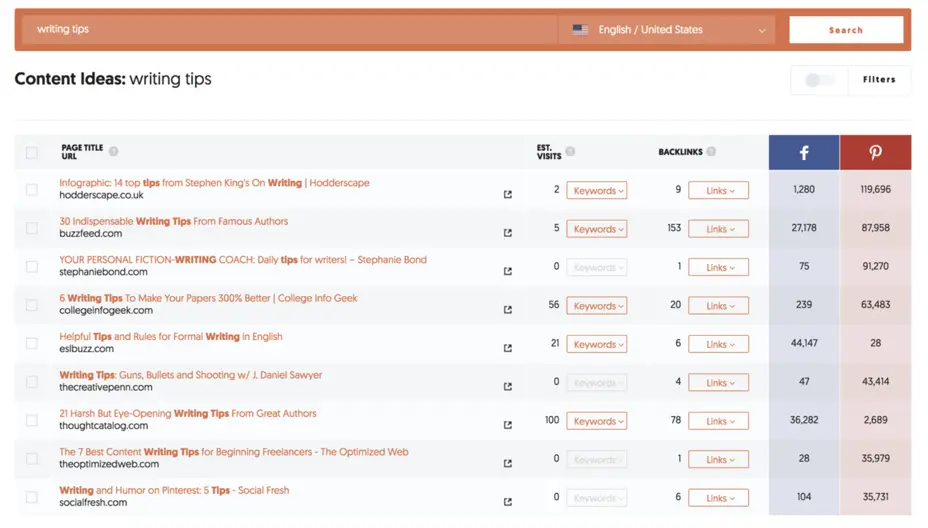 Ubersuggest is a great tool to add to your freelancing arsenal, as it's free to use for limited daily use. You can sign up for a free account if you want to track keywords for your site, or can upgrade to one of their premium plans (starting at $29 per month) to unlock all features.
Freshbooks for Improved Invoicing and Payments
As freelance writers, one of the most important things you are going to be doing is collecting payments from different clients. For some freelance writers, they could be dealing with upwards of ten or twenty different writing jobs and clients all at the same time.
In addition to making sure all of their writing is at the highest level of quality, they also need to make sure they are getting paid promptly for their work as well. The last thing they want to do is chase down clients or miss payments due to not having everything in order and not being productive.
A great tool and solution for best accomplishing this, is Freshbooks.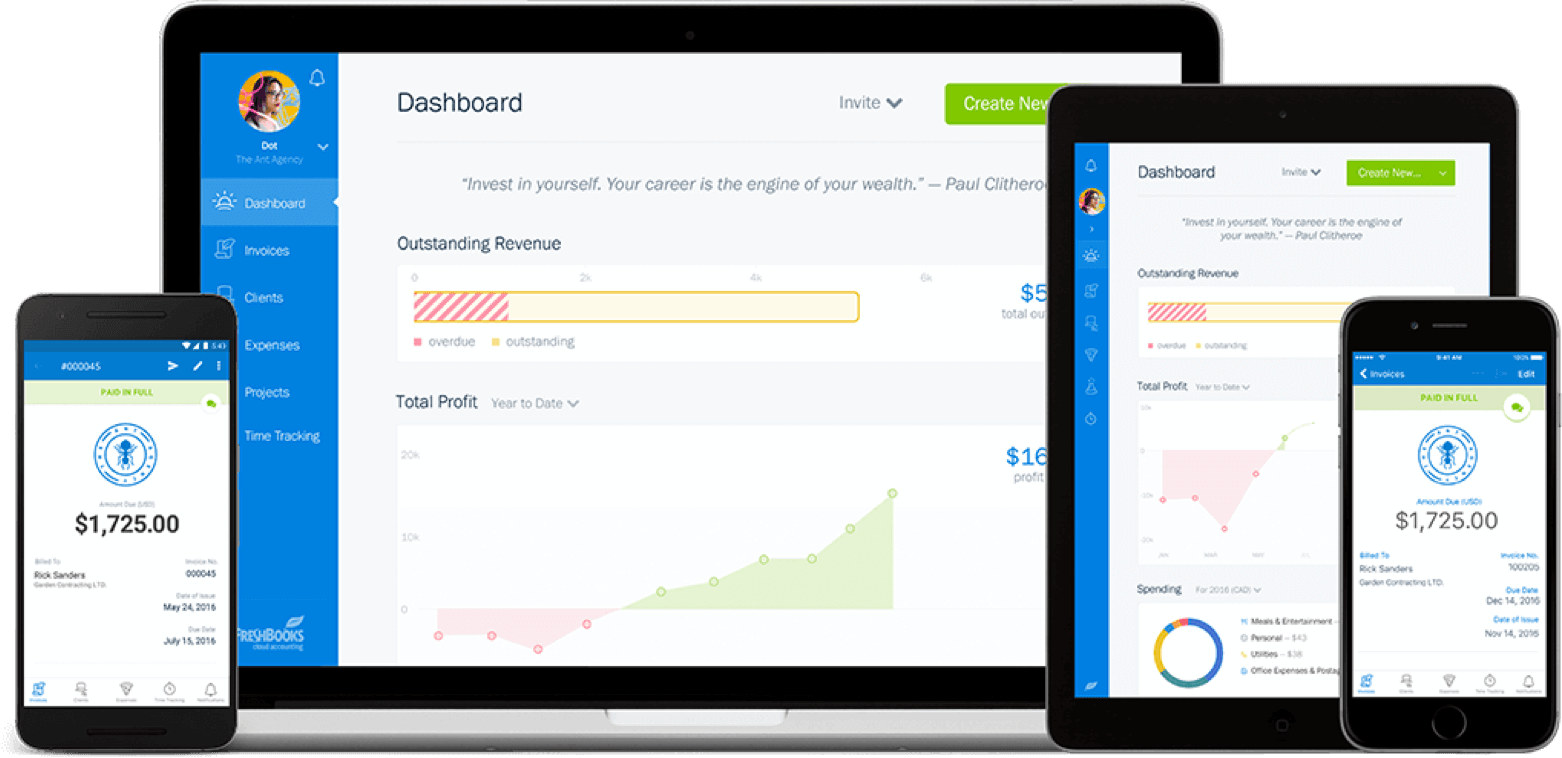 As one of the most popular and well-known invoicing tools online, Freshbooks make the process of adding clients, invoicing and collecting payments easy. It also comes in at a much lower price than many of its competitor solutions, and also connects with Paypal, credit cards and bank accounts for payment processing.
For any freelancers that are looking to get better control over their clients, invoices and incoming payments, Freshbooks is currently offering a free 30 day trial. After that, there are several price plans to choose from, starting as low as $6 per month.
Grammarly Spell Checker
Freelance writers can quickly find themselves being burnt out, as they are constantly having to write article after article and coming up with new content ideas. Even if you are an excellent writer, the tedious tasks of non-stop writing can get boring and heavy on the mind.
With such focus on getting the latest project done, this can lead to spelling errors, grammatical mistakes and more…
The good news is, Grammarly is a free tool that can help with this process.
In short, when using the Grammarly tool or browse extension, it is watching and reading what you write as you write it. With such technology in place, it can proofread and catch any misspellings or errors you might miss. It can also be used within WordPress, Google Docs, email and more.
The options for the tool can be set to fix such changes as you write, or to notify you whenever a new error is logged, should you want to manually go through and proofread and edit the article on your own.
It doesn't matter if you are writing one article per week or a hundred, a tool like Grammarly can definitely improve your efficiency and productivity.
You can try it out for free, and if you like how it works, upgrade to one of their premium memberships to unlock all features. It's also important to note that there are premium versions of Grammarly available, which allow for improved readability reports, vocabulary enhancements, grammar and spelling checks and more. These plans start at $29.95 per month, however, the option is also there to save more than 50% if you decide to pay for a full year in advance.
Canva Visual Editor and Graphics Tool
Of the many different services offered by freelancers, writing is often the most sought after. However, writing alone is just one of the many ways to make money as a freelance writer. By simply charging for writing, freelancers are limiting the amount of money they can earn per hour.
With content creation now in demand like never before, it's important to sell your content writing services in the best way possible. A great way to accomplish this is to showcase original visuals and graphics that you can include with your articles as well.
A perfect tool for getting the job done is Canva.
This drag-and-drop and in-browser graphic editor is excellent because it has little-to-no graphic design or photoshop skills required. Everything is built and loaded right into the site, which can be accessed from any browser type.
The site is also pre-loaded with thousands of templates for anything from site banners, social media, print advertisements, brochures and much more. These in itself would be a huge upsell opportunity for any freelancer who is willing to put in the time and effort to market such services.
Canva is free to use, but they also have premium versions available, which would be ideal for freelancers. Pro plans start at $9.95 per month and offer additional branding, resizing, template and stock image features.
Yoast SEO WordPress Titles and Descriptions
As mentioned earlier, freelance writers are commonly doing work for site owners, businesses and brands that run a wide range of sites online. The one common factor amongst all of these potential clients, is that they all need to follow the SEO guidelines enforced by Google.
With the WordPress CMS platform running the majority of sites on the internet today, it's important for freelancers to be familiar with the platform as well.
When coming up with titles and descriptions for the articles and content they write, it's also important that these fit within the rules and guidelines for character counts in Google as well. The last thing you want is to send an article title to a client, and then they publish it and it gets cut off in the search listings.
A free and easy to use tool for making sure titles and descriptions always match up correctly is Yoast SEO. They do offer a premium version ($89), but the vast majority of people using it, are doing so with the free version.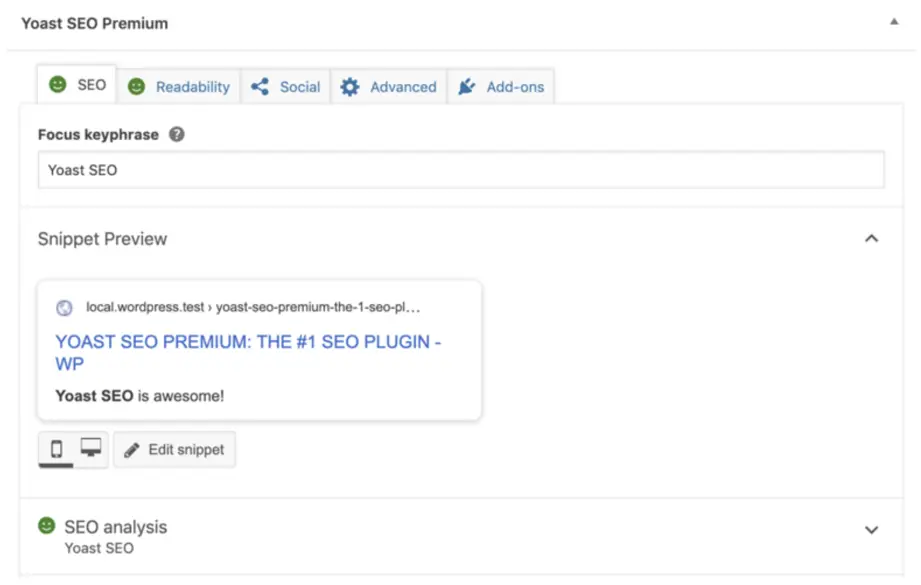 For anyone that doesn't have a fresh WordPress site to install the plugin and use, the Google SERP Simulator Tool will also come in handy.
Both of these tools are great for seeing how your title and description will look in Google, before having to publish the live article to your site.
The Better the Tools, the Better the Freelancer!
To find success in the competitive world of freelance writing, you need to be a great writer. But to cater to the needs and demands of your clients, you will also want to have the right tools in your writing arsenal to make sure the job gets done correctly time and time again.
Through each of the recommended tools and resources mentioned in this article, you will be able to improve your writing skills, marketing expertise and potential earnings as a freelancer with higher skills and knowledge in place.
To step up your freelance writing quality of work and earnings potential, be sure to check out each of the tips, tools and resources above before starting your next article.