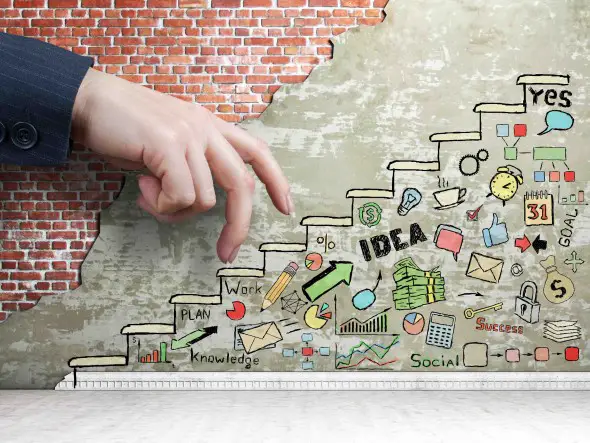 If you have decided that the year 2021 is the year where your freelance writing business takes off, I have good news for you. You can use dozens of tactics to promote your writing business, from the simple and cheap ones to the complex and expensive ones.
In this article, I want to share three long-term, high-quality promotional tactics that will drive high-quality leads for your freelance writing services in 2021.
Start a Podcast
Over the last decade, podcasting has become a popular content format where the person running the podcast—the "host"—interviews people, shares advice, and analyzes industry trends. For podcast users, podcasts allow them to consume content while commuting to work, doing the chores, or exercising. More importantly, it's a personal way to communicate with an audience compared to writing.
Last year, advertisers spent $863 million on podcasts, a number that's expected to exceed the billion-dollar mark in 2021. At the same time, only 3% of marketers run podcasts, which indicates there's low competition in the industry. According to Edison Research data, 75% of Americans are familiar with podcasting, while other developed nations show similar results.
Starting a podcast can be an effective method to build an audience, share your expertise, and attract leads to your freelance writing business. In other words, a podcast works similarly to a blog; the only difference is the format, where instead of writing content, you record audio.
What's more, starting a podcast doesn't require a high upfront investment. According to David Hooper of BigPodcast, you can get started with $100. All you need is:
A quiet room to record your episodes.

A microphone—something like the

Blue Snowball iCE Condenser

or

Audio-Technica ATR2100

are perfect for starters.

A noise protection filter, all of which cost under $10.

A headphone set—you can use the one you regularly use.
You will also need audio editing software and a reliable hosting provider, but neither of these services is expensive. You can use free audio editing software like GarageBand or Audacity, or premium tools like Adobe Audition ($20.99 per month) and Hindenburg Journalist ($85, one-time fee). Hosting providers are also cheap; services like Buzzsprout, Podbean, SoundCloud, or Libsyn have free plans for beginners and charge less than $10 per month for premium services.
To start a podcast, you need to develop an action plan that includes:
The podcast topic

—for example, marketing.

The target audience

—for example, content marketers.

The title

—you can call it using your name—e.g., "the John Doe Show"—or using a creative name—e.g., "Marketing for Freelance Writers Show."

The angle

—for example, your show could focus on giving quick tips or long tutorials; it could focus on opinion pieces or industry analysis; interviews with experts or personal experiences, etc.

The publishing frequency

—it can be monthly, bi-monthly, weekly, bi-weekly, or daily.
Once you have decided on these points, you can develop the artwork, pick the intro and outro music, brainstorm your episodes, and start thinking about what you want to discuss in each one. You can also repurpose your existing content into podcasts, using the articles as a guide or inspiration for your podcast episodes.
Think of recording a podcast episode as writing an article—all you need is an interesting idea that helps the listener with a problem. Don't get caught up on the details of recording the perfect episode; instead, focus on executing on the format you decided previously and learn as you go.
After you have your first episode produced, you need to publish it using your podcast hosting service provider. Get the RSS link and share it in as many directories as you can. Here's the most definitive list of podcast directories available.
Finally, remember to drive your listeners to your website so you can build trust further and sign them up for your email list.
Build a Network with Slack
A successful service-based business like the one you run is based on the relationships you build with your industry. The more people you know, and the more they trust you, the higher the chances that they will hire you when they need you.
According to Content Wonk, over 50% of surveyed freelance writers attract clients through their network and referrals.
Considering that many freelance writers live far from where their potential clients live and work, developing a network is challenging. To overcome this problem, freelancers have turned to Slack, the popular team communication tool. 
With more than 10 million daily active users, Slack has recently become the go-to place where professionals chat and connect in industry-specific communities. These communities work as public chats, where people ask questions, share opinions, and discuss topics relevant to the community.
The goal of participating in a Slack chat isn't to promote yourself—which, in any case, it's something that you shouldn't do—but to build a network. By using these communities to help other professionals in your industry, you build long-term relationships with people who, eventually, could need your help and become paying customers.
Even if you are in a hurry to attract clients to your business, communities like Superpath and Online Geniuses have job listings chats where people share work opportunities that you could apply for.
Slack is also an ideal place to find pain points your leads have and discover ideas, tips, and opinions to inspire your content creation efforts.
To find where your leads hang out, consider using a feedback form on your site to ask them about their favorite Slack channels. Otherwise, you can find over 2,000 communities in this list and sign up for those communities relevant to your business.
Run a Retargeting Facebook Ads Campaign
Spending money on paid advertisement may sound like an expensive and risky proposition for a freelance writer, but if you run the campaign correctly, you can attract leads consistently and profitably. As long as you spend less per lead than the money you make, your paid ads campaign will pay for itself.
From the many options available, Facebook has the most convenient and efficient advertising network a freelance writer can use. When you advertise on Facebook, you show your ads to people who share a demographic or behavioral profile ideal to you. That means you can show your ads to people over 30 years old, who live in the United States, and who are interested in marketing and business.
One type of ad campaign that's particularly effective and relatively cost-efficient is known as retargeting. With retargeting, you show ads to:
Website visitors

Email subscribers

Past clients
With this approach, you can skip offering them a lead magnet to initiate a potential business relationship and offer them a free consultation (or any other type of high-intent free offer). In other words, your audience is pre-sold, increasing your ads' effectiveness.
Before you can run a Facebook ads retargeting campaign, you need:
A

Facebook pixel

, which you need to install on your website and every page.

A

Facebook page

for your business.

A website with at least three months worth of traffic—ideally, it should receive a few hundred visitors a month.

Optionally, you need an email list and a list of past clients' email addresses.

A landing page where you show your free offer.

An email marketing platform, which you will use to nurture the leads you generate with an automated sequence that highlights the lead's problem, your service's value, and what they can expect to get.
With these elements in place, here's what you need to get started with your Facebook ads retargeting campaign:
Install your Facebook pixel

and select the "Lead" event action.

Create a custom audience

from your website visitors, email list, and past client's data.

Create a "Conversions" campaign

.

Create an ad set

using each of the custom audiences you created in step #2.

Pick the ad placements and budget

. You can cap your budget using your lead's breakeven cost, but since you likely don't know this number, consider starting with an automatic bid and let Facebook optimize your ads.

Create three to five ads for each ad set

. Consider using images from past client's results, customer video testimonials, and a video where you go over the problems the audience may feel and how you can help them.
For more information on how to set up a successful Facebook retargeting campaign, check out this article by Brian Barr, who explains each step in greater detail.
If you don't have a website, or if it doesn't receive more than a few dozen monthly visitors, then you will have to use a traditional interest targeting campaign, which will require you to offer a free lead magnet and drive traffic to it. Here's more information about this tactic.
It's Time to Start Promoting Your Freelance Writing Business
Using freelance platforms and writing sites may be the easiest way to get new clients, but it's not sustainable nor profitable in the long-term. The three promotional tactics shown here will help you build the foundations of a successful freelance writing business.
About the author
Ivan Kreimer is a freelance content writer for hire who creates educational content for SaaS businesses like Leadfeeder and Campaign Monitor. In his pastime, he likes to help people become freelance writers. Besides writing for smart people who read sites like Freelance Writing Gigs, Ivan has also written on sites like Entrepreneur, MarketingProfs, and TheNextWeb.