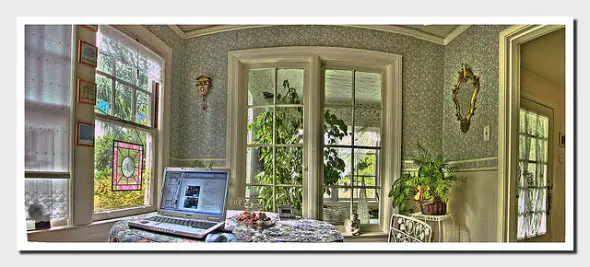 Editor's Note: This post was written by Brie Weiler Reynolds, the Director of Online Content at FlexJobs and a contributing writer for 1 Million for Work Flexibility. FlexJobs is the award-winning site for telecommuting and flexible jobs, listing thousands of pre-screened, legitimate, and professional-level work-from-home, flexible schedule, part-time, and freelance jobs. Brie provides career and job search advice through the FlexJobs Blog. Learn more at www.FlexJobs.com.
The profession of freelance writing has changed tremendously over the last few decades. Though it's easier than ever before to find writing gigs and actually create pieces, there are an overwhelming number of tools for freelance writers to consider. These seven tools are ones that my team and I can't live without, and most are free or very reasonably priced.
Here are seven must-have home office tools for freelance writers.
Wireless Mouse and Keyboard
If you're going to be typing all day, every day, it makes sense to invest in a keyboard that you find comfortable, but one that's also portable. Wireless keyboards allow you to to type in comfort wherever you might be, and today's options are sleek, lightweight, and portable. A wireless mouse makes working from the coffee shop or even a park bench feel more like working from your office. My laptop never goes anywhere without my trusty wireless mouse.
Bullet Journal To-Do List
If you're a fan of making paper to-do lists, the Bullet Journal method takes them to a new level. The video on its site walks you through the simple changes that will make your to-do list a tool for hyper-productivity. You'll never look at to-do lists the same way.
Reliable Internet Access and Alternatives
Being able to access the Internet is an obvious tool for freelance writers, but how reliable is your service? And if it goes out, do you have multiple backup options? Take a couple minutes now to research and make a list of places with excellent Internet service. Then, go a step further and see if your smartphone offers a mobile hotspot option, which allows you to turn your phone into a personal wifi hotspot wherever you are, as long as you're connected to your phone provider's network.
Automatic Online File Backup
If you're one of the unlucky many, you don't realize how important this is until your computer crashes. Try to be one of the lucky few who reads this tip and takes action. Online file backup systems like Carbonite are easy to use and run constantly in the background, so even your most recent work is saved.
E-sign Software Program
Signing contracts the old-fashioned way through snail mail or by printing and scanning documents can be incredibly time-consuming. Stop taking time away from writing to do these tedious tasks, and use an e-sign program to make gathering electronic signatures a breeze. Echosign and Docusign are two popular options.
Speech Recognition Software
Talk about multitasking! Speech recognition software has advanced tremendously over the last few years and makes it possible to "write" on the go. Whether you're stuck in traffic, walking the dog, or making dinner, if you can speak, you can write with these handy programs. You might invest a little money in Dragon speech software, but smartphones make it possible to dictate documents for free using voice-to-text with pretty accurate results. If you have the Google Drive app, you can speak into a Google Document, which will then be saved and easily accessible the next time you open up your laptop. Which brings us to…
Google Drive App
My team of freelance writers all use Google Drive to create and maintain documents. The Google Drive app makes it possible to access those documents on smartphones and tablets. Collaboration, sharing, and document creation are all much simpler when you can access your files regardless of your location.
Depending on the type of writing you do, these seven home office tools can help you be more productive, land more clients, stay better organized, and be more comfortable while you're working. And since most of them are free, these tools are easy on the thrifty freelance writer's budget.