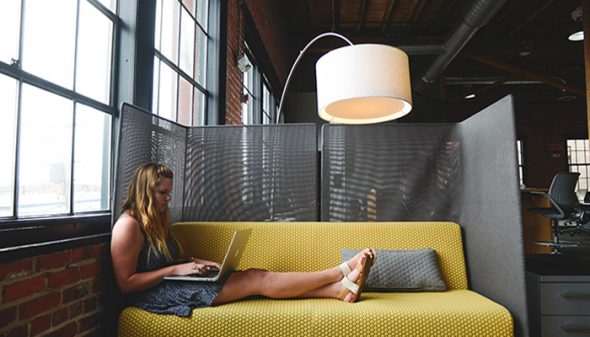 Freelancing is a siren song to many office workers. It symbolizes freedom and happiness. It symbolizes more time for relaxation and enjoying life.
Many in the corporate world will leave stressful jobs in the corporate world precisely because they're chasing that dream. They want that promise of well-being, fulfillment, and happiness.
Unfortunately, many of us end up even more stressed and working more hours when we switch to freelancing. Work/life balance becomes impossible and we get bogged down with perfectionism, becoming workaholics, dealing with procrastination and fear of poverty. Why do we do this to ourselves? Where is this freedom freelancing promised us?
It's true – we have the freedom to work wherever we want, set our own schedule, and choose our own clients, but it isn't as awesome as it sounds. We usually end up a disorganized mess with an embarrassing procrastination problem. Our schedule never stops because we're worried about not having enough clients and ending up in the famine part of our feast-and-famine lifestyle and most of us never feel brave enough to fire that difficult client (see: fear of famine).
Fear not suffering freelancers! There is a solution. Be your own HR department. Not just any HR department, though. Study the habits and routines of HR companies that actually put the well-being and happiness of their employees first.  
HR Strategies
Besides hiring and payroll, HR also helps companies with morale and productivity. Companies rely on them to find the best practices of running a well-oiled machine, including meeting the needs of employees.
Are you meeting your own needs? Tap into that HR manager and ask them. What could you be doing differently to enhance your happiness?
Use productivity hacks to include more fun
According to PeopleHR, happiness is linked to productivity and productivity is linked to happiness. So which comes first? It's simple, ask yourself which one you're lacking. It's rare that you're going to be happy if you aren't productive, so let's start with productivity.
Easier said than done, right? The good news is there are a few different systems you can use that will allow you to incorporate both work and fun, making sure that you have a balanced schedule. You should have more breaks and your breaks should be fun and more like a reward.
Giving yourself boosts of fun and positivity has been shown to make you more focused during the focused blocks of works in between. You might even start to see your work day as blocks of fun with focused work in between as opposed to the other way around.
Pomodoro
Pomodoro is a popular productivity system that uses blocks of time for focused work followed by a break. The recommended time is 25 minutes of work followed by a 5-minute break. Do this four times in a row and then take a longer 15-minute break.
The idea is that you get more done when you have focused time followed by free time. Tap into your inner HR rep and find fun things to do during those breaks. Watch something funny on YouTube, run around and act silly, dance around to your favorite song. Do anything you want, it's your free time! Have fun!
Magic Work Cycle
Magic Work Cycle is very similar to Pomodoro except that it gives you way more time for fun. It's inspired by this post and encourages a 50/50 play time/work time distribution.
Include Fun in your to-do list
If you work from a to-do list, make sure that breaks and fun activities are included. They are just as important as the boring and mundane tasks. A lot of times to-do lists fail precisely because they are filled with tasks that we dread, that intimidate us or are just plain boring.
As we now know, happiness is an important part of productivity, so use that to your advantage. Plan out your fun! Make it a priority. Your to-do lists will be much more appealing.
Mix and Match
You don't have to do any of the above systems perfectly or by-the-book. As a matter of fact, you shouldn't. We are all different and have different things that work for us. When we try a new system, we should take what works for us and combine it with what works for us in other systems. A customized productivity hack, if you will, which is a hack in and of itself. It is hack-ception.
Add a social element to combat isolation
Going from working in an office to freelancing can be a culture shock in many ways but one of the biggest is the lack of social engagement.
I'll be honest, I've had conversations with myself about the latest episode of New Girl in the break room (aka, my kitchen) while I made myself a cup of tea. I will actually schedule meetings with myself and follow through with them. Yes, I talk to myself, all the time. I can be quite humorous but sometimes it's because I miss that social time and camaraderie feeling that comes with working in an office.
Freelancing can make many feel isolated and lonely. This can lead to depression and lack of motivation, which is disastrous for any freelancer's career. It leads to a lack of direction, which makes it more difficult to achieve our goals.
Consider renting a co-worker space to give you the feel of routine and going to an office.
You get the sorely needed routine to help with the loss of direction and you also get that valuable social aspect. See if you can make friends with other freelancers and start your own team dynamics to incorporate fun activities during your break/fun time.
You can start a chess club or go out for high-spirited lunches. You can create cheers and chants to keep up morale. You can start a yoga group or a salsa group. Whatever you decide, you get fun, activity and social interaction all in one. The office rent is worth its weight in gold and you will be surprised at how much more productive you will be.
If you can't afford a co-working space or don't work the standard hours required of most workspaces, try going online. Setting up an online community to keep each other in check with both work and fun can be just as rewarding. Meetup groups can also work using facebook or twitter.
The feeling of being a part of a team is not something freelancers have to miss out on anymore.
Take time off
I have no doubt that every cell in your body just tensed. Don't argue, it is essential. There is a reason that most corporate employee benefits packages include vacation time, sick time and flex time. Time off is actually more beneficial to productivity than working every day with no break.
Use this time off to have fun. When you get back to work, you will feel more refreshed and more able to tackle any challenges that come up. You'll also be ready for more fun as you continue to incorporate fun activities into your day.
While we're on the subject, enjoy your weekends! Let your clients know that your weekends are for you. Let yourself know. Make it a priority. If you have trouble doing it, tap into that inner HR rep and they will help you!
If you feel overwhelmed about how to get started, try to start with baby steps. Commit to 10 minutes of work and 10 minutes of fun right now. See how much better that feels and then go from there. Before you know it, you find that work/life balance. You will be both happy and productive. You will be the freelancer you imagined you could be.
Author Bio
Rachel Rumbelow is a freelance writer who specializes in web development, small business and personal development. She has a passion for stand-up comedy, fitness/nutrition, travel, tangible books with real pages that you can turn and studying how Blockchain is going to change the world as we know it. She also makes jewelry and attempts to play the violin much to the chagrin of her neighbors.