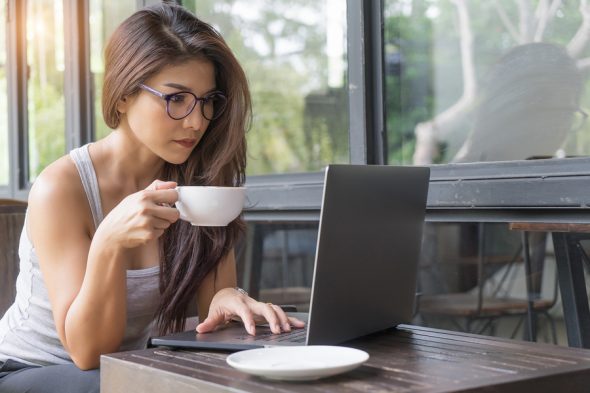 The recession has hit most industries hard — freelance writing is no exception. A Freelancer's Union survey from early April found that 76% of freelancers had contracts cancelled and 65% had difficulty finding new clients as a result of the virus.
I was really shocked to see that a lot of freelancers are losing work because of the pandemic, mostly because I've been busier than ever. Clients are giving me more work since the recession started.
So why are so many freelance writers struggling right now?
It all boils down to the kind of clients you have. Some clients are just better suited to weather poor economic times than others.
If you want to find clients that won't drop you at the first sign of trouble, here's some advice to follow:
Choose the Right Industries
The reason I have so much work right now is that I write for the technology and e-commerce industries, which tend to fare well during a recession.
So, if you want freelancing to be your full-time business even when the economy is down, you might need to join a new writing niche. Here are some industries that tend to fare well during a recession (particularly a recession caused by a virus):
Healthcare

Ecommerce

Technology

Freight and logistics

Basic consumer goods

DIY and repairs

Education

Energy

Government

Legal 

Accounting and tax prep
Most of the industries mentioned above have numerous sub-niches you can get into as a writer to become more specialized and valuable for your clients. For example, in the technology space, I write almost exclusively for software-as-a-service companies. In the e-commerce space, you could focus on Amazon optimization or e-commerce SEO writing.

Be Careful Writing for Startups and SMBs
No matter what industry your clients are in, writing for a startup brings with it some risk. Even without a recession, startups fail all the time, your writing gig dying along with them. No matter how innovative their vision, startups usually have a small staff and very little capital to pay them. One hard month from a recession could be enough to wipe them out. (That said, startups can make great clients, especially when you're between other projects, as long as you don't rely on them for long-term work.)
The same can be said for most small-to-medium businesses (SMBs). In my experience, SMBs are the best clients, if not reliable. They're considerate, kind, and easy to communicate with. But they can't afford to pay you much and are very likely to cancel your contract if hit with hard times.
So what's the solution?
Find clients that have the budget to keep you on no matter how the economy is going. Target big national or international businesses that can afford to pay you consistently and pay you well.
I can tell you right now, you won't find these kinds of clients on job sites. I've gotten almost all my clients from cold pitching. And I have a helpful strategy you can use to target potential clients who have big budgets.

First, set up Google Alert emails with a keyword related to your writing niche + funding. For example, since I write for marketing SaaS companies, I have "marketing automation funding" set up as a Google Alert.
That way I get weekly email digests that include press releases from marketing software companies that just got Angel funding or some other kind of funding. So I know they have a million dollars or more, some of which they could use to pay a freelance writer.
Here's what one of the digests looks like: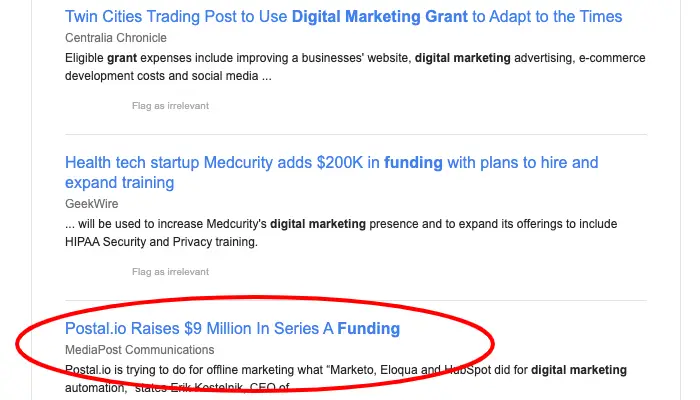 Next I check out their website to see what kind of marketing content they have. Has their blog been updated recently? Do they have case studies and lead magnets? What's the quality of their content?
After gathering reconnaissance, I pitch them to see if they need a writer.
I've landed quite a few clients using this strategy over the years, and I still write for them today.
Here are some other Google Alerts I have set up that help me find clients: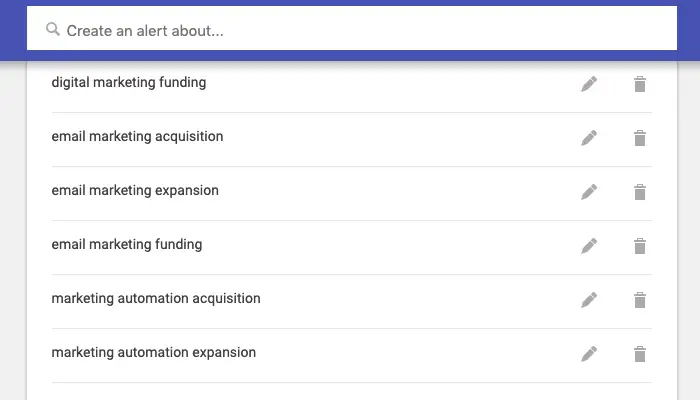 Using other key terms like "acquisition" and "expansion" can help you find press releases from businesses that have money to spend right now. Not only are they more likely to keep you on when the going gets tough, but you can also charge them higher rates for your freelance services.
Sign Contracts Whenever Possible
Getting clients in recession-proof industries with millions to spend goes a long way to ensuring that they won't drop you when the economy gets rough. But ultimately the only way you can ensure you'll have a steady job with them is if they sign a contract.
Many freelance writers today don't ask their clients to sign contracts. They work month-to-month or worse, project-by-project. Getting more clients to commit to a contract is a smart idea, recession or not.
It's difficult to get clients to sign a contract unless you incentivize them. Most businesses, even the big ones, are happy to simply pay you month-to-month because signing a contract doesn't offer any benefits for them.
So if you want to encourage more clients to sign a 6-month or annual contract, offer an incentive. This could be a small discount on your services or a perk, like an additional 500-words of writing every month you're under contract. You can mention the incentive in your project proposal to new clients. Or you can include it as part of a call-to-action on your freelance writer website. Here's what mine looks like:

Always Use These Strategies
The tips mentioned in this post can help you land more high-quality clients who are less likely to cancel your contract during a recession. But the truth is these are strategies you should use all the time to grow and maintain stable freelance income. You don't deserve to be let go every time things get rough — you should have high quality, reliable clients that pay you well.
I'm not saying you should never write for SMBs or clients in the travel industry. But be aware of the risks and diversify your clients to include a few that are really reliable. This will protect you against the current recession and any future economic challenges to come.
About the author
Courtney Danyel is a course creator, business writer and anthropologist, in that order. She can teach you how to build a successful freelance business using your existing skills at AcademiatoAffluence.com. Learn more about her writing services at CourtneyDanyel.com. Twitter @danyeltravels.