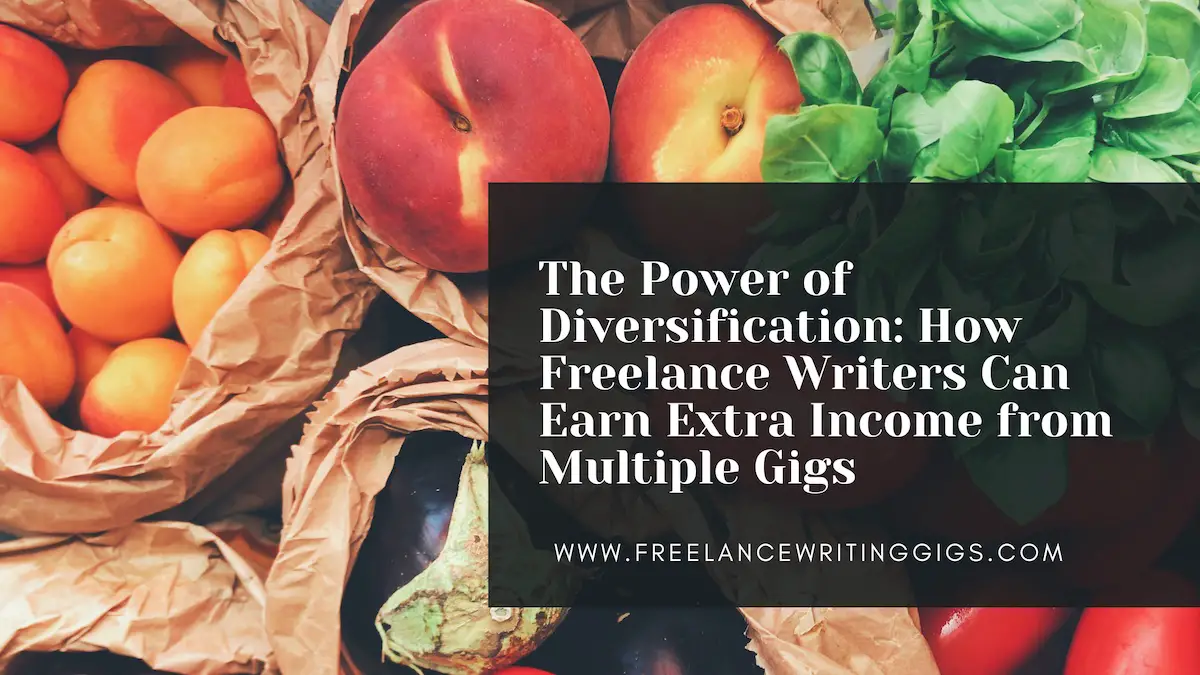 As a writer, you probably focus on a few niches, but this doesn't mean that you must stick to a single source of revenue. Anyone with financial smarts will tell you that you need to diversify your income stream and should never rely on one source of revenue.
How do you go about securing multiple gigs? Here are some ways freelance writers can earn extra income from multiple gigs.
1. Sign Up With Several Freelance Platforms 
There's perhaps no better time to be a freelance writer than today. Yes, the market may seem saturated, but the accessibility of so many freelance platforms and job boards makes finding work very possible.
This likelihood increases twofold when you sign up for more than one freelance platform. Even if you are doing well on one, it doesn't hurt to expand your presence. This will help you to reach new audiences and new streams of revenue. It may even grant you access to exciting projects that otherwise would've gone unnoticed!
There are tons of freelance platforms to choose from. They each come with their benefits, but they all do the same thing— make you money.
Aside from FWJ, some of the most popular freelance platforms for writers include:
Upwork: Upwork is one of the most popular freelance platforms, with over 12 million registered freelancers and around five million clients. It offers a wide range of writing opportunities for freelancers, both short and long-term. You can set your rates, but Upwork charges a fee for each job you accept.
Fiverr: This platform focuses on smaller writing jobs. It allows you to set your rates, and like Upwork, it takes a percentage of each job you complete.
LinkedIn: LinkedIn is a social media site for networking and career growth. You should optimize your LinkedIn profile for your writing. This will allow potential employers to find you when searching for writers on the platform. You can also search for jobs on LinkedIn using filters.
ProBlogger: This freelance website has many blogging-related jobs. They aren't screened, so that part is on you. However, it does tend to attract high-quality jobs.
If you're looking to earn extra income as a freelance writer, then the first step is to sign up for various freelance platforms to secure multiple gigs.
2. Market Yourself In Different Niches
In the competitive world of writing, finding a niche gives you an advantage. You can offer unique value and perspective to a targeted audience, which makes you more valuable. However, this can also limit you.
You should be explorative with your writing, without considering any topics too taboo. Just because something is outside of your comfort zone, it doesn't mean that you can't write about it. Doing thorough research on new topics will give you credit even when you're not an expert.
You may be asking yourself why this is important.
Well, it prevents you from being too limited as a writer. Writing about a range of topics can keep your work fresh and interesting. This variety is also how you'll be able to diversify your income. Having different niches gives you access to a wide range of clients and projects. You won't have to rely on just one area of writing, which becomes risky should the niche suddenly be less in demand.
Some of the top freelance writing niches to explore at the moment include:
Cryptocurrency
Healthcare and medical writing
Digital marketing
Video scripts
E-commerce
White papers

3. Take On Smaller, Short-Term Projects 
Long-term projects are attractive for their stability and higher pay. But if you're looking to diversify your income, short-term projects are the way to go.
Short-term projects not only diversify your portfolio faster but also increase your income. Because these projects are shorter in duration, you can take on multiple gigs at once, which will increase your earning potential. This can leave you with more money than one long-term project.
You'll also have more flexibility in terms of scheduling and workload. Further, taking on short-term projects can help you to build a good reputation as a freelance writer quickly.
4. Monetize Your Blog
Most freelance writers already have a portfolio or blog that they use to showcase their work. But a blog is so much more than that. It is also a potential source of income and a way to make money from your passion for writing.
You can monetize your blog with ad placements, sponsored content, membership or subscription fees, offering a service, or selling products or services related to your writing. This will not only earn you extra income, but it will also help you to build your brand and establish a community of loyal followers who value your writing.
Be strategic in this venture. Write on niches you know there's a demand for. Also, make sure that you have an effective SEO strategy. On-page content optimization and keyword research are crucial for attracting the right traffic to your blog.
Monetizing your blog is a great way of diversifying your income. It comes with the added benefit of giving you much more freedom to work on your own schedule and to choose the projects that interest you.

5. Offer Add-On Services
Expanding to offer add-on services to your existing and new clients will allow you to diversify your freelance writing business.
Think about the new projects you could unlock if you were to market yourself as more than just a writer.
Consider offering the following add-ons:
Editing and proofreading: Many freelancers offer these services to help clients improve the quality of their content. It includes reviewing and correcting grammar, punctuation errors, and spelling, and making suggestions for clarity.
Website and blog management: When a company's website or blog has grown to a size that they can't manage, they'll start outsourcing for help. That's where you come in. You can offer to manage aspects like the calendar's website for posts or the writer's schedules.
Keyword research: Everyone knows the importance of SEO, and you can offer services that help clients to optimize their content for search engines. Knowing how to do keyword research or create an SEO strategy is a valuable skill. If you offer it in conjunction with your writing services you can double your income.
Online business coach: If you've successfully freelanced for a few years, you have valuable knowledge and experience in the industry. You can share your secrets about time management, making tax season easier, staying motivated, and any other useful tips that have helped you to excel.
Diversify!
As a freelance writer, you have plenty of opportunities to earn extra income and diversify your revenue stream. Use these tips as inspiration to expand your job opportunities and make yourself more marketable.