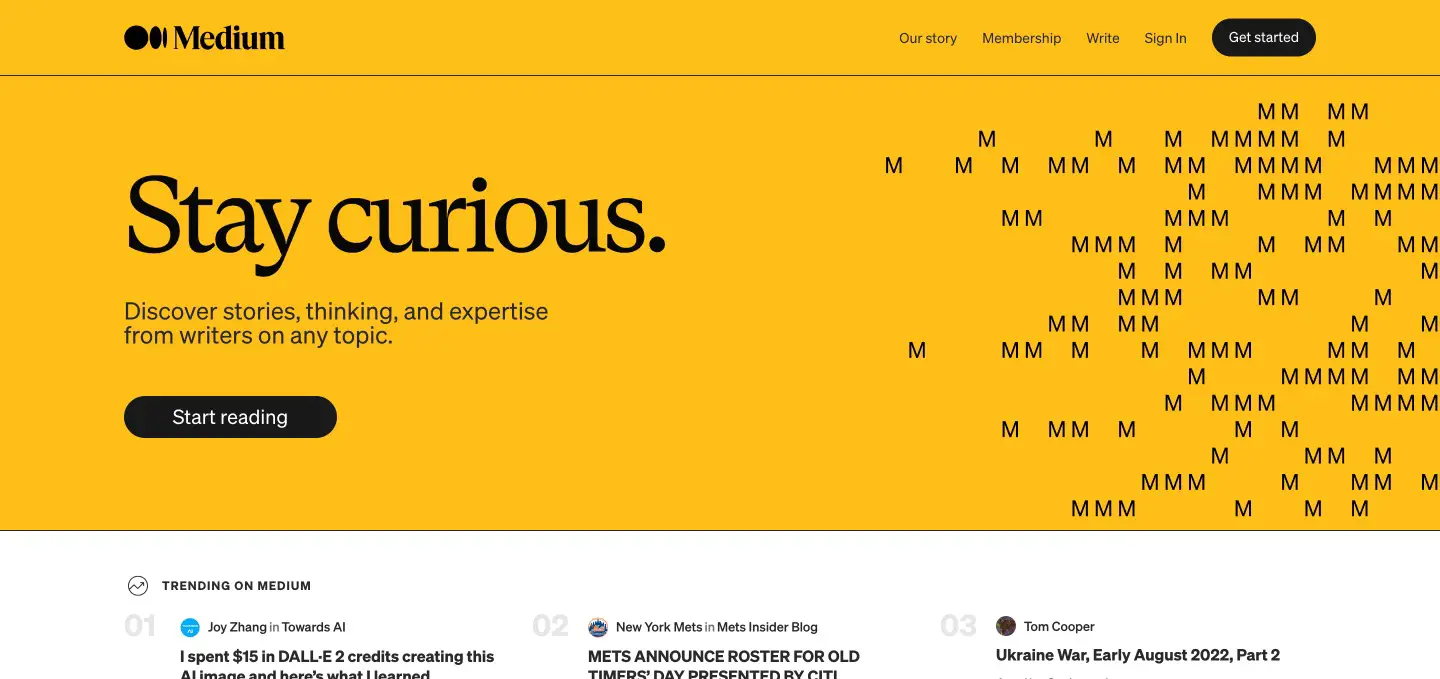 Are you a writer looking to earn extra cash from your articles? Medium may be the perfect platform to build a long-term passive income if you're willing to do the work.
With over 100 million readers, Medium provides the opportunity for writers to share their articles with a massive audience.
Whether you want to start freelancing or are an experienced blogger who wants to reach a wider audience, Medium allows content creators to diversify their platforms, and generate revenue from their writing.

What is Medium?
Medium is a unique publishing platform that enables content creators to share their work, and get paid. Launched in 2012 by former Twitter CEO Evan Williams, Medium has since thrived and markets itself as "a living network of curious minds," offering a space for writers to share their thoughts on any topic from unified communications as a service to politics, and health.
Medium is a unique platform because, rather than generating income for advertising, most of its content is behind a paywall.
Writers are paid based on the total time Medium subscribers spend reading their articles. You can also earn if a reader becomes a subscriber after reading one of your articles. Therefore, both new and established writers have the chance to make from their content, plus this offers greater rewards for writers who have spent the time and effort creating longer, more detailed content.
You can post a limited number of articles on Medium without joining the Medium Partner Program, but those articles will be free to read. When you have entered the Medium Partner Program, you can post your work behind the paywall, and start earning money.
Do I need to be a professional writer to write on Medium?
Medium is open to everyone, and anyone. Writers across the globe, from professionals to hobbyists, can share their work on Medium. All you need to do is sign up for the Medium Partner Program, and start sharing your stories. Plus, signing up is completely free!
How much money can I potentially earn on Medium?
Writing for Medium is not a get-rich-quick option. Generating a full-time income on Medium is not impossible, but it takes time, and effort.
A realistic goal for most writers is $20 – $50 per month if they produce high-quality, and consistent content.
While you may not be able to rely on Medium to generate a full-time income, there are other benefits you can reap by publishing on the platform.
How Medium can benefit freelancers
1. Build a profitable portfolio
If you struggle with affiliate marketing or web creation, Medium is a perfect platform to help you build a profitable portfolio.
You can upload your stories without the cost, and effort of setting up your own web pages, whether you write about your own writing journey or explain how to secure IT freelance jobs. 
2. Gain loyal followers
If you're a new writer or already have a dedicated following, Medium can help you gain loyal followers, and drive traffic to your other platforms. You can add links to your website, and social media accounts in the "About the Author" footer on every article. If readers like your content about email monitoring software, allow them the chance to check out your other articles.
Medium allows you to expand your reach to a broader audience who may never have heard of you before.

3. Improve your writing style
Great writing requires refinement, regardless of what you're writing, whether it's a short novel or a feature article about tech, say, the best phone.com competitor. Because pay is determined by reader time, this encourages creators to produce high-quality content. Medium, therefore, allows writers the opportunity to hone their skills.
4. Build relationships with other freelancers
Medium offers its creators the opportunity to build relationships with fellow creators. You can network with other freelance writers, from newbies to best-selling authors, build affiliate marketing connections, and support others following the same writing journey.
5. Additional stream of income
If you create high-quality content and publish consistently, you have an excellent chance to generate a long-term second income alongside other platforms to build your freelance writing career.
Why should I start freelancing on Medium vs other platforms?
1. Medium vs Tumblr
Medium is a better platform if you prefer to write long-form content. Tumblr is more suitable for short-form content, including images, music, and *videos. Your in-depth features won't fit on Tumblr.
You also don't get paid for your writing on Tumblr. Instead, you earn from posting affiliate ads and will be paid when a reader clicks the link in your post.
2. Medium vs LinkedIn
Like Medium, you can sign up for a free account, but most LinkedIn creators find upgrading to a paid account more lucrative.
Creators make money on LinkedIn by promoting their products or services, driving traffic to their blog or email sign-up list, and including affiliate marketing links. Unlike Medium, creators don't get paid directly for their articles.

3. Medium vs Hubpages
Hubpages also allows writers to publish their content on any topic, from global sporting events to the differences between the features offered by Dialpad and Dialpad competitors. But again, the ads and clicks generate revenue for the writer, not the article.
4. Medium vs Quora
Quora is a question-and-answer platform. The platform pays contributors for every question they ask and includes ads. Other platform users then answer these questions and generate conversations. So, while Quora is great for engagement, it's not the best platform for writers who want to create and get paid for detailed stories.
Unlike Medium, Quora's partner program is invite-only.
5. Medium vs WordPress
WordPress allows you complete control of your content because you own the website. However, unlike Medium, you must pay for the URL and a hosting platform. Then you must design and format your pages and spend the time, and effort to maintain them. Here are some contenders for the best WordPress affiliate platform.  
With WordPress, you're building your platform from scratch. If you want to promote your content on cash flow forecasting, you can't automatically access the existing audience, and traffic you get under the umbrella of Medium.
Once you build an audience, you can start making money selling your products through affiliate marketing, but you must get eyes on your pages first.
How to make money on Medium
1. Create an Account
It's free and straightforward to create an account and sign up for the Medium Partner Program.
First, you must establish a following by posting at least one article. Once you get to 100 followers, you can join the program, and allow Medium to put your articles behind the paywall.
2. Be mindful of your storytelling process
Medium call articles stories. They want their content to be compelling and generate insightful discussions. While you can create content on any subject, it needs to be engaging, and speak directly to readers. Medium readers love the individual touch, so personal insights in your article — no matter the topic (e.g., virtual faxing, collectibles, the best spellchecker) are important.
3. Steal your readers' attention with your headline and opening paragraph
If you want to draw readers in and ensure they read the entire article (and increase your earning potential), ensure your opening grabs their attention.
To keep readers on the page, give your article:
A snappy, eye-catching headline. It should grab their attention immediately.

Value from the start with a solid opening paragraph.
Keep readers engaged with interesting, and knowledgeable content. This is where you can add your creative flair to keep readers glued to the page until the end.
4. Get a bonus pay for Medium Partner Program
Medium rewards top-performing writers with a bonus payment when Medium moderators or reviewers believe an article features stellar content.
For example, if the article you wrote about digital workspace technology is deemed exceptional, you may receive a bonus payment. There are no guidelines for what makes a story outstanding. Still, the chance of a bonus can help encourage writers to bring their A-game when creating content for Medium.
5. Get featured
If your article gets featured, you're given a front-page push that can boost your revenue.
Getting featured is a big deal because it means a Medium moderator has reviewed your work, validates its quality, and feels it hits the right notes with what's trending.
Being featured guarantees more eyes on your writing, and hence, more income.
6. Use affiliate links
While spammy content can be penalized, Medium allows the use of affiliate links. You can include links to your website or affiliate marketing partners to generate clicks and income.
Make it clear that affiliate links are included in your article and that you will be compensated for any purchase made through the links, using them in a meaningful way that builds trust, and authority.
7. Increase traffic
A single article that gets a lot of attention on Medium has the potential to send a large number of visitors to your linked website or blog. This dramatically boosts awareness of who you are, and the services or products you offer.
8. Create SEO-friendly content
Medium is a highly trusted site, recognized as an authority by Google.
If you create SEO-friendly content, your articles have a better chance of making a higher listing on search engines.
Are you ready to publish on Medium?
Medium offers all writers, from fiction authors to technical writers, a quick and simple platform on which to publish their content, and get paid.
While it's unlikely, but not impossible, for writers to generate a full-time income on Medium, the platform offers an excellent opportunity to create long-term passive income, reach a wider audience and boost awareness of who they are, and what they offer.
About the author:
Jenna Bunnell is the Senior Manager for Content Marketing at Dialpad, a leading provider of call center IVR systems and AI-incorporated cloud-hosted unified communications system that provides valuable call details for business owners and sales representatives. She is driven and passionate about communicating a brand's design sensibility and visualizing how content can be presented in creative and comprehensive ways. Jenna has also written for other domains such as Wordable and BenchmarkONE. Here is her LinkedIn.