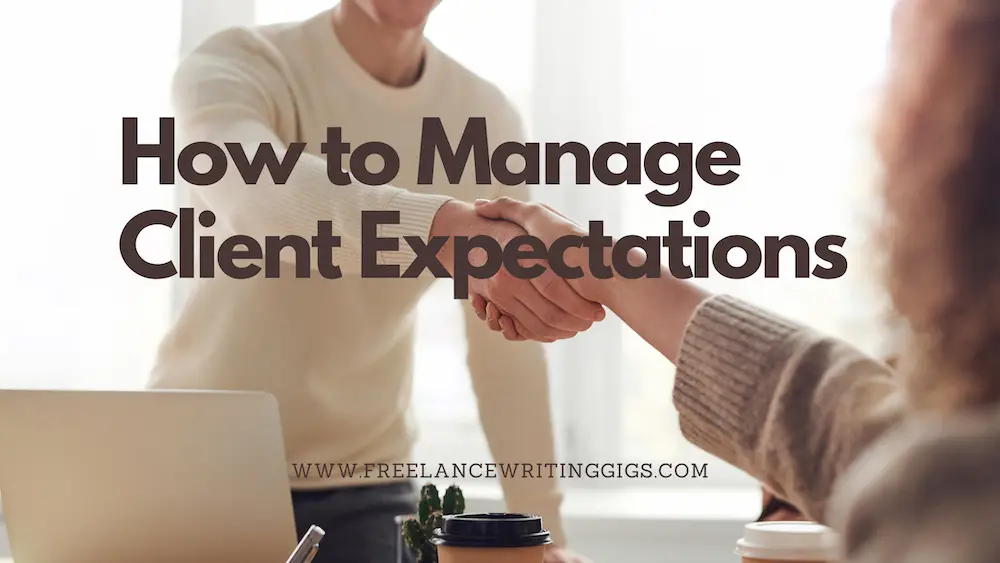 Lasting client relationships are a freelancer's financial lifeline. To develop a long-term partnership, it's often necessary for a freelancer to go above and beyond what others can do to attract and retain clients. However, overselling results can create the opposite effect—a client may feel disappointed or misled if results don't happen within the stated timeline or the outcome isn't what they envisioned.
One of the best skills a freelancer should learn is to manage client expectations from the outset. As a freelancer, you're the skilled professional—it's important to provide a new client with a realistic picture of what to expect and take the time to educate them on the process. Keeping your clients well-informed will help you avoid difficult client interactions and build trust for a fruitful, long-term relationship.
Consider the following steps you could take to better manage your client relationships.
How to Manage Client Expectations
1. Develop emotional intelligence
Emotional intelligence (EI) is beneficial in dealing with clients. According to Western Governors University, understanding your own emotions makes it more likely you'll understand the emotions and feelings of others, such as clients. EI helps you pick up cues about your client and put yourself in their shoes so you can better diffuse a disagreement, overcome price objections when you're negotiating your fees, and/or put the client at ease.
A good example would be a client sharing with you how they are concerned about the length of time it will take for you to complete their project. You use your emotional intelligence to better understand they're taking a risk by allocating a portion of their budget to working with you. They're a fairly new business, and you recognize how stressful it can be when cash flow is limited. You may offer the client to pay for the project in installments, such as half up front, with the remaining balance upon delivery.
Your emotional intelligence in the situation is a win-win for both of you. The client feels you understand their needs and you're flexible enough to work with them. You're rewarded with the project and the opportunity for repeat business with the customer.
2. Be clear about what you can deliver
In most cases, your services are needed because the prospect is unable to carry out the task themselves. The client may not fully understand the process, so it's important to be upfront and honest about what they can expect. An initial meeting to get to know your client better and discuss what you can do for them in a bit more detail is vital.
For example, if you're taking on a new client to perform search engine optimization (SEO) services, a phone call or video conference with your prospect may uncover they expect that their website to be at the top of the search engine rankings after a month or two. From your experience, you know your customers don't start seeing measurable results for at least six months to a year. It's best to be clear about what's realistic when it comes to SEO, even if the potential client decides to go with someone that promises faster results.
Remember that a prospective client is not an employer—if you feel that the client's expectations are unrealistic, you can set boundaries and limitations or walk away altogether.
Click To Tweet
Remember that a prospective client is not an employer — if you feel that the client's expectations are unrealistic and they're unwilling to understand your side of things, you can set boundaries and limitations or walk away altogether before you agree to a project. Being clear from the beginning will save you from negative interactions with clients. Set the bar too high and miss, and you'll have a disappointed company that may review your business negatively. It's best to make conservative promises on what you can deliver and have fewer, quality clients than too many with unreasonable expectations.
3. Put agreements in writing
Good contracts are essential to managing client expectations. They provide you with a legal written document that spells out what you've both agreed to. Once you've had your initial meeting with a new customer and you've both decided to move forward, it's time to draft a contract.
Take the time to list all promises, agreements, and any other pertinent information from the initial meeting on the work agreement. It's especially important to include a clear statement on how much time you'll be investing in the project, a schedule of when sections of the project are due, and how changes to the scope of the work require an additional signed agreement. Requiring written and signed work order changes will save you from problems, such as customers who ask for several changes you didn't factor into the price of the job, or from complaints that you verbally promised to deliver things you didn't.
Have the client carefully review the document, initial each page, and sign it. A signed contract binds the agreement. You may execute the contract online by requiring an e-signature — it's just as legal as a physical signature on paper.
Here's a useful guide: How to write a freelance contract.
4. Remain consistent
If your first collaboration goes well, maintain your level of professionalism by following the same process with all future projects and assignments. Always review the scope of the work and understand what the client needs or expects and whether you can realistically deliver on it. Make adjustments as needed to what the company desires by providing the client with reasons why. Put it all in writing and continue delivering the same level of service or better.
Manage Your Clients Like a Pro
In the world of freelancing, cultivating enduring client relationships hinges on a few key principles. Remember to:
Manage client expectations—under-promise and then exceed those expectations
Harness your emotional intelligence (EI) to aid conflict resolution, negotiation, and make clients feel valued and understood
Set realistic goals and align your commitments with what you can genuinely achieve
By applying these principles consistently, you'll not only build trust but also establish fruitful, long-lasting relationships with your clients. Lasting success often begins with these foundational practices.