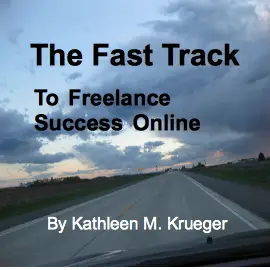 Many of you have been working online for quite some time, but I am sure that we also have a good number of readers who are only starting to wade in the freelance waters. Whichever group you belong to, I think that you will benefit a lot from reading Kathleen Krueger's recently released e-book, "The Fast Track to Freelance Success Online".
Kathleen is one of our readers, and I was made aware of her book when she left a comment a week or so ago, and guess what? She has generously agreed to give away two copies!
The title gives you a pretty good idea what the book has to offer, but let me tell you this: it is a pretty good handbook for anyone who wants to launch a freelance career and be successful without waiting ages.
The book is divided into seven chapters, starting with identifying your goals, moving on to how to begin, and ending with an update on Kathleen's professional status.
What I really like about the book is that it does not give you a generic formula to success. While the title is very upbeat and might give you an impression that you are about to have a "guaranteed success" read, it really is not all about that. (Aside: I don't know about you, but in general, I am wary when I am given such guarantees in an uncertain world.)
What Kathleen does, instead, is to share the lessons and nuggets of wisdom she has learned in her own journey to freelancing success. And, I have to say that this book should be mandatory reading for anyone who wants to succeed in this field.
Here is some more information about Kathleen that you might want to know.
Kathleen is a full time freelance writer from Minnesota with a creative, casual style. Currently she contributes articles to several local and national lifestyle magazines; is a writer of informational online articles regarding a wide range of topics; ghost writer for several company blogs and website content in a wide range of industries.
Now, would you like to read the ebook that can help you with your freelancing career?
As I said earlier, we're giving away TWO copies. Here's what you need to do to get a chance to win.
Step 1: Copy & paste the following, and then tweet it:
I want a copy of The Fast Track to Freelance Success Online from @FreelanceWJ and @kacky222! Enter here: http://spla.us/RIwpJO #contests
Step 2: Leave us a comment on this page to let us know you tweeted, and paste the link to your tweet in your comment. (Note that our comments are moderated, so your comment may not show up immediately after you click the "Post Comment" button.)
The winners will be selected at random from the commenters on or around 11:00 pm EST on Wednesday, September 26. The winners will be notified via Twitter, after which we'll get your details. Don't forget to thank @kacky222 if you win!
Important: You can enter the contest once per day between now and the 26th.
In case you don't win, you can still get The Fast Track to Freelance Success Online for only $4.50. In the meantime, remember to tweet and leave your comments till Wednesday!