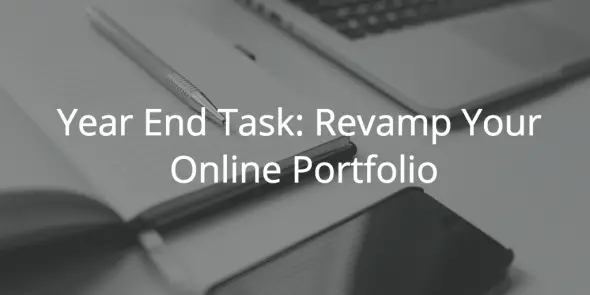 As the last month of the year fast approaches, it's a good idea to set aside time to assess your freelance writing business. Take a look back at the past year, what you've achieved, and whether you've reached the goals you have set.
It is also the perfect time to look forward and plan for the coming year. There are many things involved in planning for a brand new year, and one of them is to revamp your online portfolio. If you do not have one yet, we suggest that you read "Why you need an online portfolio". It will help you understand the value of having your own venue to showcase your work.
If you already have an online portfolio, this resource is designed to help you take it to the next level in order for you to get the most out of it.
Why revamp your online portfolio?
Your online portfolio is your "game face". It is how the world sees you. It is a way clients can judge your work. In most cases, your online portfolio can make or break a deal. Hence, it is imperative that your online portfolio is as good as it can be.
What if your online portfolio is good enough as it is now? Why fix something that isn't broken?
One reason is that online trends change quickly. You want to make sure that your site doesn't look like it's been stuck in 2005 – or 2010, for that matter.
Another reason is so that you can spring clean your content. Take a look at articles you wrote a few years ago. The chances are that you will find at least a handful that you may not want to showcase anymore.
The bottom line is this: updating your website will ensure that you show your best side.
What do you need to do?
There are two basic things that you need to do to revamp your portfolio. Before you go ahead, have your pen and notebook ready, but a notepad on your laptop or tablet/phone will make it easier for you.
Content
First, you'll need to focus on the content of your portfolio. As you go through this process, you'll want to take down notes so you can refer to them later on.
Weed out content
As we mentioned earlier, your existing portfolio will have pieces that may not fit your needs anymore. Some may not be at par with your current standards. Some may even be downright embarrassing.
If you've changed niches or focus, old content may not add value to your portfolio.
Go through your articles, and decide which ones are worth keeping and which ones can be chucked.
Add new content
In the past 11 months, you've probably amassed a huge amount of content – whether it's client work or your own pieces. What you want to do now is to go through those pieces and pick out the ones that will highlight your skills.
Some questions you can ask yourself when choosing what content to add:
What niche(s) will I be focusing on?
What writing style(s) do I want clients to see?
Which clients are okay with me using their articles on my website? This is extremely important as you may end up with a copyright infringement issue. Make sure you have a written agreement with clients about this matter.
What articles am I particularly proud of?

Organize content
At this point, you should have a list of pieces in the "irrelevant bucket" and in the "highlight bucket". Obviously, you'll be focusing on the latter, but you can't just throw all the content into one website and call it a day.
What you want is for visitors to easily discover relevant articles and not feel like they got lost in the jungle.
Identify categories. For example, Client Work and Personal Work, and then use subcategories such as Writing Tips, Poetry, Short Stories, and Freelance Business Tips. You can even use categories such as Technical Writing, Blog Posts, Op-eds, and so on. 
What types of categories you use will depend on the work you have done – and will be doing.
Pro tip: Limit your categories to 3-5. This will make organizing easier for you and navigation easier for visitors.
Tech and Design
So you've got all the content picked out, and you have a clear idea of the structure you want. The next step is to analyze the technical and design aspects.
How does your website look right now? Answer the following questions.
Is it all cluttered, leaving you dizzy after looking at it?
Does it have so many colors that one would think of candy land?
Are images displayed properly?
Does it have a professional look?
Does it look good?
If your answer is no to at least two of those questions, then you really need to make some tech and design changes.
You have two options.
DIY
We're big fans of doing things yourself. Not only does it save you money, but it also gives you the chance to learn new things. If you want to change your portfolio platform, you can go the DIY route.
These days, anyone can build a website even if you're not a professional developer/designer. WordPress packs a lot of power, is easy to start with, and writers are often familiar with it.
WordPress is not the only choice, though. Drupal is a popular open-source software, which provides you with the same power – or more – to set up websites. Similar to WordPress, Drupal themes do a lot of the work for you. SEO friendly Drupal themes are perfect for you if you want more exposure for your portfolio even if you're not an SEO expert.
Alternatively, you can take a look at the best website builders which provide similar services. These builders are often targeted at those who have very little technical know-how but want to create websites that are professional-looking, easy to use, and perform well.
Using website builders gives you direct control over how you want your website to look and how you want it to be organized. Today's website builders do not require coding knowledge – you only have to drag and drop elements, so you can immediately see the results of your efforts.
Outsource
If you don't have the time, or you really don't feel confident about rebuilding your portfolio from the ground up, outsourcing is the way to go. You'll have the benefit of leaving the job to the pros and expecting things to be done perfectly, but you'll also have to pay for it.
Wrap up
Whether you update your online portfolio or not is up to you. How you do it is also up to you. However, we hope that this resource will help you decide and guide you on how to put your best foot forward. Good luck!