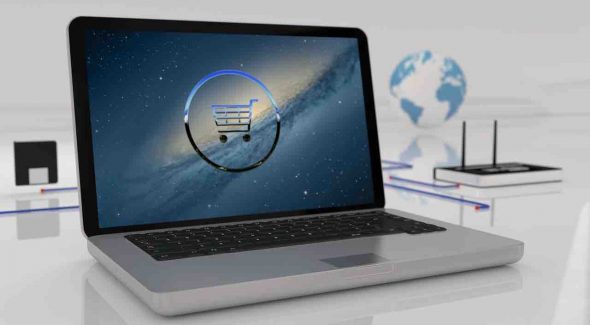 If you're a writer, you'll know that it's an awesome job. You're getting to do something you love — something most people aren't able to do — and you're getting paid for it.
Unfortunately, the pay as a writer isn't always as high as we'd like it to be. Whether you're a freelancer, part-time or novelist, it's always a good idea to diversify your income and get cash flowing in more freely. The best way to do this? E-commerce.
When you think of e-commerce, you probably think of big online stores selling products to consumers. But e-commerce doesn't have to necessarily mean selling a physical product; it can also involve providing a service or skills and charging for your time.
Although you might feel like it's a very big leap from writer to e-commerce entrepreneur, you'd be surprised at just how easy it is to do — especially with your skillset as a writer. And, like your writing gigs, pretty much all of the e-commerce options can also be done from the comfort of your own home.
In the post below, we'll tell you all about five of the best e-commerce business ideas that are perfect for writers. Some of them you may have considered already; some of them you might not have even thought of. Read on to find out more…
Recommended reading: How I Turned My Freelance Gig Into a Full-time Business
1. Begin a blog
Creating your own blog might not seem like the ultimate e-commerce business plan, but you'd be surprised at the money you can make from it over time.
If you don't have one already, it's simple enough to create your own unique-looking blog using a free blogging platform like WordPress.
Once you've gathered a loyal community of readers and you're generating a good amount of traffic with all of your awesome content and social media marketing, you can start monetizing your blog.
There are a few easy ways to do this without much effort — known as passive income —  such as paid adverts, sponsored posts or affiliate marketing. And if you want to be more hands-on with your blog, you can also use it to sell and advertise your own services and products like ebooks (more on those later).
A word of warning: making money from blogging isn't usually instantaneous. It's more of a slow-burning e-commerce idea, but this makes it a good option as a side hustle and passion project.
2. Freelance copywriter
Selling your services as a freelance copywriter is an easy e-commerce business idea to try out.
Whether you're a complete beginner or an experienced writer, you've already got the know-how to be a freelancer. All you really need is a good grasp of grammar and spelling, a rough idea of how online articles look (think about readability factors such as short sentences and small paragraphs) and the enthusiasm to learn about whichever topics you're writing on.
From there, it's as simple as signing up to one of the many free freelance platforms available (such as Upwork and PeoplePerHour). Creating a profile is easy; just include things like your skillset, relevant experience and writing accomplishments. From there, you can submit pitches for jobs you're interested in, or wait for employers to come to you.
Even if you're a total newbie, you'll soon get offers coming in; once you're more established, you'll be able to build up a writing portfolio of articles, accumulate strong client testimonials, and starting creating handy connections. Then you can start to charge more for your time. While anyone can become a freelance copywriter, if you already have (or plan to pursue) a formal education in English and/or marketing and advertising, it may give you that edge over the competition allowing you to seek higher pay and better writing opportunities. See? You're an e-commerce entrepreneur already!
3. Writing content for e-commerce stores
These days, writing online isn't just about articles and guest blogging. No — there are many different types of content for you to try your hand at, and the wider your experience, the more likely you'll be able to earn money as a writer.
Take the e-commerce industry, for example. It's a lucrative industry (just check out the asking prices of even small e-commerce businesses in online marketplaces) and one that is highly competitive too. E-commerce business owners know that well-written, optimized content can make all the difference between a successful website and one that gets overlooked by visitors and search engines alike.
As an e-commerce copywriter, you can end up writing all sorts of different content, from product pages to landing pages to PPC to email marketing campaigns to store blog posts.
It's a varied job and one that can be really profitable as you build up your knowledge of sales copy and optimization. Plus, you can use this experience for when you want to become an e-commerce entrepreneur and sell your own products too!
4. Become an ebook author
Always fancied being a published author but thought that dream seemed far out of reach? Well, now is your chance: become an ebook author.
With the creation of Amazon Kindle publishing, publishing a book no longer entails sending your manuscript to hundreds of publishing houses and waiting by the door for the post, only to receive yet another rejection letter (or worse, nothing at all).
This new publishing model means that you can write your own ebook and self-publish on Amazon or other online platforms for free, and reach a global audience with huge buying potential.
It's possible to make a decent profit from writing ebooks, and you could see a steady trickle of money coming in long after you've done the hard graft, especially with some creative marketing generating a buzz around your ebook. Now all you need to do is think about what you're going to write about!
5. Sell a CV writing or editing service
Let's face it; no one enjoys writing a CV, and not many people are good at it. There are many talented, intelligent people out there who really struggle when it comes to writing their CV or resume and lose out on their dream job as a result.
As a writer, you can help them to achieve their dreams.
If you've got excellent writing skills and some knowledge on what employers are after in a particular industry, then this could be the e-commerce business idea for you. You can write or edit CVs for a small fee, and advertise your service on your blog or one of the freelancing platforms we mentioned earlier. People will happily pay to get help from an expert.
And why stop at CVs? You can also edit or proofread other types of content, such as essays. This type of work isn't time-consuming, so it's an easy side hustle to keep up while you're working on other writing projects.
These are just five of the best e-commerce business ideas that are perfect for writers. All of these are achievable and profitable even if you're a beginner with little experience. And the great thing is, you can dedicate as much or as little time as you want to each idea — so what are you waiting for?