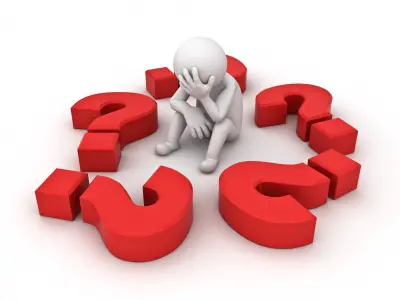 As much as we would like to think that our personal creative well is infinite, there are times when writer's block creeps in and starts to make it to run a little dry. Long-term blogging gigs or bulk content assignments can put you at risk for this type of scenario.
Blogging on the same topic for a long time or taking on large orders with similar keywords can make it challenging to producing work that is fresh and interesting. You may feel as though you have said all that there is to say on a particular topic.
The writer's block may come from a different direction entirely. You may be having difficulty with a topic because you aren't sure how to approach it. The topic is sitting like a mountain in your mind's eye and you, the writer, are caught walking around it, with nary a toehold in sight where you can even start climbing.
The good news is that there are solutions for these situations. You can find sources for ideas you can use to move you forward and start thinking about keywords and phrases that you can use as building blocks for ideas.
Why Use Keywords When Dealing with Writer's Block?
Why am I suggesting that you take your search to the keyword level when looking for ideas if you have writer's block?
Keywords are the smallest unit of measurement. We can't measure an idea. It would be like trying to put smoke into a bottle and decide how heavy it is. Once we express an idea using words, it has substance. We can look at it, break it down, modify it, discuss it and share it with others. Using keywords is the most efficient way to accomplish this process.
Keywords still count for SEO purposes. If you are doing paid work for clients, the words and phrases you choose to include matter. You will be given guidelines for your work and you need to make sure that the words are included in your text.
Ideally, you will be able to make your content flow so that the reader is not aware that some groups of words are included more than once for SEO purposes, even as you are sharing interesting information or trying to sell a particular product.
Your ideas should be your own. While part of the verse from Ecclesiastes 1:9 says. "…there is nothing new under the sun," you will want to conduct your own research for your blog posts and articles so that you are presenting something that your readers will find new and different.
Where to Find Fresh Ideas for Writing
Internet Search: What is ?
Before you start looking for ideas for writing, make sure that you understand the topic you have been asked to write about. As writers, it's not uncommon to receive an assignment on something that is new to us or a brand new angle on a topic that we have a only passing familiarity about.
Before you get dug in too deeply with getting stuck and thinking that there is no way that you will be able to tackle your assignment, make sure that you understand at least the basics of the subject. You'll be able to dial down your anxiety about the assignment by typing "What is [X]?" into your favorite search engine. The results that come up first will give you an overview of the topic so that you can get a basic definition and possibly some terms associated with the topic. You may even find some Frequently Asked Questions (FAQs).
If you are writing for a brand new blog, the client may want to start at the beginning with a definition of the topic (or something basic), definitions of commonly used terms associated with the topic and answers to FAQs. That search has given you three ideas for posts with very little effort. You'll still have to do some further research to make sure that your content is fresh and relevant for readers and ties in to the client's business.
Online Keyword Suggestion Tool: Übersuggest
If you aren't sure which keywords you should be targeting, check out Übersuggest. This free online suggestion tool will give you suggestions for in English for the USA, the UK, Canada, Australia, South Africa, New Zealand and more. (You can also get keyword suggestions in several other languages.)
Simply type your base keyword term into the search box, choose the region you wish to search, and click on "Suggest." Once you get your list of results, you can click on each one to get more results based on that term.
Visit Online Discussion Forums
Online forums are an excellent way to keep your writing finger on the pulse of what people are concerned about and the types of questions they want answered. For best results, make a point of visiting more than one discussion board related to your topic and look for trends.
Do the same types of questions tend to come up repeatedly? These are the topics you will want to try to build your posts and articles around (using appropriate keyword phrases, of course.)
If you want to get ideas for posts and articles for a particular topic which are up to the minute, check out Google News or Yahoo News and do a search on keywords for your topic. Spend some time reading through the recent news stories and make a point of clicking through to links for companies and government departments or agencies that are mentioned in the news stories. Once you are on their websites, go to their "News" or "Press" pages to see what their press releases. This is another source of ideas for your blog posts and articles.
Make note of the types of language used and add it to your keyword list so that you can conduct more keyword searches to find more ideas and news stories that you may want to follow and comment on for your work.
Dogpile is a metasearch engine. It "fetches" results from Google, Yahoo! and other search engines at once. I like this one for finding writing ideas because it brings back relevant search terms and suggestions for further searches based on my initial keywords. When I find myself doing battle with my own writer's block, it has come to the rescue more than once to help me look at the topic from a slightly different angle and give me the mental shift that I need to move forward.
If you aren't familiar with photopin.com, you should be. It's a good source for free stock photos. You can conduct a keyword search and sort the images by "recent," "relevance," and "interestingness" to get different kinds of results. What does this site have to do with getting writing ideas?
Plug in one of your keyword ideas into the search box for an image, and in the top right, hand corner of your screen you will see related keyword suggestions. If you're stuck for ideas for keywords or how to approach the topic, one or more or them may give your mind a starting point. You could also browse through the images if that will help to shake something loose.
A Writer's Block Toolbox
I've used all of these suggestions to find writing ideas when I've been stuck due to some writer's block. I've never had to use all of them on the same project. They are part of a toolbox that I have available to me if I need them to move past feeling stuck and at a loss for fresh ideas.
photo credit: FreeDigitalPhotos.net
photo credit: FreeDigitalPhotos.net
photo credit: dogpile.com