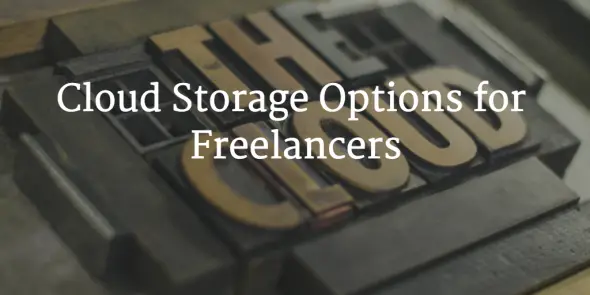 I don't think it's necessary to emphasize just how important it is for freelancers (or any business relying on storing data on computers for that matter) to back up their files on a regular basis. From pending articles to book manuscripts to invoices – all of these documents are essential to running your freelance business successfully.
Imagine your hard drive suddenly crashing. You know how that goes.
Thank goodness for technology that offers storage that makes it easy for anyone to back up data, and not only does present technology make it easy, it offers more security as well.
So I ask you this question: when did you last back up your hard drive?
If you don't really pay attention to this task – which should be done on a regular basis – maybe this article can serve as a wake-up call.
Let's look at some cloud storage services which you can use for your freelancing business (as well as personal data actually). Using one of these may save your life at some point.
Cloud storage options for freelancers
Dropbox
If you're freelancing on the side, and you don't need a lot of space, then Dropbox is a good option. It works across devices, so you can access your files from your computer, phone, or tablet.
You can use it for free, which gives you 2GB of storage. This should be enough for the average user, but if you have a lot of clients, and you use media-heavy files, then this might not be enough. If that's the case, you may opt for Dropbox Pro or Dropbox for Business, depending on your needs.
Google Drive
Google Drive is a better option if you're looking for more space for free. You get 15GB for individual accounts, 100GB for $1.99/month, and 1TB for $9.99/month. You can go for the higher plans, but 1 TB should be enough for a small freelance business.
The advantage of Google Drive is that you can use Google Docs (as it was previously named) to store and share your documents. It's also widely used, so you can easily collaborate with other writers if you're working on a project together. More so, you can share documents with your clients so they can see your progress and provide input in real time.
Additionally, the chances are that you are already using Google products, so going for Google Drive does not require much of a learning curve.
Microsoft OneDrive
Microsoft user? Then you're probably aware of Microsoft OneDrive, which is designed specifically for the operating system as well as Microsoft mobile devices. If you're using MacOS, iOS, and Android, there are versions available for them as well.
An interesting feature of OneDrive is that you can get a file from a Windows computer even if it hasn't been uploaded to the cloud. Naturally, the computer has to be online. This feature is called "Fetch" and can come in handy if you forget to upload a file and you need it on your mobile device pronto.
Pricing is not much different from Google Drive at: 15 GB free with sign up; 100 GB for $1.99 a month; 200 GB for $3.99 a month; 1 TB with Office 365 Personal for $6.99 a month.
IDrive
A relatively new player, IDrive is one of the best cloud storage options for freelancers today. Being the new kid on the block, it matches the features of the popular services, and then some. It allows you to back up your data to multiple devices – PCs, Macs, iOS, and Android – using a single account. You can also simply use your browser to access your account.
Additionally, IDrive offers military-grade encryption, which provides peace of mind, especially if you have client work that involves sensitive data. With privacy issues being of prime importance these days, having the ability to set your own encryption key is a huge plus.
This is the best part – they've partnered up with us to offer FWJ readers an awesome deal on their Pro Personal Plan. If you subscribe via the discount page, you only have to pay $14.88 for the first year instead of $59.50 – that's for a 1TB account. Compare that to the pricing of other cloud services and the fact that you're totally not tied down to a specific platform – it's pretty much a no-brainer.
Whether you're already backing your data on a hard drive or a cloud service, why not give IDrive a run? Consider it an investment that will benefit your business. Click on the image below, and discover how you can protect your data without burning a hole in your pocket.