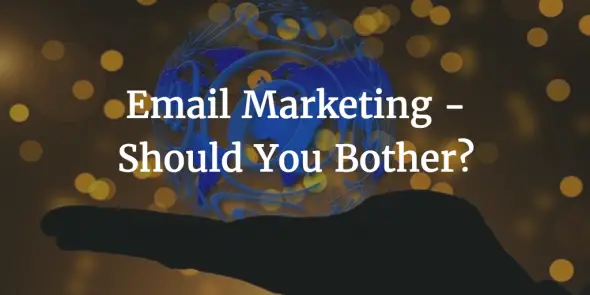 Email marketing is a means of getting in touch with customers directly via – you got it – email. It's usually associated with businesses that sell products and want to push these not only to existing customers but also to its target market in general.
What does email marketing have to do with you, a freelance writer?
We've talked about treating freelancing as a business many times and how important it is to do that if you want to make a living as a freelance writer – whether full-time or part-time.
Check out "The Secret Sauce to Freelance Writing on the Side"
As a business owner, there are many things to consider to maintain a positive cash flow. You will have to think beyond merely writing content. You'll have to think like a businessman – discover and execute strategies to increase your income.
One thing that you should put at the top of your list is email marketing. Are question marks spinning around your head?
What email marketing can do for you
Get clients
People who have signed up for your email list are people who are already interested in what you have to offer. They surely signed up for a reason!
While a huge number of your subscribers are likely to be freelance writers looking for work like yourself, there are surely some subscribers who are in need of freelancers. They can be fellow writers who need to outsource jobs, or they can be business owners who need contractors.
With email being more personal and targeted, the chances of landing clients are higher.
Sell
Writing for clients is probably your main source of income. However, if you want another steady source, you will want to consider selling something – e-books, gifts for writers, online workshops, and so on.
Email marketing is the perfect way to promote these products and services. You can send email blasts to announce a new product, push a promotion, or give free rewards to loyal customers.
Network
Email marketing = email addresses
If fellow writers subscribe to your list, you get to store their email addresses. This means you have a direct line of communication with them. You can create connections and build relationships that are mutually beneficial.
Exchange best practices. Bounce ideas off each other. Refer clients.
Before you start…
Email marketing is not the sole domain of big businesses. You can – and should – do it, too. Here are things to remember before you dive into the email marketing.
First of all, get your online portfolio/website up and running – if you don't have one already. If you do have one, update it.
Next, make sure you go through the top email marketing services in 2016 (best do the groundwork now even if you're planning to start in January or February). You will find a lot of options, but you'll want to do research so as to get your money's worth.
Here are other best practices for email marketing for freelance writers.
Give readers an incentive to sign up. For example, offer a free e-book.
Use tools to catch your readers' attention to the signup form. Pop-ups and signup bars are examples. Sumome is one service that offers these features.
In addition to pop-ups, insert signup forms in pages to increase exposure.
Use an opt-in setup. Ask subscribers to confirm that they want to sign up. Your email marketing provider will have this option.
Check analytics. What types of subject lines get high open rates? What kinds of content get high click rates? Test and make adjustments.
Every now and then, clean up your list. Delete those who have not opened emails in, say, six months.
Are you engaged in email marketing? Care to share your experiences?