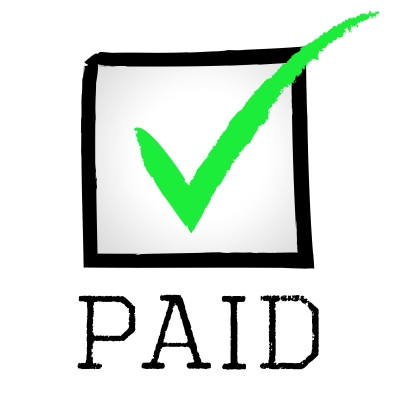 As a freelance writer, you love what you do. You also need to make sure that your cash flow keeps flowing so that you can afford to stay in business. Getting paid on time is an essential part of running your business, and there are some things you can to so that you can take charge of your receivables and get paid faster.
Tips to Help you Get Paid Faster
Discuss Payment Terms at the Start of the Project
Once you agree that you are going to work together, you need to discuss payment terms. You'll want ensure that there are no surprises on either side when it comes to billing.
If you are dealing with a small business, you may have more flexibility in negotiating payment terms with your client. For example, if you prefer to have a deposit in hand before you start work, an individual or small business owner can probably arrange for a single payment more easily than a midsize or large company, which may only run payments to suppliers biweekly or monthly.
Ask your Clients how Much Detail they Need on Invoices
In order to get paid faster, you'll want to make sure that the person paying the invoices can reconcile them with the work you have submitted. To streamline this process, ask how much detail the client requires.
Is there a project name or number you should refer to?
If you are writing articles or blog posts, should you list each one?
Does the client also require publication dates, if you are uploading material to the client's website?
Make sure you include all the required information when you submit your invoice for payment. It will help your client to settle it more quickly.
Make Sure your Invoices are Going to the Right Person
The person who is giving you instructions is not necessarily the one who handles payments. Clarify at the beginning of the project where your invoices should be sent, and if you should copy the content manager/project manager on them as well. He or she may need to approve your invoices before they can be paid.
Send out Invoices Right Away
Invoices may not be your favorite activity in your freelance writing business, but it is a necessary one. I understand that if you a lot of deadlines at or around the end of the month, your main focus is on getting the work completed. It's tempting to want to take a breath before you start on whatever projects you have to deal with for the following month.
Don't let your invoicing get lost in the shuffle. If you are working on specific projects, as opposed to ongoing work, make a point of submitting your invoice when the project has been completed. If you put off sending your invoice and your client only sends out payments on a set schedule, you may end up having to wait until the next payment period to get paid.
For your clients who want to be billed monthly (or even semi-monthly), make a note on your calendar and block off whatever amount of time you will need to send out your invoices so that your clients will get them in time for processing for the month-end/first of the month run. Make a list of everyone you have to bill. This may not seem necessary, but if you have several clients in this category it is possible to overlook an invoice that needs to be sent out.
Mind your Manners
Being polite counts in business, just as it does in everyday life. I add a notation to my invoices that says, "Thank you for your business." According to Freshbooks, the accounting software company, I'm on the right track. Using this type of phrase can increase the number of invoices being paid by over five percent!
Offer More than one Payment Option
Part of your discussion about payment terms at the beginning of the project should include which payment method your client prefers. Some clients have definite preferences about the way they pay their suppliers, and your freelance writing business should be flexible enough to offer your clients more than one way to pay your invoices.
If you use invoicing software to send out invoices, it should indicate your payment options to the client – including electronic ones. Getting paid online is a quick and convenient way for you to receive prompt payment for your invoices.
As a courtesy, you should send a payment notice to your client once you have updated your records. If your accounting software doesn't send one automatically, a brief e-mail to the person in charge of payments will allow your client to keep their records up to date. It can't hurt in your goal to get paid faster, either.
photo credit: FreeDigitalPhotos.net
photo credit: FreeDigitalPhotos.net
photo credit: FreeDigitalPhotos.net