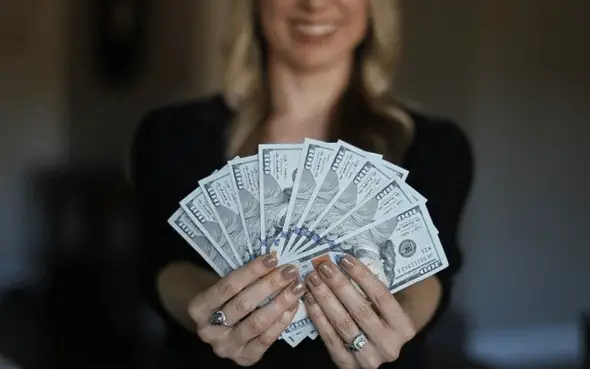 My name is Courtney Danyel. I've been a freelance writer for 6 years (after making a major career change). I now earn way more than I ever could at a "regular" job, and I achieved it using the skills I already had. 
While freelancers earn $21/hour on average, you don't have to be part of that trend. It's possible to earn significantly more money even when you first start out if you follow the right steps.
My Story
Like a lot of people, I have a liberal arts degree. Mine is in anthropology. Many consider LA degrees to have very little value unless you get a Ph.D. and become a professor. In 2014 when I decided I didn't want to go to grad school anymore, I was so worried I wasn't qualified to do any kind of job outside of anthropology. 
I thought I needed to teach myself a whole new skill set to succeed at freelancing. Luckily, I was wrong. 
When I first started freelance writing, I made a huge change and moved to Ethiopia. It was my fieldsite as an anthropologist and I loved it there. 
Here's a photo of me with my future husband when I first started freelancing in Ethiopia:
I started out earning some of the lowest rates freelance writers could. I was writing press releases on Fiverr for $5 each! Fortunately, $5 went a long way in Ethiopia, and I was able to spend more productive time looking for higher-paying gigs. 
It wasn't long before I landed a blog writing gig about marketing topics. Remember, I'm an anthropologist. I've never taken a single marketing class in my life. I thought I was going to get fired really quickly. But instead, the client loved my work. They started publishing my marketing insights in top business magazines and blogs around the web. I was floored. 
What I learned early on is that my "useless" liberal arts degree gave me the research and writing skills I needed to write about almost any subject. Now it's 6 years down the road, and while I'm still an anthropologist, I mostly write about marketing, technology, and entrepreneurship topics for my clients. 
Oh, and I often earn $200/hour or more doing it. 
If you have a degree of any kind, you already have the skills you need to become a successful freelance writer or editor. All you need is the right step-by-step strategy to promote yourself and land high-paying clients. 
How I Earn $200/hour Freelance Writing 
When I started freelancing, I had to learn from trial and error how to land worthwhile clients and grow my income. Now I have some key strategies I use to find clients that pay me well: 
The more general your writing niche is, the fewer people are willing to pay for your services. However, if you become an expert in a sub-niche, there is less competition which means you can charge more.
For example, while I am a marketing niche writer, I often specialize specifically in Pay Per Click ad automation. I can charge a really high price for content because I'm one of the most knowledgeable freelance writers out there for this sub-niche topic. 
Pitch to clients that can afford you  
Lots of very talented writers waste their time pitching to clients that can only pay them $50/hour or less. I've learned to avoid this entirely by only pitching clients that can afford to pay me good money. 
There are certain strategies you can use to find potential clients that can afford you. I discuss some of these in another FWJ guest post about landing clients during a recession.
If a potential client ever tries to get me to lower my rates, I say no, 100% of the time. It's better to drop the gig and use your free time to find a client that can pay you well. Otherwise, you'll forever be stuck in a cycle of low-paying gigs. 
Very few businesses are willing to pay a freelancer $100+ per hour. But you can still earn that much and more by offering package services. I always charge my clients per project and offer extra value with related services for an additional cost. 
Let's look at an example of how this worked with one of my past clients. I charged them a $440 flat fee to write an article. They wanted me to also perform keyword research for each article and upload them to WordPress. I offer a package deal of $700 total for all these services. Keyword research, writing, and uploading to WordPress take me 3 hours to complete. That's $233/hour! 
After I made the switch to freelancing, people I knew from college and academia started regularly reaching out to me for advice on how they could do the same. So I created an online course to guide them. 
If you want to apply the strategies mentioned in this post and start earning $200+/hour as I do, my online course walks you through each step:
It's specifically designed to help people apply their existing skills and knowledge to earn great money freelancing from the beginning. 
There are 24 lessons divided into 7 Chapters that follow a logical sequence of 'first things first.'
Chapter 1: Introduction to Freelancing

Chapter 2: Identifying Your Most Profitable Skills

Chapter 3: Choosing Your Freelance Niche

Chapter 4: Reinventing Yourself as a Freelancer

Chapter 5: Setting Your Freelance Rates

Chapter 6: Setting Up Shop

Chapter 7: Landing Your First Client
When you sign up, you also get access to 16+ bonus resources that get into the specifics you need in order to make informed decisions and get straight to generating income. Bonuses include:
A detailed look at the best freelance niches

Checklists for setting up your profile as a freelancer

Sample freelancer resumes, rate sheets, project proposals and more

Specific tips for success and avoiding common pitfalls
If you sign up for the course, I'm also available to answer any questions you might have. So if you get lost or need some advice about positioning yourself as a freelancer, you can reach out to me directly for help through email. 
Earn Great Money Freelancing and Live the Life You Want
I'm so thankful I made the switch to freelancing because I'm earning way more than I ever realized I would. I almost quit in the beginning but now that I've learned the tricks of the trade, earning great money is easy. 
Freelancing also gives me the freedom to do what I want with my life. I only work a few hours a day freelancing, so I have extra time to tutor my three foster kids here in Ethiopia. Here's our Christmas Card photo from last year: 
I also have the flexibility to take my work with me and travel as much as I want. Like spending a week in London with my sister. Or a month in Thailand with my husband.
Even if your dreams aren't like mine, freelancing can help you achieve them. When you earn $200+/hour, there's no need to stick to a 40-hour workweek. You can take plenty of time off to pursue your interests while still earning great money. 
If you want to skip the learning curve and start earning great money freelancing today, then check out my course. It has everything you need to know to succeed. 
About Courtney Danyel
Courtney Danyel is a course creator, business writer, and anthropologist, in that order. She can teach you how to build a successful freelance business using your existing skills at AcademiatoAffluence.com. Learn more about her writing services at CourtneyDanyel.com. Twitter @danyeltravels.