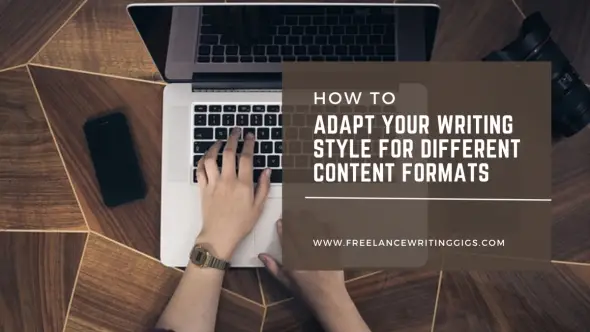 Being a good writer is one thing, but having the skills necessary to adapt to different content formats without losing the messages and goals of your marketing content are perhaps the most important part of being a solid and dependable content writer. 
But before you can shift literary gears and ensure that your business content remains consistent and versatile across all formats and platforms, you'll need to know some of the key elements that make those various formats so useful. Here's a helpful guide on how to adapt your writing style to work alongside these different avenues of marketing platforms. 
In this guide, we look at five major formats that freelance writers work on:
Content format
Description

Landing Pages

Empathetic and informative content that serves one true purpose

Content with enough momentum to create a powerful CTA while keeping the overall customer journey in mind

Blogs

Informative and educational content that offers solutions

It can simplify a complex issue or expand on an issue to provide greater insight and detail

Content that sells a product, service, or brand's authority without writing in the style of a sales pitch

Video scripts

Conversational, informative, and breezy writing that's personal and easy to understand

Uses images and content to add depth

Emails

Content that feels personal to the reader while keeping them updated on offers, new products, and incentives through newsletters and other promotional content

PPC ads

Writing that conveys what the brand offers, why it matters, and why a customer should care

Needs to convey several things in the space of just a few sentences
Let's dive deeper.


Landing Pages
A landing page is created for a specific marketing campaign. Users will reach a landing page after clicking an email link or via Google, YouTube, or a social media platform. They're designed with one goal—to increase conversions and secure a potential sale. 
An effective landing page will be empathetic enough to understand the customer's needs and make them the central focus of the content. However, it should also be broad enough also to take the bigger picture of the customer journey into consideration as well. 
If you can write with the intention of hitting the emotions of your audience while illustrating the benefits of your business through hard facts and statistics, you've got a recipe for a landing page that focuses on the consumer's needs while subtly sharing information about your company alongside it as the solution to these needs. 
For example, if you're writing a landing page for small businesses needing Making Tax Digital software, then your narrative should empathize with the potential customer while ensuring every problem they have has a simple solution (which is the product or service you offer). 
For products or services like this that require a consultative sales process, it's prudent to try and answer any questions the user might have within your copy. Moreover, explanatory content can be beneficial as once the user is empowered with a greater level of knowledge, they will be in a better position to convert into a paying customer.
Blogs
While landing pages are ideal for connecting with customers who already know they need a service like yours, blogs can help you to both find and convert customers at various stages of the buying cycle. 
Informative, educational blog posts can help confused audiences realize there is a solution to their problems, or even help them to understand what their problem is in the first place. 
Images sourced from myfitnesspal blog
However, in order to reach these audiences, you will need to craft your content with Google and its algorithm in mind, conducting research into what key terms potential customers are searching for.
Think of it as working with Google, not against them. It's not a chore to write with SEO principles in mind if you consider the benefits of doing so. But don't obsess over this, as formatting your blog clearly with bullet points and headlines is also vital here. 
From a human perspective, keep the subject of your blog focused and clear. For example, if your blog is aimed at industry professionals, are they really going to care about that broad blanket statement you're making? Or if your blog is aimed at beginners, are you being too heavy on the technical terms? 
Images sourced from remotetribe.life
Simple and straightforward content that naturally weaves primary and secondary keywords works best here. But the main mistake most blogs make is being too sales-heavy in their writing style. People go to blogs for education and answers, not for a sales pitch. Think of blogs as an opportunity to develop long-term relationships with customers while establishing your business as a thought leader in your industry. 
Video Scripts
If you were asked to think of your favorite YouTube content, and the reasons why you enjoy them, it probably wouldn't take long to list out some examples of why you love those videos so much. In general, the main reasons tend to be how personable the presenter is, and how conversational but authoritative they are as well. 
And when it comes to creating a strong video script, it's all about finding that in your words and looking for ways to make it pop on the screen. After all, a video script isn't going to be read by your audience. Instead, it will be used by your presenter to articulate your key points well enough to keep people engaged. 
The YouTube video below explaining where vegans can find sources of protein perfectly blends conversational and informative content that's easy to follow.
Aim for this blend of conversational writing that's breezy but informative. Attempt to read out your script and find places where the host can stop and catch their breath. A solid video script will also need to be paired up with text and images on screen to ensure your audience understands what's being said and the sources you may be quoting from. 
Emails
For any email to be effective, whether you're sending out a mass email or looking to reach out and develop a personal relationship with a specific individual, you're going to need to write from the heart and exude confidence, warmth, and trustworthiness. 
Generally speaking, email marketing tends to fall under one of the four following categories:
1. Newsletters
This is a popular way of providing updates about your business to your subscribers. But with today's consumer inbox being flooded with other emails too, it's important to add some value and give them a reason to keep reading. 
Image sourced from Warpaint Extra
This can be anything from thought pieces, new product launches, or even guides and summaries of your recent activity. You're looking to build on that initial curiosity that made them sign up in the first place. In time, that curiosity can be cultivated into brand loyalty and trust. 
2. Acquisitions 
When a customer agrees to receive emails but has yet to make a purchase, a friendly but informative acquisition email can show that person the value of becoming a new customer. Not only can emails like this nudge undecided consumers further down the sales funnel, but they also help to generate more brand awareness too. 
3. Promotions
A  promotional email can capture the attention, make readers aware of a new product, and also help to increase sales or email subscribers. Not only can promotional emails make subscribers feel more valued through exclusive discounts and offers, but they can also encourage them to share the content across their social networks and with friends.
Image sourced from about-face
4. Retentions
People love to feel valued, and that their opinion matters. And when it comes to writing retention emails, you can make the most of this in order to potentially win over those lapsed customers. A good retention email will ask for feedback on how the consumer feels about their brand, as well as anything the company could do to make the experience better for them. 
This also works well for subscribers who aren't interacting with your communications much. Sometimes it just takes the right offer or discount to pique their interest enough to come back on board. 
In all four of these areas, it can be easy to fall back into a writing style that just screams "standard pitch to a standard email address." But it's important to make your content feel like it's more than a mass automated email. To accomplish this, things like sending emails from a specific person and not as a company can help to give your content a more personalised feel. 
PPC Ads 
PPC advertising, or Pay-Per-Click advertising, is a method of marketing in which companies promote an ad online and pay a fee each time a consumer clicks on the ad itself. Paid ad search is the most commonly used type of PPC ad, where the ad itself appears when a consumer is using a search engine to buy something, like "Gym equipment" or "Father's Day cards" for example.
Other PPC ad methods used are banner ads (also referred to as display advertising), and PPC remarketing, which serves as a reminder to consumers who showed an interest in a product or service but didn't make a purchase. 
The art of writing a solid PPC ad is an important skill to learn, even if you're not currently planning to make use of a PPC campaign. Why? Because it keeps your writing sharp and as adaptable as possible. With ad copy usually being cut off after just one line of description these days, and with mobile devices having even shorter content limits, you're going to have to somehow communicate a lot with very few words. 
Be sure to have your primary keyword in the headline and the ad copy to help Google match your ad with people's search queries. And if you have some points to help gain the trust of these people, like "awarded best new business" or "join our network of over 10,000 happy customers", then make sure you're communicating this well in these short content limits. 
Doing the above helps to cultivate a sense of urgency by letting readers know what they are currently missing out on. Be direct and concise, while hitting home these unique selling points to create impactful PPC copy. 
Adapt your writing style and land more clients
While there are many differences in tone and style when it comes to writing for so many formats, there is also a great deal of similarities that you can zone in on and make use of. For instance, clear and concise content that understands the customer's needs and the ability to view a subject from a consumer's point of view are universally important things to have in your content messaging.
By keeping your focus on the end goals of your content, and gaining a stronger understanding of which style of writing works best to accomplish them, you'll have the ability to create impactful content that not only suits its given format but also exceeds the expectations of all parties involved.