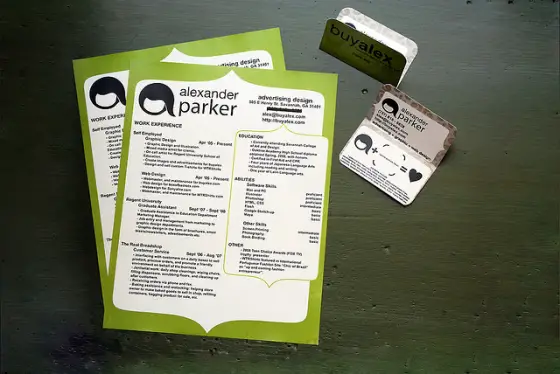 Do you need some help to create your freelance writer's resume? If you don't want to build yours from scratch, there is plenty of help available to you online. There are a number of resume creator tools and templates that can help you present yourself to a client in the best possible way.
About Resume Building Tools
Before you make a decision about which online resume building tool is right for you, the first step should be to consider what your needs and expectations are so that you can find one that will be a good fit. There is a difference between someone who wants to build a resume from scratch and the person who has one that he or she feels is working well but is interested in looking at some new formatting only.
There are websites that offer a very basic, fill-in-the-blank type of service that would be appropriate for some users, while others can provide a more in-depth level of service from certified resume writers. If you are interested something at this level, you will need to look at a subscription-based service. However, if your freelance writer's resume is updated and helps you get much better gigs, the money spent could be worthwhile for your business.
Do read the terms and conditions on a website carefully before you decide to use any resume creator tool or template. Some of them will allow you to type in or import your information to create a resume at no charge, but will not allow you to download or print a resume unless you upgrade to a premium account. Rather than find out after you have done the work to prepare the resume, you should know this in advance if you were not interested in buying the premium service from that provider before proceeding.
If a website will allow you to review its templates before you sign up or start working with it, then do it. You'll want to be sure that it's a good fit in advance. Some sites do offer "extras" like colors on resumes. Whether you decide to add some color to yours is a personal choice. Let your market determine whether it seems like an appropriate choice, and err on the side of caution if you are approaching clients who are in a very conservative field, such as law or banking.

Examples of Resume Creator Tools and Templates
Resumizer.com makes it easy for you to write a custom resume, without having to buy a membership or register with the site. Visit as often as you wish to check out different layout styles. Each one is customizable with a section where site visitors can enter their employment history, education completed, special skills, and qualifications. Select an appropriate text color, accent color, and typeface for your resume, and preview it as you work on it.
MyPerfectResume.com  allows you to choose the design you want and insert pre-written examples into it. Once you have completed the process, simply download new resume to your computer.
MyFuture.com  guides you through the process of building your resume in an orderly, step-by-step manner. While you're on the site, you can check out resume examples for some inspiration.
ResumeBuilderTemplate.com  has a number of features, and all of them are completely free. You can view a number of sample resumes (divided by type) before you start or go right to the template tab to start building your own resume. The site also includes resume writing and career planning tips.
Resume-Now.com offers 14 templates and one-click designs to make building a resume an easier process. The site also offers tips and sample text if you find yourself getting bogged down in the process. Formatting a resume can prove challenging, and the website offers simple formatting tools to make it easy to get the precise look you want for your resume.
LinkedInLabs Resume Builder If you already use your LinkedIn profile to promote your freelance writing business online, why not take the next step and turn it into a resume to impress potential clients? Sign in with your profile to get started, then choose a resume template. You can customize your content and then export the finished product in PDF format. Each resume is given a custom link that you can share via Facebook, Twitter, e-mail, and on LinkedIn.
Pongo  offers three different levels of services to site visitors. You can start to explore the site and check out the resume builder, tips and sample phrases, and get help from certified professional resume writers at no charge. Once you are ready to download and print your resume, you will be charged for the service, and you have the option of choosing a monthly package or paying a single price for an annual subscription.
ThePCman's Freeware Resume Creator is absolutely free to use and does not require any membership or sign-up. You can use it as often as you wish to create an unlimited number of resumes. Customize your resume to suit the gigs you wish to apply for and customize the font, text color and accent colors. This tool allows you to preview your resume as you work on to ensure that you are happy with the results.
Resumonk  has a free plan as well as a premium one. The free option allows you to select a resume from a collection of what are described as "elegant and modern" templates. From that point, you enter your information or import it directly from your LinkedIn profile, review your resume online and download it. If you choose the premium plan, the Reumonk footer will be removed from the bottom of your resume, and you also get access to the site's premium templates for six months. At this level, you will be able to convert your resume into .doc format and download it.
eFreeResume.com  has a free trial option which allows users to create and edit a resume online. This option gives them access to the resume wizard and 150,000 phrases to enhance the resume and make it stand out to prospective clients. Buy a premium membership and print your resume, export it to Word, Text, PDF, or HTML. You will also be able to publish it on your own private web address to share with clients when you apply for freelance writing gigs, or share it on Twitter, Facebook, or LinkedIn.
JobSpice  is a free resume-building tool that allows users to import their LinkedIn profile. According to the website, it only takes about 15 minutes to create a resume.
ResumeBaking.com  is billed as a simple resume builder that is "easy as pie." It's easy to use, with everything you need to build your resume on a single page. Once the resume is complete, it is stored on an interactive resume page that can be updated as often as necessary. You can also download it, print it in Word, PDF, TXT formats or share it on social networking sites.
Resunate  is a web-based software package that allows you to prepare your resume and adapt it for every freelance writing gig you are applying for. It uses parsing software to extract information from your resume and map it to the employer's database. This data, is called an Applicant Tracking System (ATS). The information is ranked on a scale so that you can see whether you would be considered a top-rated candidate based on your resume. The software can help you improve the way you present yourself and get hired for more gigs.
Canva.com is a free resume design tool which has a wide range of infographic resume templates in its template library. Start by looking through the different layouts and create an infographic resume online. You can choose several designs, color, images, and layouts on Canva and can customize your resume for free. Canva tool is an asset when you don't have access to any paid design software. You must use this amazing tool when it comes to design a best-fit resume for your need. Canva resume works in easy 3 steps: Choose a template, edit your personal info and publish as a PDF.
photo credit: buyalex via photopin cc
photo credit: dawnielle.photography via photopin cc